Angry Miao Cyberblade Review: Peak Gamer Wooing With Serious Substance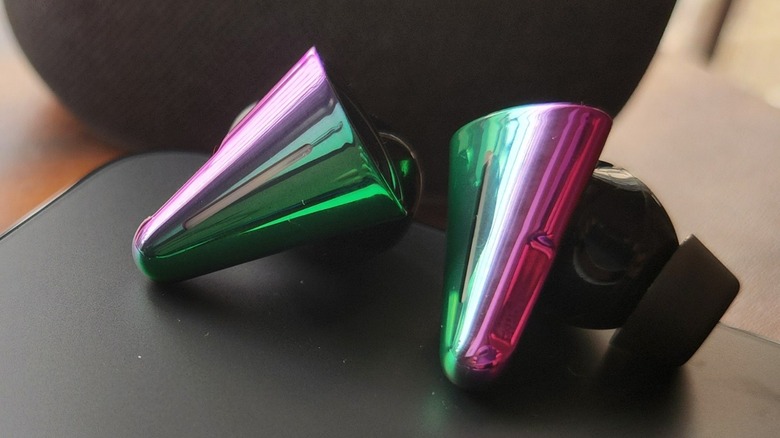 Nadeem Sarwar/SlashGear
We may receive a commission on purchases made from links.
What do you get if you ask gaming peripheral engineers to go overboard, but in a breathtakingly innovative fashion? You get Angry Miao. The Chinese company is the epitome of gamer-pleasing over-engineering, but that's somewhat the whole point of such aesthetics, I'd say.
The Angry Miao Cyberblade is the company's first set of TWS earbuds, and they have a look that's unlike anything you've seen before. Unless, you've played the "Horizon" series of games and have been dreaming about Focus, the triangular earbuds worn by the protagonist, Aloy. Angry Miao explicitly mentions that Focus was the inspiration for the Cyberblade, and it is on full display on the white trim.
But it's not just the RGB-toting looks of the Cyberblade that demand your attention. Everything that comes in the uncharacteristically huge retail box will take you by surprise. The charging case is actually a cylinder with an RGB halo (of course), and there's also a dock with a glass base that lights up in the same colors with some cool RGB effects.
These earbuds cost $328, which is a bit hard to digest for earbuds that don't offer any standout audiophile benefits, but there's plenty here that will definitely convince gaming enthusiasts and even fans of cool gizmos to drop that amount.
These earbuds demand your attention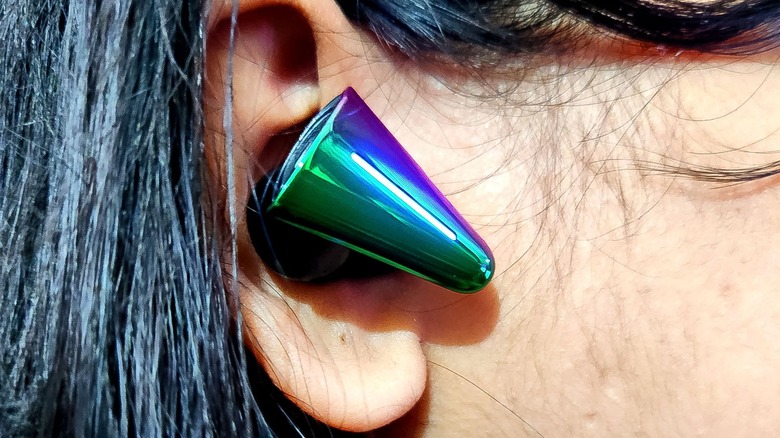 Nadeem Sarwar/SlashGear
Angry Miao ships the Cyberblade in a huge box that serves seven pairs of extra ear tips, both the foam and silicone type, in different sizes. That's a generous start. You also get a pair of high-quality braided cables with a fabric finish: one each of a USB A-to-C and a USB C-to-C type.
The company sells these earbuds in three color options: The Dark Side, Ghost White, and Shell Black. I have the Shell Black iteration review, but contrary to what the name suggests, "black" actually has a bright green-purple gradient polish. It's a controversial choice. On one hand, it really stands out from the crowd. However, some will find it garish, especially folks that are a fan of understated colors.
Plus, there's a vertical strip right in the middle of the stem. You can customize the colors and even pick from different lighting effects. I went with the breathing effect with an almost white tone. But it's really the red accent against the all-black look on The Dark Side trim that really has my heart.
Fanboying aside, these earbuds are well-built, comfortable to wear, and not too heavy. There's a recessed, pill-shaped touch-sensitive area that supports tap and long-press gestures for controlling audio playback and switching between music presets. Unfortunately, they don't support volume control, which is kind of disappointing.
A clever case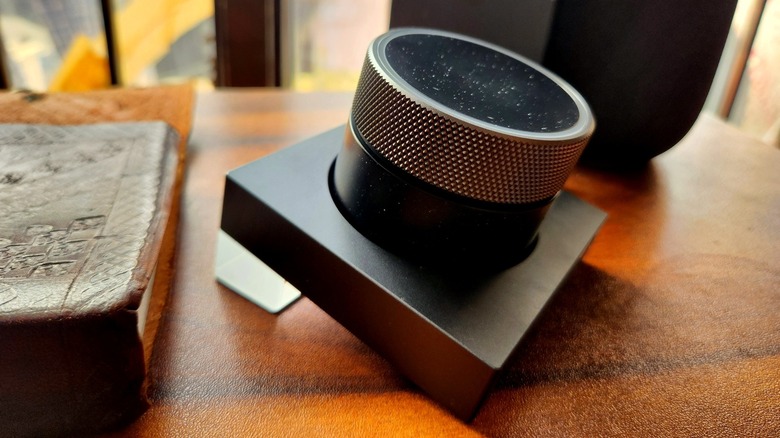 Nadeem Sarwar/SlashGear
Then you have the charging case, which is cylindrical and looks stunning. It is not the most pocketable form factor, but again, it looks unlike any other earbuds case out there in the market. Plus, it has a few tricks up its sleeve. It has a USB Type-C port for charging, but there's a charging coil underneath that allows it to draw power from any Qi-supported charging mat.
The lid has a textured metallic finish alongside the periphery and actually doubles as a rotating knob for volume control. It's a thoughtful perk that works like a charm. The lid actually serves as a tactile button, which accepts single tap, double tap, and long press gestures for switching between sound modes, pairing, and controlling the mic.
Each function is color-coded, which is helpful. The movie booster mode is by default coded to green-yellow lights, the music booster mode has a blue-purple aura, while the gaming booster mode offers a spinning light-show of neon pink with a dash of yellow.
A triple click can turn off the RGB light show. The visual cues make it easier to remember the gestures, somewhat easing the learning curve. The inside of the lid and the base of the charging case have metallic pins for charging. Just put the case atop the dock, and it will juice up.
A cool dock for a fashionable set of buds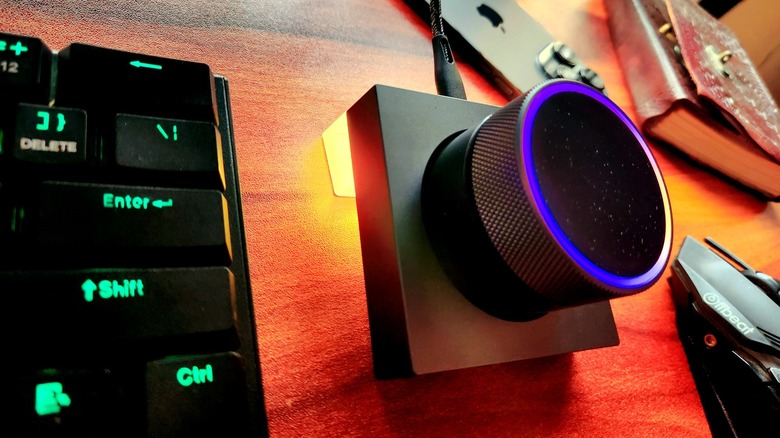 Nadeem Sarwar/SlashGear
The dock is a stunning piece crafted out of metal and glass. It's heavy and rests inclined, but that glass bar at the base lights up rhythmically and looks really good on the workstation. It also has a USB-C outlet for connecting to your PC and drawing power.
With the charging case placed atop, the whole setup looks more like a decorative RGB art piece fitting a gaming battle station instead of earbuds. I'd give Angry Miao full marks for the standout design, great build quality, and clever controls baked at the hardware level.
Now, here is the interesting part. As you connect the Cyberblade to the PC via the USB Type-C interface, pairing happens automatically and you don't have to fiddle with Bluetooth settings on your PC. You don't even need to activate Bluetooth on your PC. I love this neat little convenience.
Yes, they're for gamers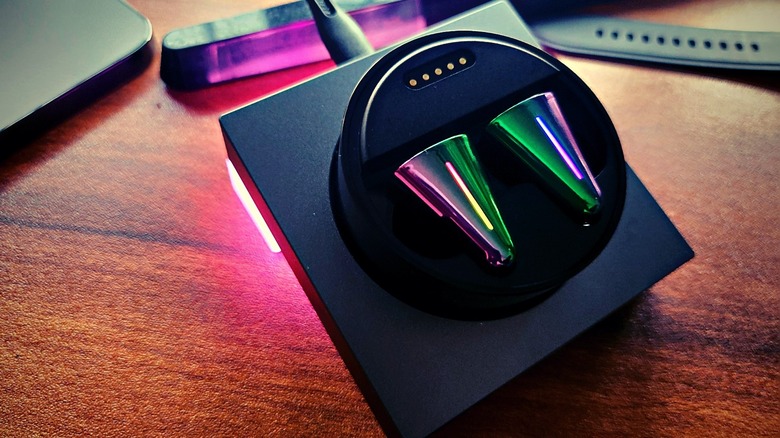 Nadeem Sarwar/SlashGear
It's not just the design that Angry Miao prides itself in, but the audio-centric features that make it an ideal fit for gamers. To start, you can pair them with gaming consoles like the PS5, Steam Deck, and Nintendo Switch, aside from phones and laptops.
What's notable is that the Cyberblade offers a latency of just 36 milliseconds, which really comes in handy at playing fast-paced action games like "Call of Duty" and "Apex Legends." Angry Miao claims that the latency of Cyberblade is over five times lower than the AirPods Pro, and even beats wired earphones.
I played a few rounds of "Valiant" and "Apex Legends" and came out with a positive experience despite my noob-level skills. The ultra-low latency is not going to revolutionize your gaming experience unless you're really serious about millisecond-level incoherency between the on-screen action and the corresponding sound output. But if you are the kind of person who balks at the idea of wireless mice and keyboards for gaming, Cyberblade earbuds are here for you.
The six-mic array does its job well, producing a satisfactorily clear sound. In fact, I found the voice pick-up to be noticeably better than Samsung's flagship Galaxy Buds 2 Pro. If you're worried about call quality, the Cyberblade will serve you well even in a crowded place.
The magic of an extra chip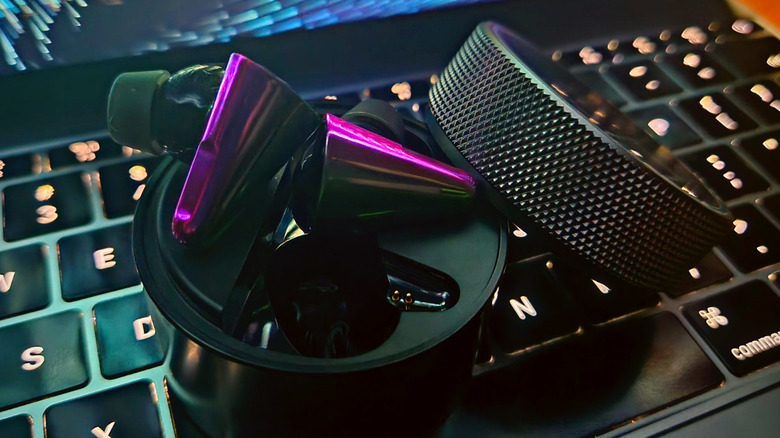 Nadeem Sarwar/SlashGear
Each earbud has an audio chip fitted inside, but Angry Miao has placed a third sound processing chip inside the charging case, which only kicks into action when connected to a PC. The extra battery juice provided by the charging case is what allows the "studio-level EQ, DRC, and AGC algorithms" to shine.
There is something called Active Sound Enhancement, which is essentially a mix of proprietary sound processing algorithms and connectivity protocol that kicks into action when you plug the base into your PC over a USB Type-C connection. When paired to a PC, Angry Miao claims to enhance the sound using a virtual 7.1 surround sound algorithm which also brings down sound latency for gaming.
All you need to do is connect the cylindrical case to your PC, or mount it atop the dock and use the latter as a base tethered to your PC via its own Type-C port. There is no true multi-point connectivity over Bluetooth, which is a bummer. But you can switch between your PC (connected over ASE) and Bluetooth-linked phone. All you need to do is click on the lid button to change the audio routing.
It's not as seamless as an audio hand-off between Apple devices for the AirPods or the new generation of TWS earbuds that play well with Windows PCs and Android phones. I didn't feel much of a difference in raw audio quality between Bluetooth and wired mode, save for an extra bit of thump and depth to the sound output.
Satisfactory sound, but missing oomph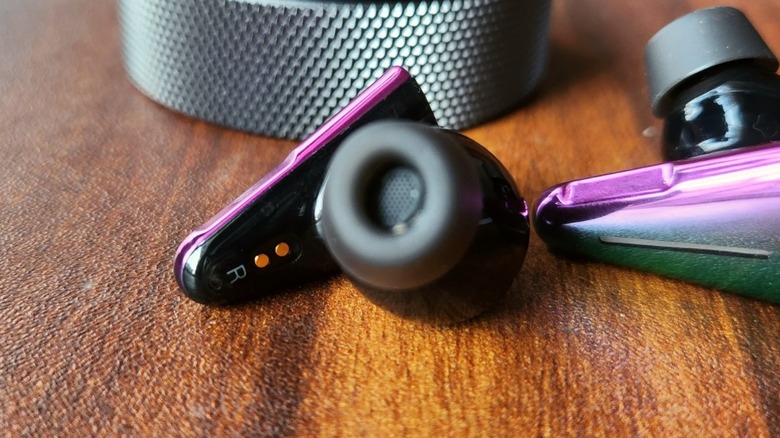 Nadeem Sarwar/SlashGear
Now, these won't blow your socks off with pristine audio goodness that you would otherwise get from wired audiophile-grade gear or even the likes of AirPods Pro or Sony WF-1000XM4. But I compared them to the Samsung Galaxy Buds 2 Pro and found the Angry Miao Cyberblade to be the better-sounding option.
The Cyberblade doesn't quite offer the widest soundstage that I've come across, but the audio profile is clean. Compared to Sony's flagship earbuds, the sound signature of the Angry Miao Cyberblade is bright, with a noticeably better performance at treble reproduction. The bass output is somewhat flat, but the sharp instrumental output serves as a saving grace.
I started the review hoping for a V-shaped sonic signature but ended up with a straight graph that had an impressive performance for higher frequencies and underwhelming low-frequency response. What the Cyberblade lacks in bass power it makes up with a beautiful depth effect courtesy of its 3D spatial audio enhancements.
Music modes to the rescue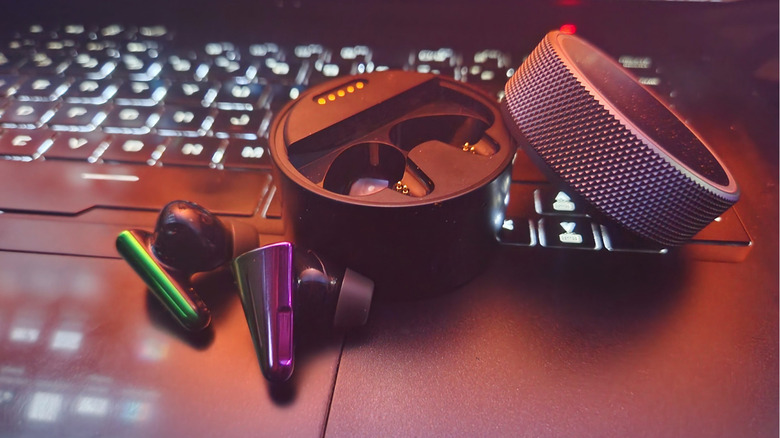 Nadeem Sarwar/SlashGear
Movie booster mode appears to enhance the higher frequencies and imitates 7.1 channel surround sound, while the music mode focuses more on delivering a thumping bass with more instrumental depth. For example, while watching Nic Cage's "Ghost Rider" turn his bike into a hellacious fire-breathing two-wheeler, his shriek sounds clear but the cool background score sounds somewhat lifeless.
In music booster mode, you really hear that pumping music with the killer electric guitar riff while the rider's scream sounds more natural, albeit slightly drowned in the background score. I prefer the music booster for watching movies because of the natural-sounding audio profile, but after a marathon session of Marvel's "Daredevil" TV series, that movie booster offers a more immersive and fun experience.
At the end of the day, it would boil down to your personal preference, but I'm glad that you at least have two very different-sounding audio profiles in play. If you're a fan of game soundtracks and epic cinematic music like "Two Steps From Hell," the movie booster mode will likely be more fitting.
But for music where you need to hear the raw vocals and the instruments in all their natural glory, the music and game booster modes are better suited for it. I also noticed that for tracks with a ton of synthetic processing done for the vocals, such as Ursine Vulpine's "Do You Realize" or Daft Punk's library, the movie booster mode is more enjoyable.
A few crucial pitfalls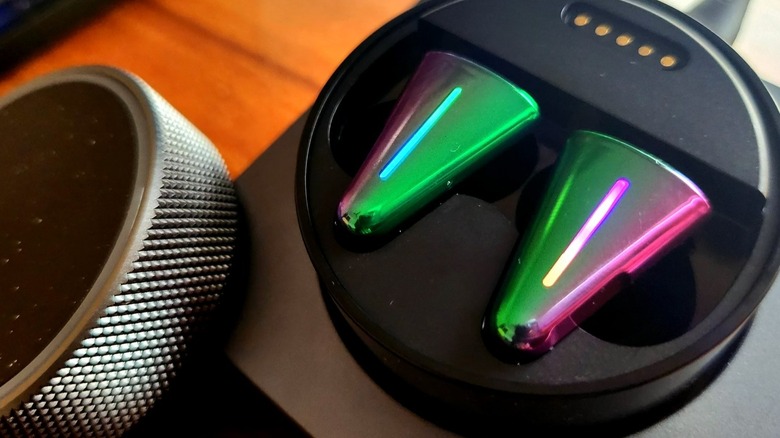 Nadeem Sarwar/SlashGear
As a control test, I handed over the Cyberblade to a few of my friends, and they were all impressed with the punchy audio. Only the select few that call themselves audio purists noticed the sub-par bass. I also wish these earbuds were a bit louder. The noise cancellation is not top-notch, but it gets the job done.
The hybrid ANC masked the sound of my PC fans whirring at full blast, and also did a neat job of negating the sound of vehicles honking right below my apartment. The transparency mode also does an acceptable job. Again, it's not up to the same level as the AirPods Pro, but you won't find the Cyberblade lagging too far.
But there are a few more areas where I feel that the Angry Miao Cyberblade don't quite do justice to their asking price. There is only support for AAC and SBC audio codecs. It's somewhat of a bummer that for a wearable audio gear that costs $350, you don't get any high-end codec for uncompressed, high-resolution music playback.
There's also a companion app, but it's quite barebones. You can only adjust the RGB lighting effects between four styles and tweak the color, or pick between three audio profiles viz. balanced, vocal, and bass. There's no equalizer control or user profile facility here. On the homepage, you get controls to switch between the ANC and transparency mode.
For earbuds that sound this good with all that fancy triple music processing chip facility— and cost so damn much — I expected more. I sincerely hope that Angry Miao adds a native EQ customization option to the mobile app. However, there's a neat trick that happens at the hardware level.
Battery life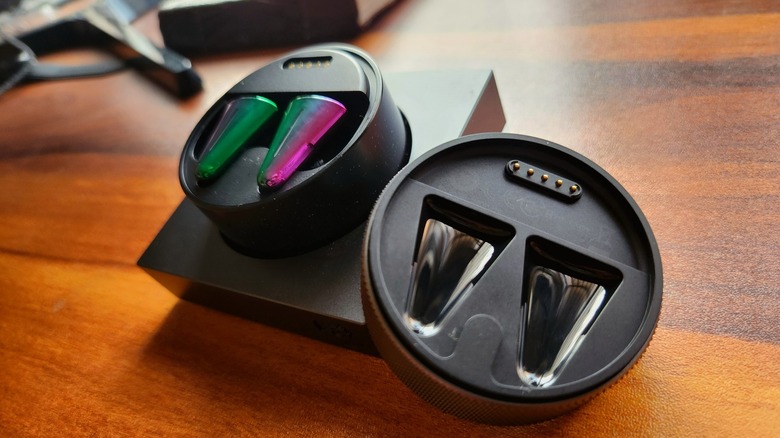 Nadeem Sarwar/SlashGear
Angry Miao touts a battery life of 6 hours over Bluetooth with noise-cancellation enabled. I could only cross the five-hour mark during my testing, which is not bad. For comparison, Apple touts similar figures for the second-get AirPods Pro. In wired mode when connected to a PC, the battery life comes down to four hours because of all the extra audio processing happening in the background. I found these figures to be accurate in my testing.
The charging case adds 20 hours of extra battery life and takes about two hours to fully charge. The earbuds' 35mAh battery takes roughly one and a half hours to go from empty to full tank. Angry Miao says 5 minutes of charging is enough for 40 minutes of listening time, but you need to disable ANC to touch those longevity figures in real life.
I really appreciate the versatility when it comes to charging, both via the case and the dock. Plus, support for Qi charging really comes in handy. I can activate reverse power share on my Samsung Galaxy S22 Ultra and charge the Cyberblade by simply placing it over the phone's rear panel, which is convenient and a cool trick to boot.
Only if you dream of games and bleed RGB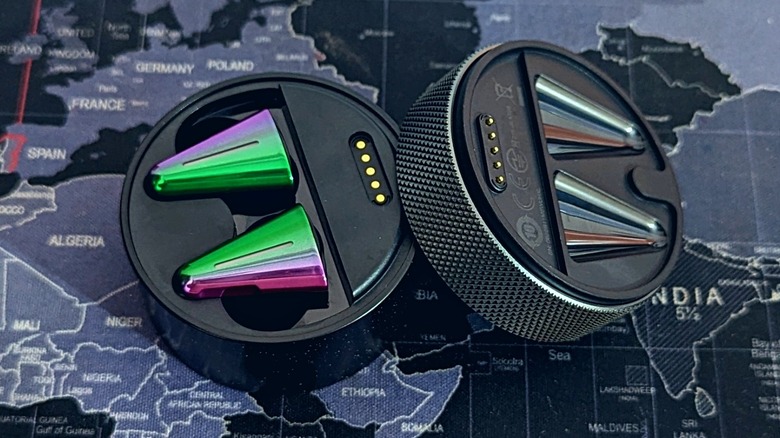 Nadeem Sarwar/SlashGear
The Angry Miao Cyberblade earbuds are an unabashedly gamer-centric product. They look like a million bucks and absolutely nail the standing-out-from-the-crowd part. The whole setup deserves a place on your desk if your dreams are RGB-tinted. The overzealous folks at Angry Miao also added some meaningful engineering wizardry into the mix, such as baking the volume and sound profile controls right into the lid. The sound output is good, and the mic reception is impressive, as well. Battery life is also satisfactory, and I am happy with the charging versatility, too. The novel triple audio chip system is also one-of-a-kind.
However, given their current asking price of $328, any buyer would expect more in terms of sound quality and audiophile-pleasing features. From a pure value perspective, Cyberblade earbuds aren't quite up there with Apple and Sony's best. I was consciously aware of their steep asking price every time I popped them out of that sleek charging case.
But hey, you're knocking at Angry Miao's doors looking for something unique. Angry Miao's Cyberblade earbuds will serve just that by oodles, and then some, especially for fans of gamer aesthetics. Overall, Angry Miao appears to have created what it set out to and has done a rather good job of it. My only advice would be to keep an eye on festive discounts and snag them happily if they fall below the $300 mark on any given day.