The Kia And Hyundai Cars That TikTok Made Uninsurable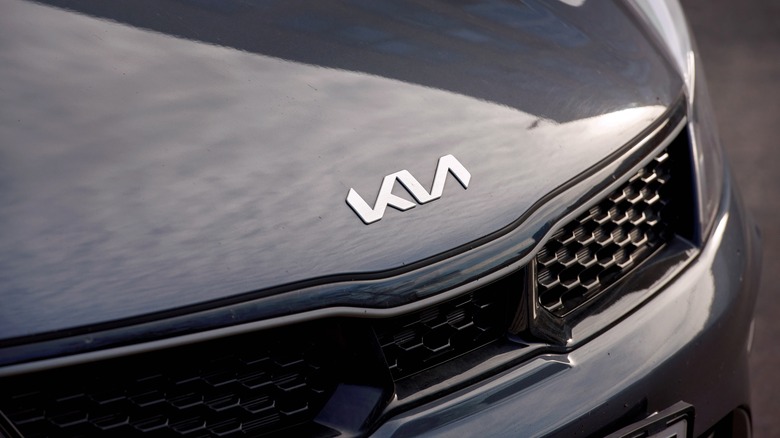 Tricky_Shark/Shutterstock
A TikTok trend has transformed the insurance landscape for a number of Kia and Hyundai cars. While digital keys have been a target of stress for some, low-tech entry and theft has re-entered the conversation in a big way. 
YouTuber Tommy G interviews a group of teenagers known as the "Kia Boys" in Milwaukee, who have become infamous on TikTok for stealing cars and taking them on joyrides (often crashing the vehicles in the process). He asks one woman at a gas station what the "Kia Boys" do, to which she responds: "They break into people's cars and take them and destroy them. Now they're just doing it to destroy our city, and this is not right." 
Hyundai (the parent company of Kia) has been somewhat slow to react, initially directing customers to purchase a third-party security add-in priced at $170, not including installation. The additional out-of-pocket expense to defeat a major vulnerability has certainly riled owners, and a new software update has been announced in place of this option as well. 
This free software update is headed for the 8.3 million Kia cars driving in the United States that are affected by this mechanical shortcoming, which is designed to extend alarm time by another 30 seconds. MotorTrend wryly notes that "More important [than additional alarm time], it requires the key to be in the ignition switch to turn the vehicle on, a wild concept first introduced by Chrysler in 1949."
2015-onward Kia and Hyundai models are vulnerable
One of the Kia Boys tells Tommy G that he knows of some participants who have stolen as many as 300 cars, and estimates the average thief is just 11 or 12 years old — showcasing the expansive nature of this trend. In essence, the issue boils down to a simple override of the interaction between the key and the ignition that allows a thief to make off with one of these cars with just a USB cable or a thumb drive. 
It means that stealing a car isn't relegated to vintage models or sophisticated thieves who carry along highly technical equipment. Just about anyone could successfully lift one of these models, making insurance providers rethink their approach to writing new policies.
Affected models run the gamut of both the Hyundai and Kia lineups of cars. Among Hyundais: the Kona, Santa Fe, Sonata, Accent, Elantra, and Tucson are all vulnerable in model years 2015-2021, and the Veloster is vulnerable in years ranging from 2015 to 2018. For Kia: Optima Hybrids from 2015 and 2016, as well as Sorento SUVs between the 2015 and 2018 model years are affected. As well, Kia owners of the Forte, Optima, Rio, Sedona Soul, and Sportage models from 2015 to 2021 are also vulnerable.
Drivers should consider alternative security measures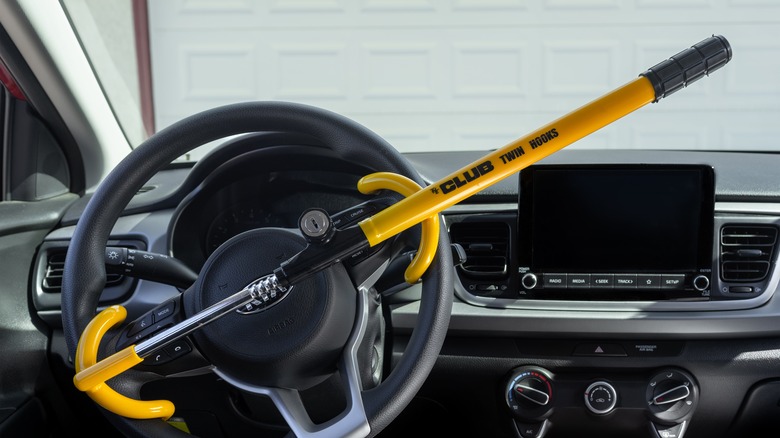 Felipe Sanchez/Shutterstock
While the manufacturers are patching security vulnerabilities on their end, this hasn't led to a change in policy among insurance providers. State Farm told MotorTrend that the company has "temporarily stopped accepting new customer applications in some states for certain model years and trim levels of Hyundai and Kia vehicles because theft losses for these vehicles have increased dramatically." 
However, existing customers remain covered, even if they own an affected vehicle model. As of March 21, 2023, this list of blacklisted cars remains in effect (even as widespread coverage of the phenomenon has reached back as far as May 2022). 
Those in the market for a new car may want to steer clear of Kia and Hyundai options for the time being, and drivers who own these models will want to invest in a steering wheel lock to make the car harder to drive away with. In some communities, Hyundai and Kia outlets have been giving out these tools free to owners through the assistance of the local police force. 
The problem doesn't appear to involve a resale market, but rather one of reckless joyriding. At this time, eight deaths (and 14 accidents) have already occurred through this behavior as of February 2023. When asked what should happen if the driver — who had just careened down the suburban street in front of them — hit and killed someone with the stolen car, the interviewed "Kia Boys" responded with, "You should've got out the way."