Duolingo Taps ChatGPT Successor GPT-4 To Boost Language Learning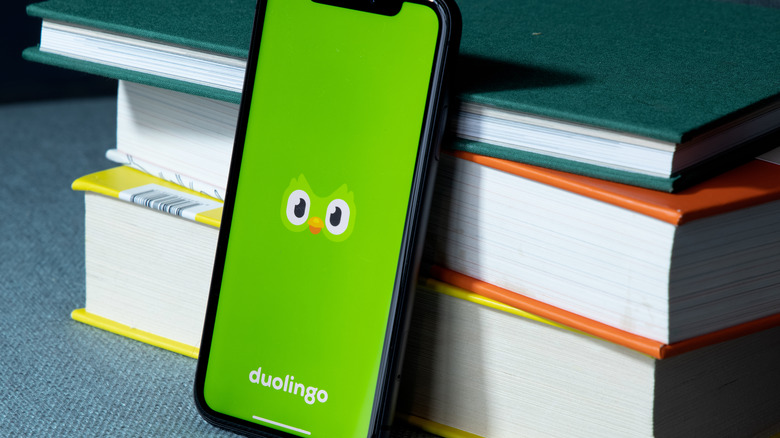 Boumen Japet/Shutterstock
OpenAI released the long-awaited GPT-4 today, bringing with it a supercharged generative language engine that makes it far better at the tasks it already handled with freakish humanlike fidelity. In addition to its ability to process a much larger set of text in one go, systems based on GPT-4 can now understand imagery, offering responses to image-driven prompts with appropriate and accurate context. There's a lot more to appreciate about GPT-4, and you can dig deeper into the details here. Many will likely subscribe to ChatGPT Plus to give it an early workout, but you'll also be able to benefit from its impact as it seeps into mainstream apps.
One of those apps is the language-learning platform Duolingo, which has announced a new Max subscription tier that adds AI-powered features like Explain My Answer and Roleplay. Otherwise, Duolingo Max includes the same features that are available as part of Super Duolingo, including ad-free learning, unlimited hearts, and unlimited attempts at legendary challenges. Pricing for Duolingo Max is unclear as of writing, but you can likely expect it to cost a bit more than Super Duolingo, which is around $7 per month. You can try the service for two weeks free, more than enough time to decide whether it's worth the money.
How Duolingo Max changes language learning
Duolingo Max's Explain My Answer feature builds on the existing Mistakes Review feature by having Duo — the bespoke name of the chatbot — give a detailed explanation about your answers, whether that answer was correct or incorrect. It clearly explains the correctness of your answer, and you can ask for further clarification and examples if the initial response isn't helpful enough. It doesn't seem like you'll be able to ask Duo customized questions. Instead, it offers a few preset prompts after each segment to help further the lesson along.
The Roleplay feature is even cooler. At certain points throughout your learning journey, Duo will offer the chance to carry out practice conversations with fictional characters. You'll hear captioned sentences from the characters, who can ask you about fictitious vacation plans or invite you out for coffee. Input your responses, and Duo will let you know how you're doing with regard to grammar accuracy and complexity as you go.
Duolingo confirmed it employs humans to help moderate the experience every step of the way, ensuring that example prompts and responses are accurate, free of errors, and match the service's trademark fun tone. If you want to give Duolingo Max a try, you'll need to have an iOS device. Even then, you may not get immediate access — these features are being rolled out gradually, and you'll know whether you're eligible to try them by heading to the Shop page within the Duolingo app.