Apple Introduces Specialist Over Video, Making It Even Easier To Buy An iPhone From Home
US customers interested in buying a new iPhone now have access to a new live shopping experience. "Shop with a Specialist over Video" does just what it says on the box, connecting customers with Apple experts for a secure video shopping session.
The process seems pretty straightforward, as customers can connect with an expert through Apple's online store and talk through any questions they might have regarding purchase of a new iPhone. "With Shop with a Specialist over Video, our team members are excited to connect with customers and provide exceptional service as they learn about which iPhone best suits them." said Karen Rasmussen, head of Apple Retail Online, in today's announcement.
Experts are tasked to cover a wide array of topics related to the iPhone, from color and size to onboard features and carrier options. If customers are looking to dispose of older hardware, experts will even be able to walk them through the Apple Trade In process.
New sales, new phone, new features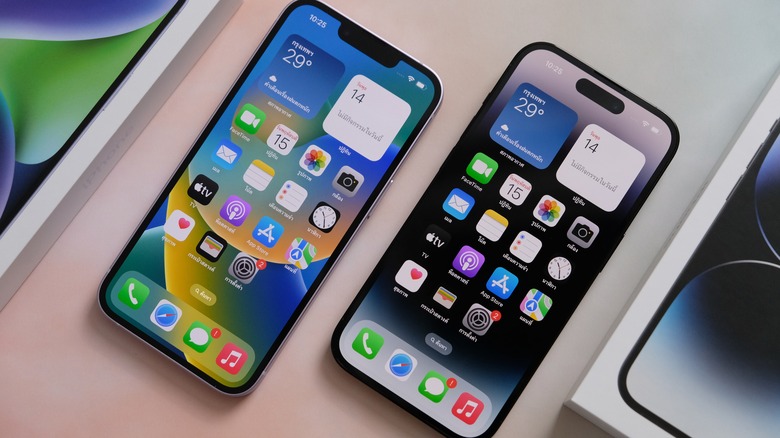 Framesira/Shutterstock
Apple expects "Shop with Specialist over Video" to be a major motivator in customers picking up the new iPhone 14 and iPhone 14 Plus. The service joins a variety of aesthetic and quality-of-life upgrades in the new handset. According to Apple, the iPhone 14 offers dual cameras and all-day battery life, with the Plus model delivering the longest battery life in iPhone history. Both the standard model and Plus also come with new safety options, including Crash Detection and a satellite-based Emergency SOS.
Apple is also looking to maintain its standing as the prettiest smartphone on the market. New color options for the iPhone 14 include "Midnight," "Starlight," "(PRODUCT)RED," blue, purple, and a new yellow case color. The standard iPhone 14 retails for $799, with the 14 Plus coming in at $899. Both are eligible for Apple Trade In, with a maximum trade-in value of $600 on iPhone 11s and newer. For further details, check out SlashGear's review of the iPhone 14.
Shop with a Specialist over Video will be available 7am to 7pm PT, seven days a week, and specialists will also detail carrier deals when they connect with customers. Outside those hours, specialists will be available to assist customers over the phone 24 hours a day.