The 2024 Mercedes-Benz GLC Coupe Isn't As Impractical As You'd Think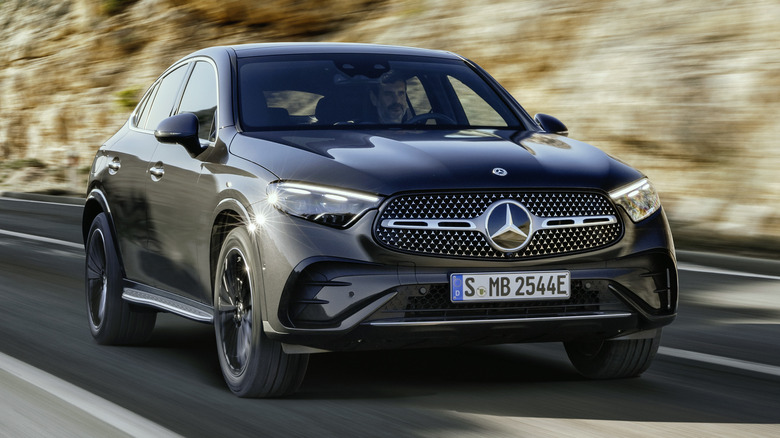 Mercedes
The 2024 Mercedes GLC Coupe is on the way, and it's better suited to everyday life than you might think. According to its German manufacturer, the upcoming hybrid "combines sporty performance with high efficiency" and features many of Mercedes' most advanced driver assistance tools to help a driver get the best out of the vehicle in any situation.
Underneath it all, the GLC coupe is basically a smaller, sportier, version of the GLC SUV, Mercedes' other luxury crossover. While an SUV may be the go-to for offroad enthusiasts and coupes might be way down the list of vehicles that are practical off the tarmac, Mercedes says the upcoming GLC Coupe has "dynamism and off-road adventure" built into its DNA. 4MATIC all-wheel drive gets power where it needs to be.
The "transparent hood" and 360-degree camera keep the driver aware of the surroundings and terrain features, while the sport suspension is just as agile on a dirt track as it is on a highway. When you're not off-road, the MBUX Augmented Video system serves to point out things like lane markers, directional arrows, and road signs. The vehicle's driver assistance software can then make recommendations that will keep you on track. The vehicle is ever so slightly larger than its predecessor and may see some slight benefits from its larger wheelbase. Trunk space has also increased by 1.6 cubic feet, so you can comfortably get that extra bag of groceries in there during your weekly shop. These aren't major gains, but it's possible these little tweaks could have a huge impact.
The high-tech hybrid promises strong performance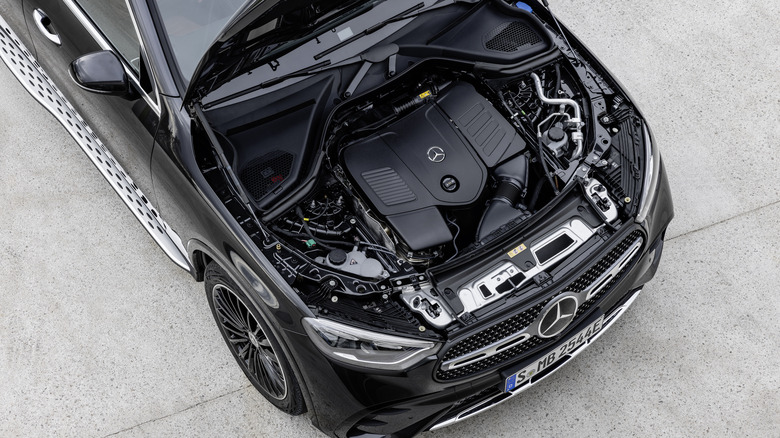 Mercedes
Underneath the hood is the latest 48-volt hybrid technology Mercedes has access to. The hybrid engine supports features like coasting, boost, and energy recovery — and also comes with a starter generator capable of providing a bit of extra boost when needed and recovering even more energy for the battery. A bit of extra boost is provided by the vehicle's turbocharger, meaning the 2-liter engine can put out a respectable 278 horsepower when the boost from the motor is added on. It also has 295 foot-pounds of torque, with an additional 148 newton-meters of additional torque available via boost — which helps put that horsepower on the road or track and makes towing a reasonably sized trailer possible.
The Mercedes GLC Coupe will get from zero to 60 mph in around 6.2 seconds, according to the specs Mercedes has released. If you keep your foot down, the vehicle will eventually cap out at 130 mph. We currently don't have any data on how efficient the Mercedes GLC Coupe will be, but as hybrids tend to dominate the list of most efficient cars available, that 2.0-liter engine may not be too thirsty.
Aerodynamic improvements also play a part in the vehicle's performance, with Mercedes claiming the GLC Coupe's drag coefficient is "three hundredths better than its predecessor." So it cuts through the air a little bit better and requires less energy to go forward. The engine and aerodynamics also lead to what the Stuttgart-based company calls "a pleasantly quiet vehicle with a serene sound signature." So if you like announcing your presence with a roaring engine, this may not be for you.
It has had an appearance upgrade, inside and out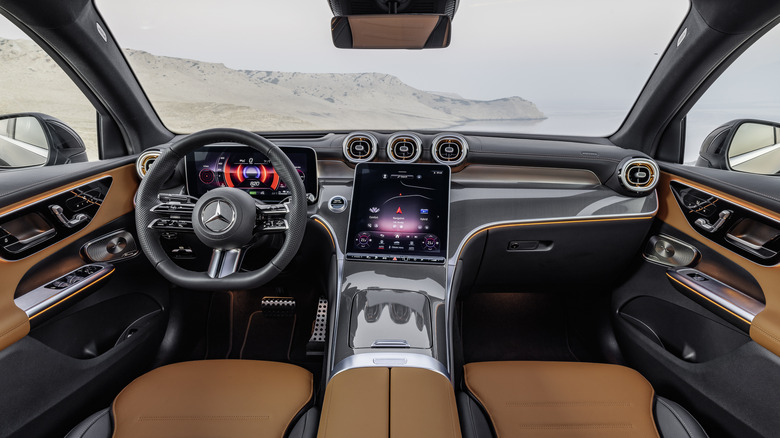 Mercedes
Design changes are apparent both inside and outside the vehicle. At first glance, you'll be treated to a wide, sporty SUV with elements of a kind of muscle-car-like styling woven in throughout. The muscularity of the coupe is particularly present in its wheel arches, which are shielding a set of 19 or 20-inch rims. The front grille cover features a "Mercedes-Benz pattern" and transitions seamlessly into the eye-meltingly powerful LED headlights this thing is going to be equipped with. On the other side, the coupe features "two-part tail lights with black and dark red connecting elements."
Open the door, and you'll be greeted by a well-trimmed sporty interior built around a curved center console, a 12.3-inch high-resolution driver display, and an 11.9-inch central display. These displays will be central to the suite of driver aids and safety features the luxury coupe will come with as standard.
The dash can either be leather-lined or spruced up with "open-pore wood veneers in Natural Grain Walnut, Fineline Anthracite, and Natural Grain Black with Aluminum inlays." All in all, Mercedes seems to have attempted to blend classic luxury with sporty, modern, high-tech elements.
The 2024 Mercedes GLC Coupe is expected to start showing up in dealerships later this year. We know that there is going to be an "AMG Line" package and "Night" package available at the very least. Exact details on the trims, their specs, and the vehicle's pricing have yet to emerge, but should be available over the coming months.