The Incredibly Useful Nintendo Switch Accessories Anyone Can 3D Print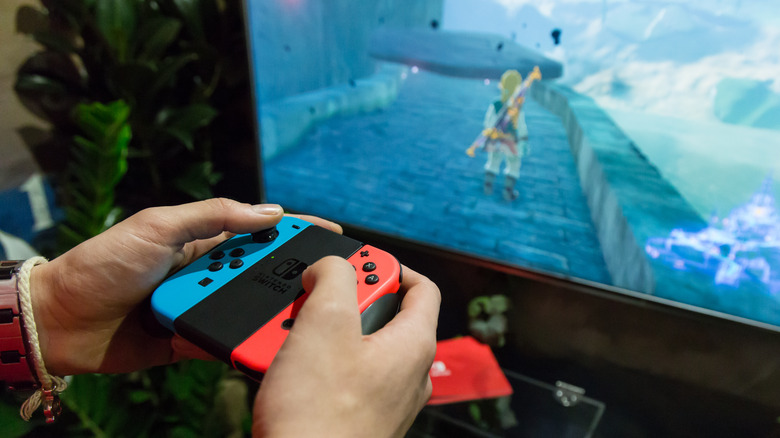 Tinxi/Shutterstock
Whether it's delivering chaotic cartoon violence, family friendly co-op experiences, or both ("Super Smash Bros." anyone?), the Nintendo Switch has carved out an undeniable place in the current console marketplace. A major part of the Switch's appeal is its form factor: Like the Wii before it, the Switch delivers gaming experiences available nowhere but Nintendo, reflecting the company's origin as a toy store rather than an electronics behemoth like Sony or Microsoft. For the Switch, it all comes down to portability, ease of use, and the simple joy of playing.
Of course, having a unique form factor comes with unique challenges. Anyone who's ever tackled a minigame in "Mario Party" holding just one Joy-Con knows that the Switch's small, simple profile can be a frustrating limitation. Thankfully, independent designers have come up with several beautifully simple upgrades to the console. Better yet, these accessories are available to anyone with access to a 3D printer.
Fantastic plastic
Apple news specialists iMore has listed several exciting 3D-printed peripherals for the Switch, complete with downloadable blueprints. The designs on display fall broadly into two categories: practical, and decorative.
The practical designs from iMore are all about restoring some lost and unexpected functionality to the Switch gameplay experience. One provides a three-sided plastic shield, for example, offering some welcome shade on the screen for players inclined to game in the sun. Another synergizes two already available pieces of Switch augmentation: it's a Joy-Con holder with integral space for up to eight game cards. There's even a drink holder allowing users to keep hydrated while hanging onto the Joy-Cons.
The more ambitious designs at iMore aim to add fun, as well as function. Designers have built a fully-functional charging dock in the shape of Mario's hat, and a convenient easel-style platform with secure hooks to make the Switch even more playable on the move. Finally, the most ambitious design on offer is Adafruit Industries' Switch stand, which incorporates a PICO projector to beam gameplay onto any flat surface.
In short, the Switch may be simple, but it's also gloriously hackable. Any one of these peripherals could offer a major upgrade in convenience without breaking the bank.