Stream 'Ted Lasso' Without Spending A Dime With This Free Apple TV+ Promo
Apple TV+ has plenty of good shows and movies, but perhaps its most wholesome show right now is "Ted Lasso." The comedy/drama is — at least on the surface — all about sports, but the soccer is often just a facade for the real heart of the show, which lies in the characters, their lives, and their relationships. "Ted Lasso" is a heartwarming experience, and if you'd like to be able to watch it for free without having to pay for an Apple TV+ membership, you're in luck.
"Ted Lasso" is about to enter its third season. Set to debut on March 15, this award-winning comedy is bound to make viewers want to try out Apple TV+; be it for the first time, or as a returning subscriber. The plot still remains a mystery, but the second season leaves a lot of room for interesting plotlines. With a major character turning to the dark side at the very end of the second season, it'll be interesting to see the aftermath and the effect it may have on the AFC Richmond squad.
So far, it appears that "Ted Lasso" might end with season three, so the stakes are higher than ever for the production and the actors to deliver a compelling and satisfying ending. However, there might be spin-offs on the horizon, and chances are that those will also be streamed on Apple TV+ if they're ever produced.
Score three months of Apple TV+ for free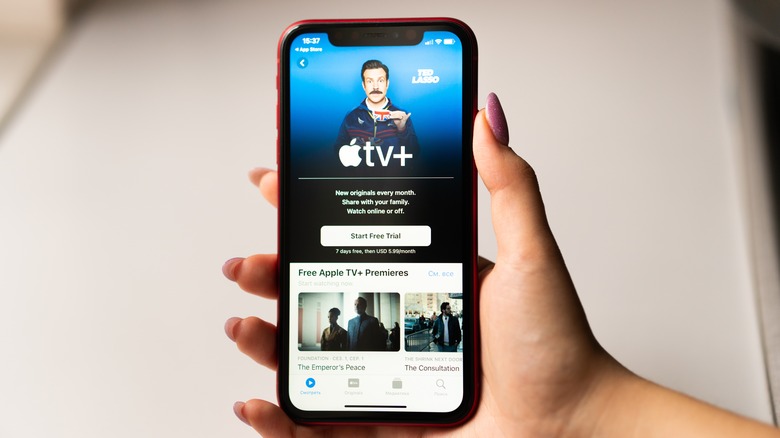 Jimmy Tudeschi/Shutterstock
With "Ted Lasso" coming out shortly, now is a good time to try out Apple TV+. Best Buy is making it possible with a surprisingly good deal: You can get three months of Apple TV+ for free, and this offer applies to both new and returning subscribers. It does mean that you won't qualify if you have an ongoing Apple TV+ subscription, but if you've had one and you chose to cancel it, you can come back for three months, free of charge.
In order to grab this juicy deal, head to Best Buy and simply add it to your cart. You will need to provide credit card details and you will be charged once those three months are up, but you can cancel your subscription if you don't want to continue. 
To redeem the code, you must have an Apple ID with a payment method attached to it. This offer only applies to customers in the United States, so folks worldwide will need to shell out the cash for a standard subscription in order to watch the new "Ted Lasso."
Once the free trial is up, you will automatically start being charged $6.99 a month until you cancel your Apple TV+ membership. Best Buy didn't specify how long this promotion will be available, so it's probably best to snap it up while it's still there.