The Futuristic Aston Martin Vanquish We Can't Wait To See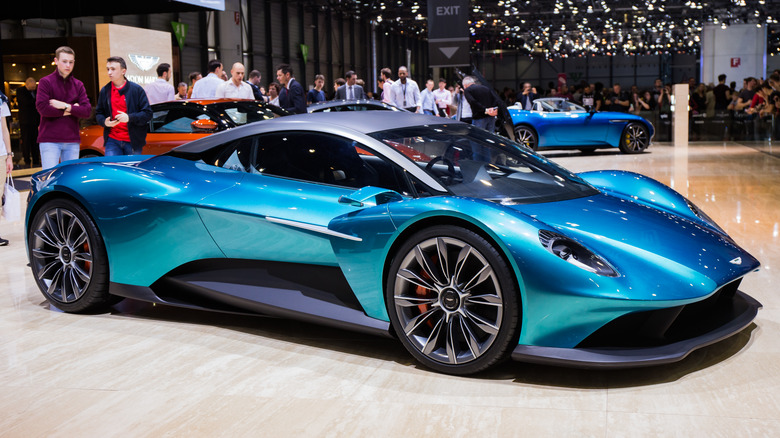 Martyn Lucy/Getty Images
As the wild Valkyrie hypercar is finally being delivered to customers, it's time for Aston Martin to turn its attention to two other mid-engined supercars. These are the Valhalla — which briefly appeared in "No Time To Die" and is due later in 2023 — and the new Vanquish.
It's been four years since the car was first revealed at the 2019 Geneva Motor Show. Then called the Vanquish Vision Concept, the show car didn't have a functioning interior, but Aston Martin told AutoExpress it was 85 percent complete and would enter production in 2022.
The pandemic, of course, slowed that trajectory, and no doubt the Valkyrie's extended gestation period also played a part in delaying the Vanquish. But hopefully, Aston's plan to take on Ferrari, McLaren, and Lamborghini with its first mass-produced, mid-engined supercar will soon get back on track.
Although little has been said about the Vanquish since its 2019 debut, the Aston Martin website still invites potential customers to register their interest.
Powered by a V6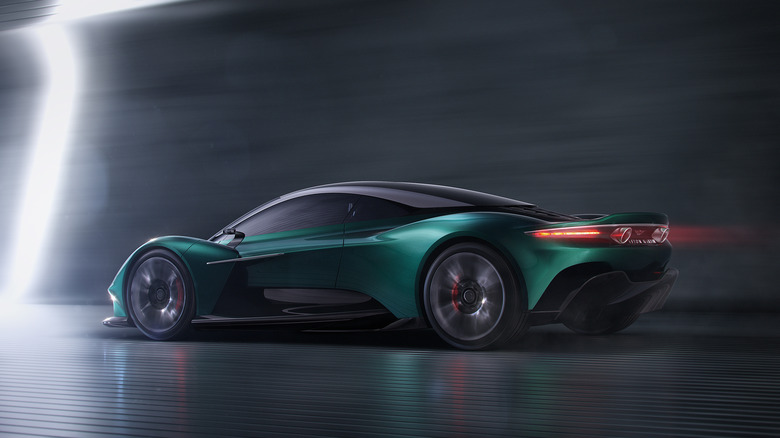 Aston Martin Lagonda
When it revealed the Vanquish Vision Concept, Aston Martin said a turbocharged V6 engine would power it and that a hybrid version of that motor would appear in the Valhalla (then known as the AM-RB 003).
Aston has since changed course with the Valhalla, announcing in 2021 that a twin-turbocharged 4.0-liter V8 from Mercedes will power it. It seems likely that, should the Vanquish still happen, its proposed bespoke V6 engine will also give way to an alternative from Mercedes-AMG.
Had Aston Martin stuck with its original plan and found the financial resources to do so, its first V6 hybrid supercar could have arrived well ahead of rivals like the Ferrari 296 GTB and McLaren Artura, which Slashgear drove in late 2022.
Should both of Aston's new supercars go into production, the Valhalla is expected to be priced at around $800,000, with the Vanquish at around the $250,000 to $300,000 mark. That said, no prices have been confirmed for now.
Less technical, more seductive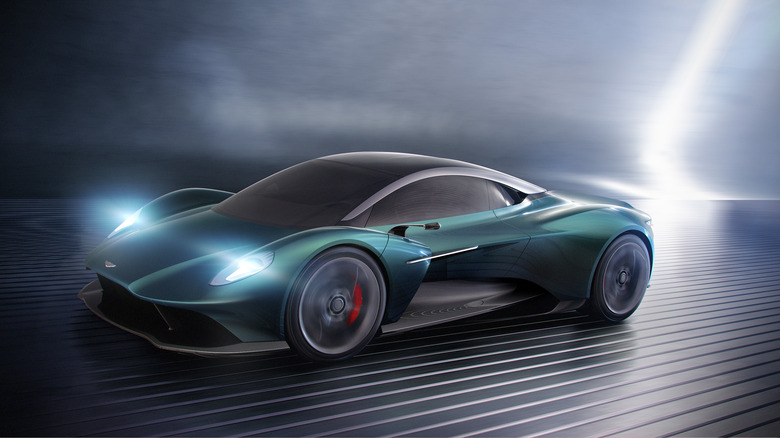 Aston Martin Lagonda
The British carmaker's approach with the Vanquish Vision Concept was to design a supercar with sleeker and simpler styling than the more complex, racecar-like forms of the Valhalla and particularly the Valkyrie. In 2019, Aston Martin design director Miles Nurnberger said: "The Vanquish Vision Concept has a more seductive and less technical appearance than Aston Martin Valkyrie and AM-RB 003, but it's still extreme in terms of visual gestures."
Design details include the clamshell front fender, a front grille reminiscent of the Valkyrie, deeply sculptured doors designed to regulate airflow, and tailpipes high above a large rear diffuser. Despite having less negative space than the Valkyrie and Valhalla, the Vanquish is still clearly from the same family.
And while there's a greater emphasis on traditional beauty than with the brutality of the Valkyrie, Aston Martin still pledged to deliver a highly capable supercar. At the 2019 reveal, then-chief technical officer Max Szwaj said: "Although it takes Aston Martin into new territory, it does so with the benefit of hard-won knowledge...The full engineering story of this car is yet to be told, but what you see here should tell you this car will not only compete at the highest level, but it will do so in a manner and style unique to Aston Martin."
A familiar name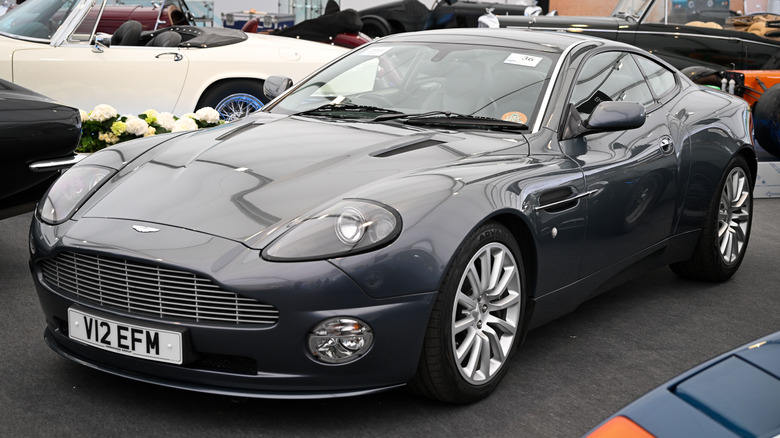 Finnbarr Webster/Getty Images
Aston Martin gave the 2019 concept a name it had used before. The first Vanquish (pictured above) was produced between 2001 and 2007, and a second edition arrived in 2012 and remained until 2018, neatly paving the way for the new model.
Unlike the two-seat concept, the first two generations of Vanquish were front-engined GT cars with a 2+2 seating arrangement for accommodating small children in the second row.
Designed by Ian Callum, the original Vanquish is also known for its role as James Bond's ride in the 2004 movie "Die Another Day," starring Pierce Brosnan as 007 and featuring a Vanquish equipped with guns, rockets, an ejector seat, and even the ability to make itself invisible.
In 2019, then-Aston Martin boss Andy Palmer said: "Firstly, what a pleasure to revive the Vanquish name. Synonymous with our series production flagships, it felt entirely appropriate to attach it to such a significant car...Our first series production rear mid-engined supercar will be a transformational moment for the brand, for it is the car that will propel Aston Martin into a sector of the market traditionally seen as the heartland of luxury sports cars."