Uber's New Update Tries To Make Your Spring Break Travel A Little Easier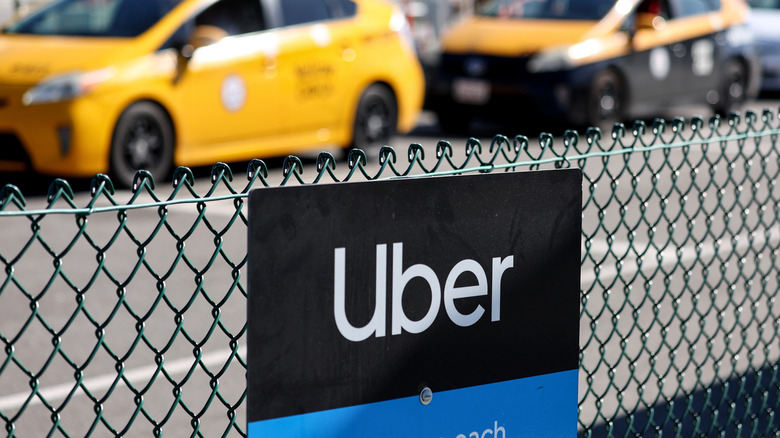 Mario Tama/Getty Images
Uber wants to make your journey to and from an airport much less of a hassle with a handful of neat additions to its app. So far, the Uber Reserve feature has allowed users to schedule a ride up to 30 days in advance. Now, the ride-hailing service will let you book a cab up to 90 days ahead of the trip. The idea here is that you can now make your Uber booking at the same time as your flight and hotel booking instead of waiting for a ride at a busy airport and facing the wrath of surge charges.
Uber says users will get upfront pricing with the new reservation feature, and that the availability has also been expanded across "most of the U.S. and Canada." Another neat addition is the new walking ETA system. This one will tell users roughly how much time it will take to go from one step to the next — say, from the entry gate to the baggage claim outlet. This trick will soon be live for over 400 airports around the world, and more points will be added as Uber maps more locations. The most interesting new feature, however, is one that helps you avoid getting lost.
No more getting lost in the terminal maze
The Uber app is also adding a step-by-step guidance feature that will guide you through the maze of airport terminals and lobbies, leading you right to the ride pickup spot. The feature will provide these directions with the help of picture cards and text-based instructions, leading users through tunnels, levels, and turns on the way to their destination. Uber says the app's wayfinding feature is now live for 30 airports across the globe but will cover more spots in the months to come.
Just in case you don't find the navigation option in the Uber app at a certain airport, you might want to check out Google Maps' new immersive view feature that blends street view as well as aerial imagery for guidance, complete with augmented reality cues. For folks traveling in the month of March, they can get $20 cash back with an Uber One membership on ride reservations. For those seeking business-class convenience, the Uber for Business tier will offer fittingly luxurious ride options.