Uber is rolling out a Scheduled Rides feature
Uber's great except for those times you can't seem to get a driver. It may not be a big deal if you're looking for a quick trip across the neighborhood, but if you've got a flight to get to, ensuring you can get a car is imperative. Enter one of Uber's most-requested features: Scheduled Rides. The service has made the feature live in Seattle as of today, and plans to roll it out to other cities around the globe.
With scheduled rides, you can use the Uber app (assuming you're in a supported city) to schedule an Uber ride for whenever you'll need it. You'll put in a date, time, pickup location and destination, receive a fare estimate, and then after selecting your payment method, a ride will be scheduled for that date. Essentially it's no different than ordering an Uber ride now, but for some date in the future.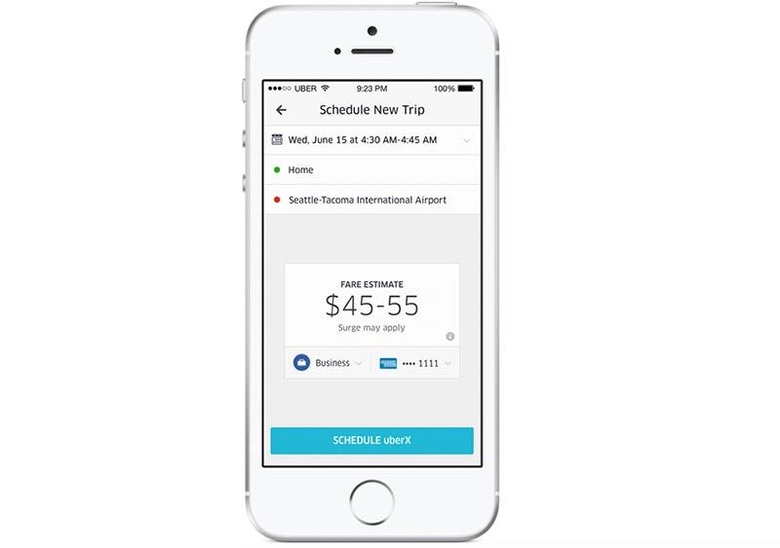 Rides can be scheduled as soon as 30 minutes before you need them and up to 30 days ahead of time. Reminders about the ride will be sent 24 hours before the date, then half an hour before the pickup. Though a fare estimate is provided, it's important to note that surge pricing could come into effect — if it does, you'll also get a heads up about that.
It seems business travelers are the ones who most often requested the ability to schedule rides, and so Uber says it is giving anyone with a company that has an Uber for Business account or a Business Profile priority on scheduled rides. The feature is only available in Seattle right now, but Uber says it will be adding other "top business travel cities" in the future. It isn't clear how widely Uber plans to make the feature available.
SOURCE: Uber