We Asked ChatGPT What The Best Triumph Motorcycle Ever Made Is, And We Completely Agree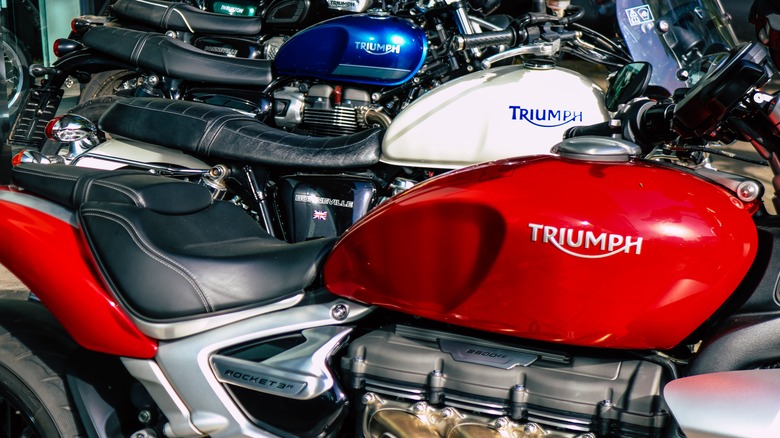 Jose HERNANDEZ Camera 51/Shutterstock
The Triumph range is a star-studded affair with celebrity owners from Steve McQueen to Ryan Reynolds. The bikes themselves jump out at viewers almost as magnetically as the people who have owned them. Relaunched in 1983 by John Bloor, Triumph has made a meteoric return to the world of high-performance motorcycles. Yet, whether vintage or modern suits your particular taste, Triumph has likely built a bike to catch your eye. Some of the most notable models are the TR6 Trophy (driven by McQueen in the famous chase scene from "The Great Escape"), the Thruxton range, and the Daytona bikes.
We initiated a conversation with ChatGPT to ascertain the best Triumph motorcycle that's left the production line, and it had some surprisingly direct opinions. "The best Triumph Motorcycle ever made is subjective and dependent on personal preference," it starts. "However, some of the most popular models include the Bonneville, the Speed Triple, and the Tiger. These models have been praised for their performance, style, and overall quality." These are all excellent models, of course, and certainly deserve to have their names thrown into the ring when debating which Triumph stands tallest among true greats. But what ChatGPT offers next might be somewhat surprising to those who have experimented with the AI system.
Triumph Bonneville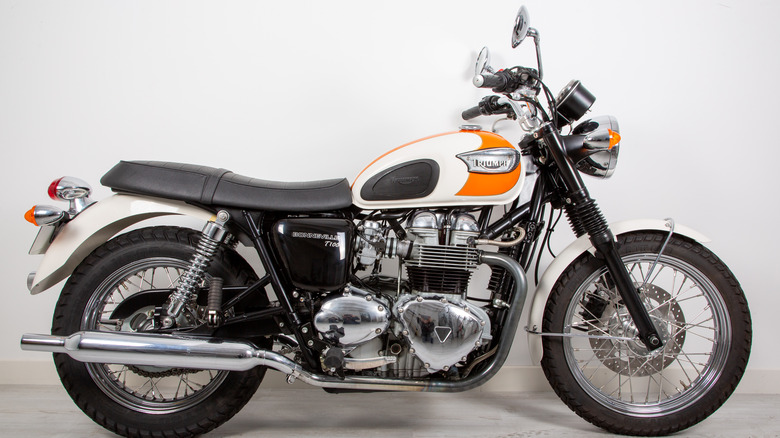 sylv1rob1/Shutterstock
Triumph's crowning achievement, Bonnevilles have been an icon for decades. "The Bonneville has been a popular model for Triumph since the 1950s and has undergone several updates and revisions throughout the years. It is known for its classic and timeless design, with a parallel-twin engine that provides a smooth and powerful ride. Additionally, the Bonneville has been praised for its handling, reliability, and versatility, making it a great choice for a range of riders and riding styles. Its iconic status in the motorcycle world and its enduring popularity make it a strong contender for the title of the best Triumph motorcycle ever made," ChatGPT offers.
While McQueen may have made the jump on a TR6 Trophy, one of his favorite personal motorcycles, and perhaps the most iconic, was a Triumph Bonneville. His was a 1963 Bonneville Desert Sled Frame that was built by his friend and stunt double in "The Great Escape" and "Bullitt," Bud Elkins. The bike was customized for desert racing and off-road driving and was even painted by the legendary Von Dutch (Kenneth Howard). It's this bike (and the legendary driver who owned it) that perhaps set off a frenzied pop culture craze surrounding the Bonneville brand.
The 2022 Bonneville T120 that's on the market today is a faithful representation of the classic originals. The modern Bonneville is powered by a 1,200cc twin-cylinder engine rated at 79 horsepower and 77.4 lb.-ft. of torque. It uses a six-speed transmission and offers a fuel capacity of 3.8 gallons.
Triumph Speed Triple and Tiger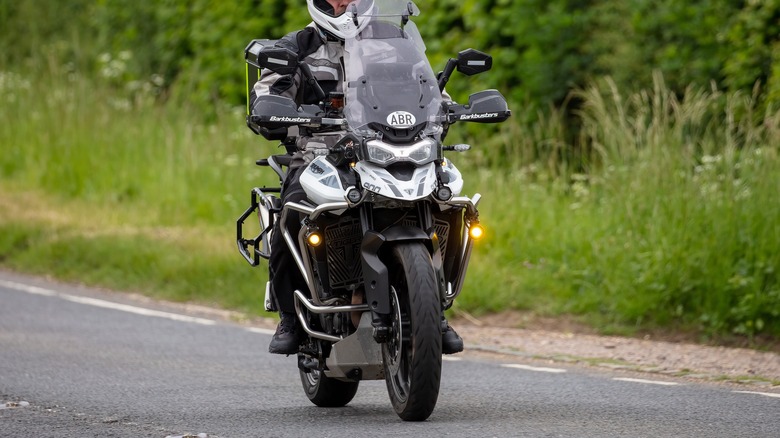 Sue Thatcher/Shutterstock
ChatGPT makes a special note of these two models, but doesn't offer any details on why either motorcycle might be a contender for Triumph's 'best motorcycle.' This suggests that perhaps the AI sees the Bonneville as a runaway example of excellence rather than a favorite among what is more or less a field of peers. This is a departure from ChatGPT's other conversations with us about the best cars ever made or the best fighter jet created. The AI system, and others like it, were each developed to remain highly diplomatic when taking a position on a variety of topics. This time, however, the AI offered some contextualizing conversation, and then quickly selected a clear answer. We're certainly inclined to agree!
Even so, the Speed Triple and Tiger are fabulous motorcycles in their own rites. The newest update to the Speed Triple is the 1200 RS, which was introduced in 2021. It's a naked, streetfighter-style motorcycle devoid of forward fairings and an enlarged windscreen. Instead, the bike's design focuses on power and speed. The 2022 1200 RS is run on a 1,160cc inline-triple that produced 177.5 horsepower and 92 lb.-ft. of torque, vastly improving on the previous model's engine output. It's also the lightest version of the Speed Triple ever rolled out by Triumph, adding substantially to the driving experience that a performance biker can expect.
The Tiger on the other hand is broken into two offshoots. The Tiger 900 Rally is an off-roading legend, while the 900 GT is a street-focused variety. Both Tiger models include ABS brakes that make cornering and handling a strength rather than a weakness. They each run off of an 888cc inline-triple that produces 93.9 horsepower and 64 lb.-ft. of torque.