The 8 Best HDMI Cables That Are Actually Worth The Money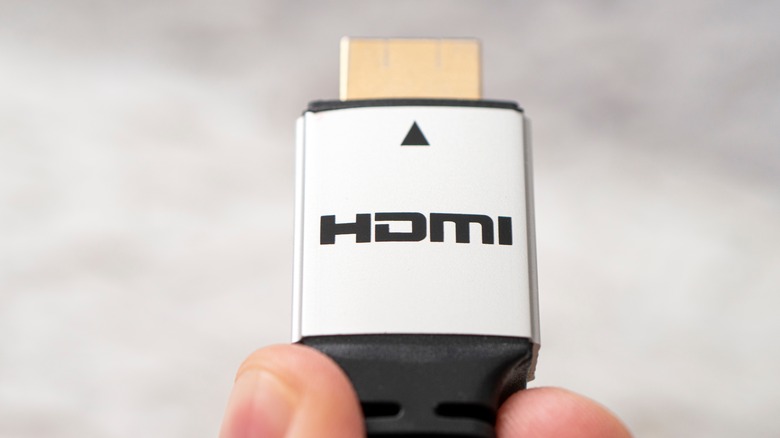 diy13/Shutterstock
We may receive a commission on purchases made from links.
Buying an HDMI cable may seem like a simple process, however, don't be fooled: Even though HDMI cords look nearly identical from the outside, the internal makeup of these cords has a huge impact on the image quality they can produce. Some cords will improve HDR performance, while others will let you enjoy 4K content at a higher refresh rate.
We have assembled a list of the eight best HDMI cables that are actually worth the money, whether your main goal is to play games or make movies more immersive. Many of them vary in cost, but that cost difference is largely attributed to the tech inside the cable. Many of these cables are also built with braided nylon cords, which improves durability and improves the overall lifespan of the cable.
No matter what your needs and budget are, there is an HDMI cable out there that will work for you.
Highwings 8K Ultra High Speed HDMI Cable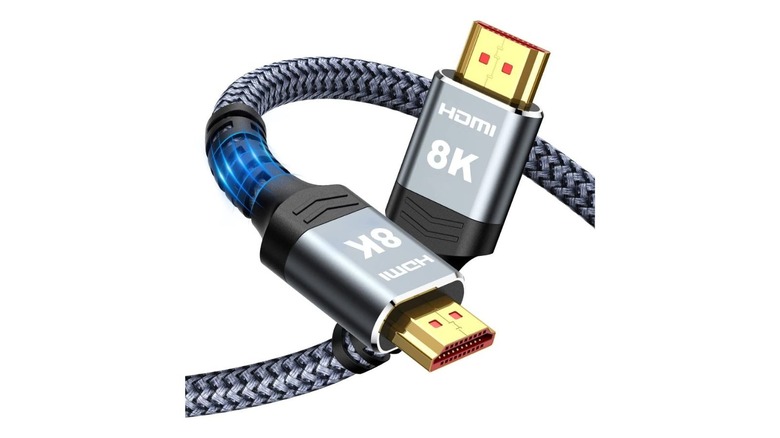 Amazon
High-quality HDMI cables don't have to cost a fortune, and the Highwings 8K Ultra High Speed HDMI Cable is a testament to that fact. This HDMI 2.1 cable has transfer speeds up to 48GB/sec, which means it can handle 8K video at 60Hz or 4K video at 120Hz. We're a long way off from 8K hitting the mainstream market, but that doesn't mean you can't future-proof your setup now.
The Highwings 8K HDMI cable also stands out because of its durable design. It has a reinforced braided cable that can withstand 30,000 bends, and the housing around the plug has been designed to last for years.
Highwings manages to pack all these great features into a cable that only costs $10. The cable itself is 6.6 feet long, but you can get longer options for a bit more. If you're looking for an affordable cable that will last you for years to come, this is the cable for you.
Belkin Ultra HD HDMI 2.1 Cable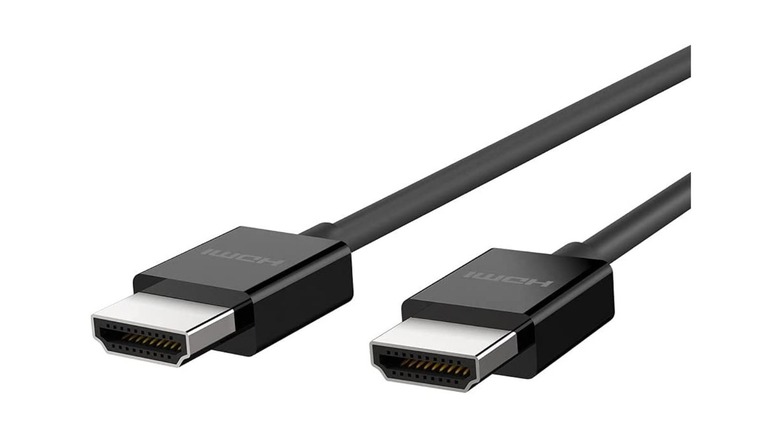 Amazon
If you want an option from a brand you can trust (and are willing to pay up for it), this Ultra HD HDMI Cable from Belkin is a great option. Belkin is well established in the tech accessory space, and the brand's HDMI cable is one of the best you can get. It isn't the fanciest option out there, nor is it going to win any design awards. However, the Belkin cable makes up for this in pure reliability.
This cable is rated for 8K at 60Hz and 4K at 120Hz, and it supports HDR 10 and Dolby Vision. That means this cable will last you for years to come, even if you upgrade to an 8K TV when they become more widely available. At $27, this cable is considerably more expensive than other cables. However, the higher quality will likely save you money in the long run.
Ugreen 90 Degree HDMI Cable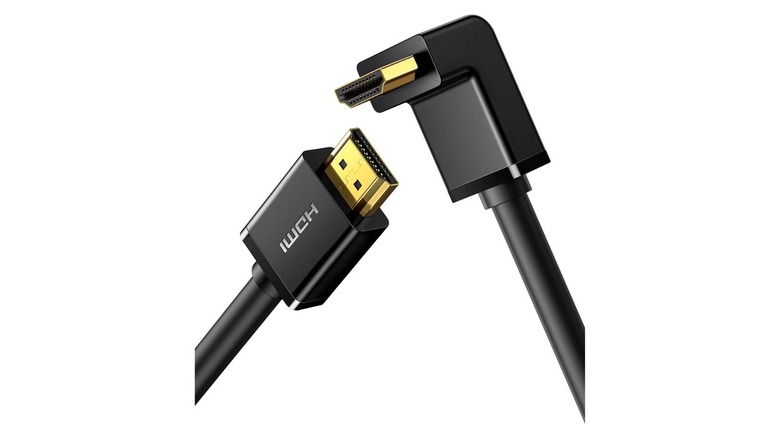 Amazon
If you have a tight space you need to squeeze a cable into, then the Ugreen 90 Degree HDMI Cable is the option for you. As the name suggests, the Ugreen has an angled connector, perfect for squeezing into tight spaces like behind a wall-mounted TV. The Ugreen isn't quite as advanced as some of the other cables on this list, but it does support 4K at 60Hz.
This makes the Ugreen 90 Degree Cable ideal for consoles like the PS5 and Xbox Series X. However, the cable is only HDMI 2.1. That means if you want the absolute best video experience, you will be better off with a different cable. However, this is an excellent cable if functionality for gaming is what you're looking for.
This cable is only $9, too, so it's a fair price for what you're getting, which is convenience over anything else.
Amazon Basics High-Speed HDMI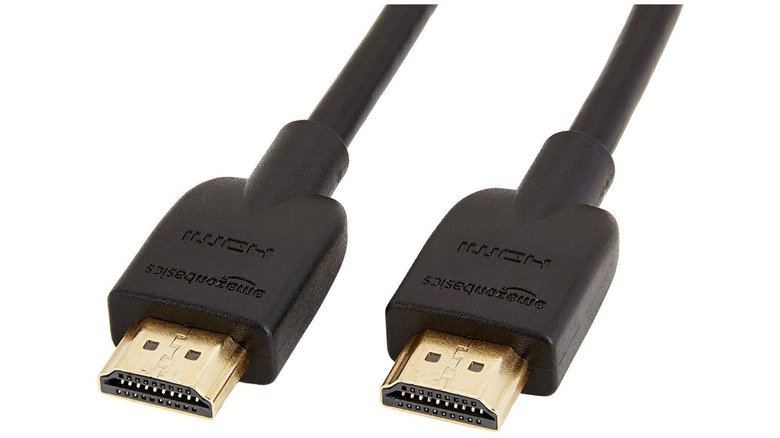 Amazon
If you have a basic 4K setup, or you're just looking to get a couple spare HDMI cables, these Amazon Basics High-Speed HDMI Cables more than fit the bill. They aren't as cutting edge as other options on the list, but they get the job done, especially if you're dealing with an average setup. The Amazon Basics option supports 4K at 60Hz, which is more than enough for most budget and midrange 4K TVs.
The Amazons Basic cables also come in a variety of sizes, ranging from 3 to 25 feet (though the longer options are out of stock frequently). You can also buy the Amazon Basics cables in packs. For $18, you can get three 6-foot HDMI cables, making the cost per cable just $6.
If you are looking for a cheap but good enough option, the Amazon Basics HDMI Cable is a compelling choice.
Anker Ultra High Speed HDMI Cord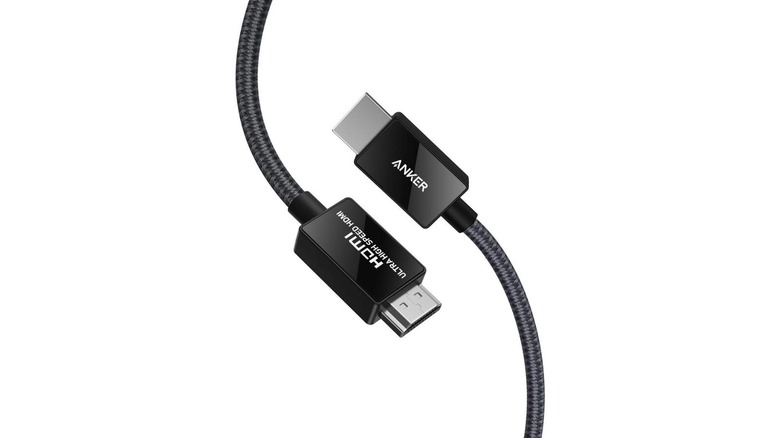 Amazon
Anker has built quite a reputation over the years for affordable but high-quality products, especially in the audio space. Well, the same is true for its HDMI cables. This Anker Ultra High Speed HDMI Cable isn't the cheapest option around, but it is certainly a premium cable that undercuts the cost of other high-end cords.
This Anker HDMI cable supports 8K at 60Hz and 4K at 120Hz. It's also certified by the HDMI Forum, and it has been tested to shield against electromagnetic interference (which can affect other devices). The cable is also incredibly durable with carbon steel connectors and a durable braided nylon cord. And since it's rated for 10,000 plug-ins, this cable will last you for years to come.
For $20, the Anker Ultra High Speed HDMI Cable is an excellent balance of cost and performance, which is typical of Anker's product range.
EZQuest Braided Ultra-High Speed HDMI Cable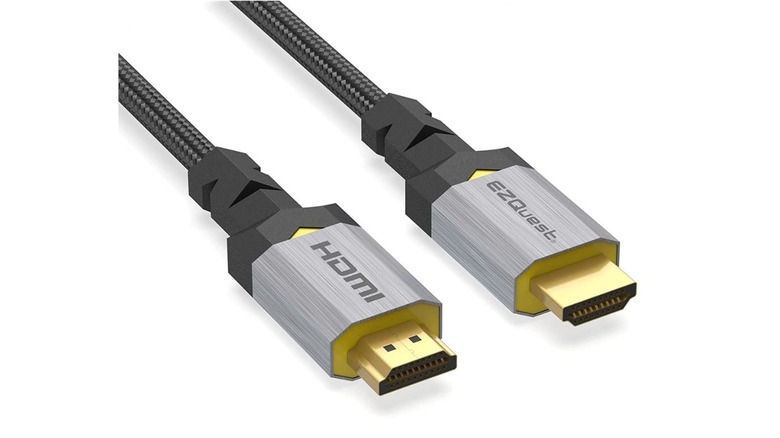 Amazon
EZQuest is a new company on the scene, but like Anker, it is creating high-quality products at affordable prices. The EZQuesti Braided Ultra-High Speed HDMI Cable only costs $16 but offers excellent future-proof features and a strong, durable design.
The EZQuest cable can handle 8K at 60Hz and 4K at 120Hz, and it supports the popular formats for HDR. The nylon braided cord also makes the EZQuest cable tough and durable. The EZQuest also supports variable refresh rate and low latency modes, making this an ideal cable for gaming, whether that's on console or PC with a 4K monitor.
The EZQuest is a high-quality cable with a great price, and if you're on a budget and willing to try a newer company, this is an excellent option. The only drawback is there is only one size at 2.2 meters (or 6.6 feet). If you don't need that much cable, you'll have to bundle it up.
Monoprice 8K Certified Premium High Speed HDMI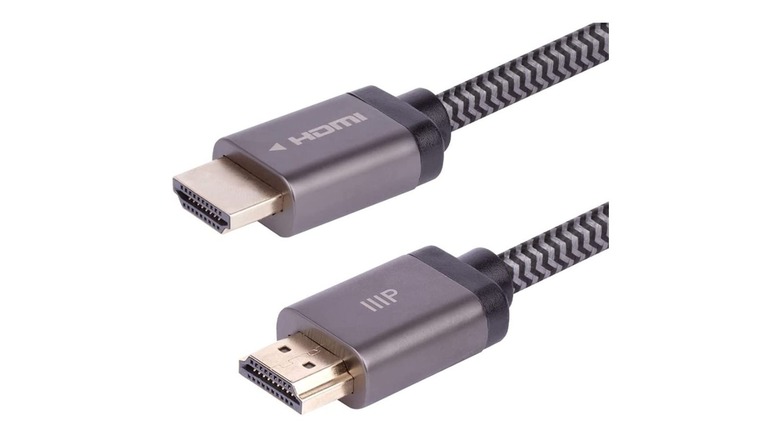 Amazon
If you're looking for a high-quality cable in the sub-$20 range, this Monoprice 8K Certified Premium High Speed HDMI Cable is another one worth looking at. It has a strong braided nylon cord that improves durability, and it supports 8K at 60Hz and 4K at 120Hz. With 48GB data transfer speeds, the Monoprice also supports all the popular HDR formats including Dolby Vision and HDR 10.
This Monoprice cable also supports eARC (enhanced audio return channel), which essentially simplifies connectivity between audio devices. This is important if you want high-definition audio formats like Dolby Atmos to perform optimally. That's a must-have feature if you want to have great-sounding audio for movies and games without going analog.
Unlike the EZQuest, the Monoprice also has variable sizes from 3 feet all the way to 15 feet. This makes it easier to find the cable that is right for your setup. For $12, the Monoprice is a compelling option that will fit most setups.
Zeskit 8K Ultra High Speed HDMI Cable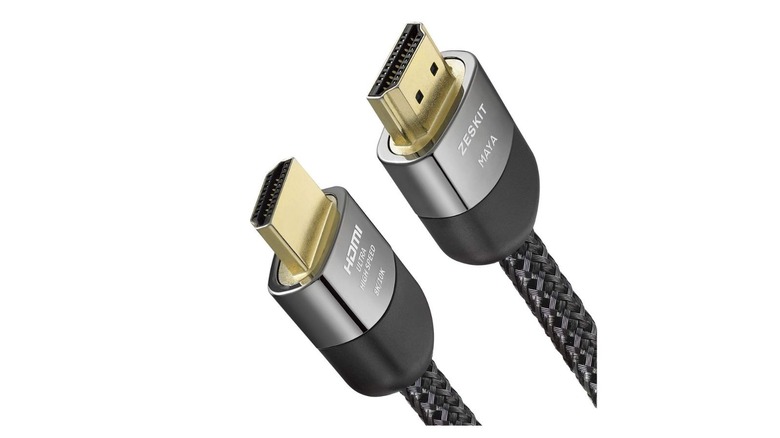 Amazon
If you look on Reddit or other home theater forums and ask for HDMI recommendations, you're going to see the Zeskit 8K Ultra High Speed HDMI Cable a lot, and for good reason. This is another premium cable in the sub $20 range, and it has all the bells and whistles you could expect. 48Gbps gets you 8K at 60Hz, 4K at 120Hz, and all the HDR and high-definition audio you should expect at this price point.
However, what makes the Zeskit different from other HDMI options is the construction of the cable itself. Rather than several thin copper wires inside, the Zeskit has a single solid copper conductor. This design reduces image jitter and other distortions to create a crisp and clear image.
At $16, there are a couple of cheaper options on this list, but if you're looking for the absolute best image quality and desire little to no interference, the Zeskit is the best option for you.
HDMI specs explained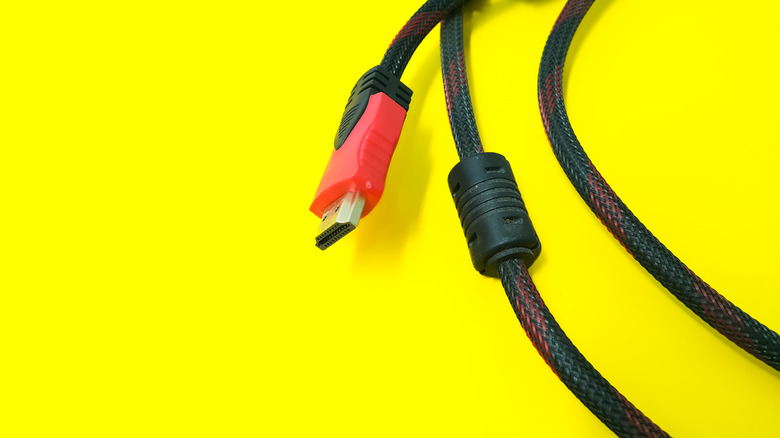 Fadfebrian/Getty Images
HDMI cables, despite having a uniform connection, can actually vary widely. HDMI is an old standard at this point, and there is a difference in capability between HDMI 1.4, HDMI 2.0, and HDMI 2.1.
Most HDMI cables you can buy right now are at least HDMI 2.0, which can support 4K at 60Hz and 1080p at 120Hz. However, if you have a higher refresh 4K monitor or television, you will want to make sure you get an HDMI 2.1 cable, which can support 4K up to 120Hz.
HDMI 2.1 also supports HDCP 2.2 (high-quality digital content protection). HDCP prevents the copying of digital audio and video information, which can translate to better image quality and less lag between the inputs and outputs. HDMI 2.1 cables also have 48Gbps data transfer speeds, which improves the quality of HDR content. HDMI 2.0 only has 18Gbps transfer speeds.
In short, it's usually worth paying up for an HDMI 2.1 cable. They are a bit more expensive, but with proper care, they will last you for years to come, even when you upgrade displays down the line.