5 Cars Owned By Adam Carolla That Prove He Has Great Taste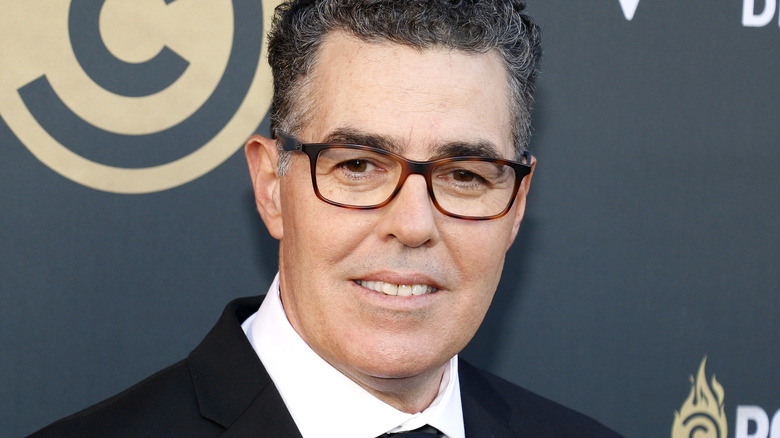 Tinseltown/Shutterstock
Adam Carolla is an avid car collector. Unlike some celebrity car owners, his collection is geared toward the racing end of the spectrum. 
While he certainly owns a number of classic street drivers (for instance, an impressive range of Lamborghinis), his focus is actually placed in track vehicles. Specifically, Carolla loves collecting Paul Newman racers. The comedian and actor has lost count of the number of Newman Racing cars he owns, and his garage is laid out in an impressive collection of cars, gear, and memorabilia.
Carolla might be most famous for his productions of "Loveline", a radio show co-hosted with Dr. Drew Pinsky, and "The Man Show," alongside Jimmy Kimmel. While "The Man Show" in particular was a somewhat raunchy comedy production, it also highlighted some interesting political themes in America. Notably, in its first ever episode, Carolla and Kimmel set up a booth to ask for signatures to "end women's suffrage," with an alarmingly high rate of agreement among those filmed (presumably confusing suffering with the right to vote). 
More recently, Carolla has been recording "The Adam Carolla Show," a podcast that enjoys a huge audience. In 2020, his show drew a record-breaking 1.1 million live views. All this success has allowed Carolla to invest in his passion for racing. Indeed, not only does he collect historic racecars, he drives them on the track as well, and has won a few races of his own.
1979 Dick Barbour Porsche 935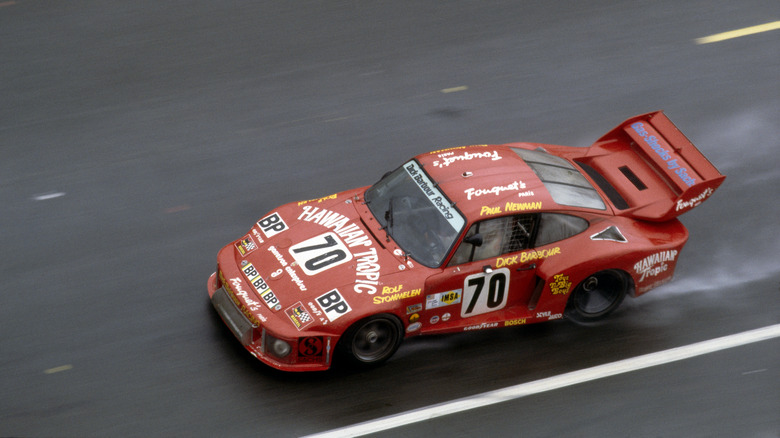 Klemantaski Collection/Getty Images
Adam Carolla's most impressive vehicle might be a 1979 Porsche 935. He purchased the Dick Barbour-sponsored racecar in 2016 for $4.4 million. This might sound like a ludicrous price tag for a Porsche — a brand that's constantly bringing a plethora of fun models to the car market. However, this one is truly special. 
It's another Paul Newman racer, and the one he co-drove in the 1979 24 Hours of LeMans alongside Rolf Stommelen. The race itself was a Herculean feat for the 54-year-old actor. Racing against endurance pros in their prime, Paul Newman and his teammate nearly walked away with a victory at the grueling race had it not been for a jammed wheel nut. The team finished second, with 300 laps completed (not far behind the Porsche Kremer Racing team's 307).
The cars themselves were developed as pure racers. Porsche produced the 935 between 1977 and 1979, under the direction of engineer Norbert Singer. The engine used was a Type 93/72 Boxer-6 with a KKK Turbocharger. The car produced 560 brake horsepower, and had a measured displacement of 2,856 cubic centimeters, mated to a four-speed manual transmission. "I have that Dick Barbour 935 Porsche from LeMans, and raced it quite a few times. That's a real interesting piece; it's got a lot of history," Carolla said of the famed racecar.
2004 Aston Martin DB9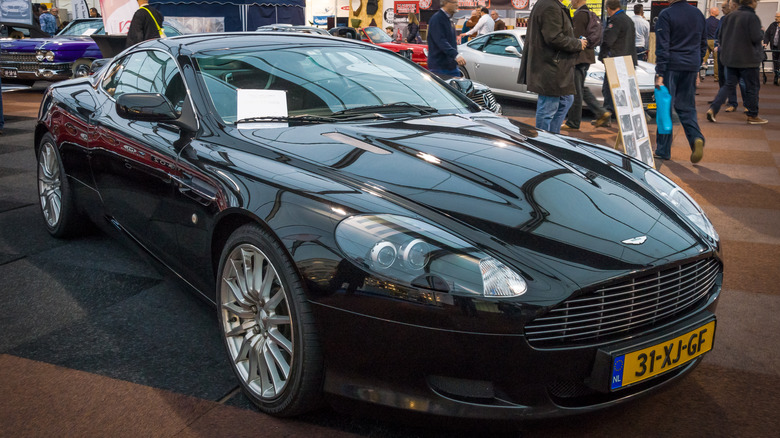 Sergey Kohl/Shutterstock
The Aston Martin range offers a number of classic additions to celebrity garages. The DB9 is no exception, and the powerful V12 engine and sleek outer frame of the vehicle simply screams class. 
Adam Carolla's Aston Martin DB9 is completed with a British Racing Green hue (officially from the factory, dubbed Aston Martin Racing Green, according to Carolla), and a red interior. His was customized by Chip Foose, a celebrity automobile designer. 
Carolla reminisces on the experience of purchasing the vehicle, noting that an Aston Martin dealer called him to ask if he wanted to order one after another buyer fell off the list. "Order a car, if you've got the money you can pick it up when they deliver it in nine months. If you don't have the money, we'll sell it that day. I said alright, I'll order a car," he tells Foose in a video clip in which the two discuss the vehicle's specifics. 
Chip Foose installed a hood scoop on Carolla's customized DB9, and removed a few unneeded features that took away from the aesthetic of the vehicle. He also downsized the rims on the car, installing 18-inch rims instead of the stock 19-inch ones. Carolla's DB9 has a 6.0L V12 with four overhead cams. It produces 450 horsepower, giving him ample power when cruising down the highway. The DB9 is also outfitted with a Touchtronic semi-automatic gearbox, making for a smooth driving experience.
A pair of Nissan 300ZXs ('87 and '88)
Another Paul Newman classic that now resides in Adam Carolla's garage is the 1987 300ZX Nissan that Newman owned and raced (along with its twin, a 1988 model). The two cars are powered by V6 turbo engines. Newman raced a number of Nissan and Datsun models, but these were special. 
Paul Newman used these Nissans exclusively in the 1988 season, competing in 10 races that year. In the prior season, he relied on the 300ZX across 11 races. In fact, from 1984 through to nearly the end of the decade, Newman exclusively raced in Nissan 300ZXs, making them an icon alongside the actor and racer. This was the last Nissan model he would use before moving to other vehicles.
In a unique turn of fate, Tom Cruise actually raced in Paul Newman's 1984 Nissan 300ZX during the 1987 season, winning four of his 16 races. In the twin '87 and '88 300ZX cars, the only telltale sign of which one Newman (or Carolla) might be driving is the blue and white roll bars that appear in the models: The 1987 has a blue rollbar.
1989 Oldsmobile Cutlass
A third Paul Newman racer, Adam Carolla owns both of the Oldsmobile models that the actor and racer drove competitively. The 1989 Oldsmobile Cutlass is outfitted with a V6 Buick engine, and was raced by Newman the first time in the 1989 Trans-Am Series. The vehicle was also raced by Walter Payton before eventually falling into Carolla's collection of iconic and historical autos. 
In total, Adam Carolla owns at least 10 of Paul Newman's racers, and they were put on display at the 2018 San Marino Motor Classic. Carolla owns both Cutlasses that Newman drove (this 1989 model and a 1990 ride that utilized a larger Chevy V8 engine instead).
Carolla has long been a huge fan of Paul Newman's career, both in his acting roles, and as a racer and team owner. In 2015, he wrote, directed, and produced "Winning: The Racing Life of Paul Newman" with his production partner Nate Adams. It follows the life and experiences of Newman on the track, and highlights the down-to-earth personality that the superstar truly was — a quality that perhaps attracted Carolla to these cars. The '89 Cutlass was part of the Newman Sharp Racing Team, and is still adorned with a gigantic Pepsi logo across the hood.
1969 Lamborghini Miura S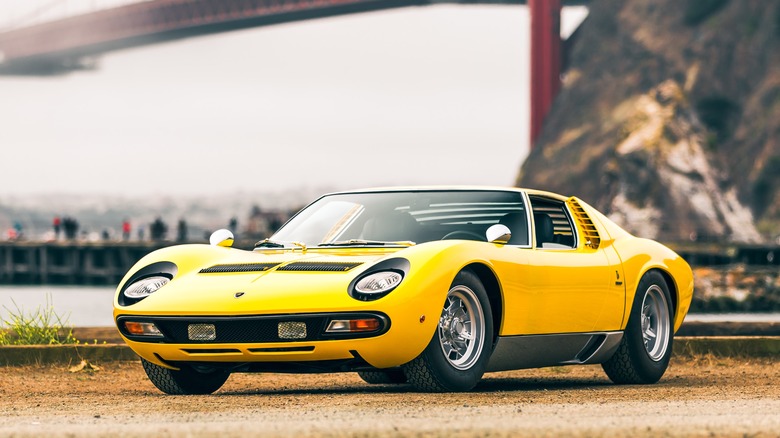 Brandon Woyshnis/Shutterstock
The last car on this list has to be Adam Carolla's Lamborghini Miura S from 1969. Lamborghini only produced 140 examples of the Miura S, making it virtually an instant classic in the world of automotive collecting. Car and Driver gave high praise to the vehicle when it first arrived in the United States in 1967, touting the Miura as the thing that "took the fledgling Lamborghini brand to the next level."
Lamborghini brought a unique feature of the racing world to street performance vehicles with this car. Instead of a typical engine placement under the hood, Lamborghini moved the power producer toward the back, but not all the way. 
Instead, the Miura is a mid-engine car with the longitudinally-installed V12 that brought it unfathomably far forward in the chassis. This distributed the weight of the vehicle more evenly across the entire frame, making the car much more agile and certainly fun to drive. The car was fast, too: It was the fastest production car in the world when it rolled off the line, achieving a top speed of 174 miles per hour.
Not only does Carolla own this fabulous piece of automotive history, he also has a one of a kind Miura SV, the only one produced by Lamborghini with a blue exterior paint and tan leather interior.