This Keychain Dongle Brings Apple-Style Satellite Messaging To Any Android Or iOS Device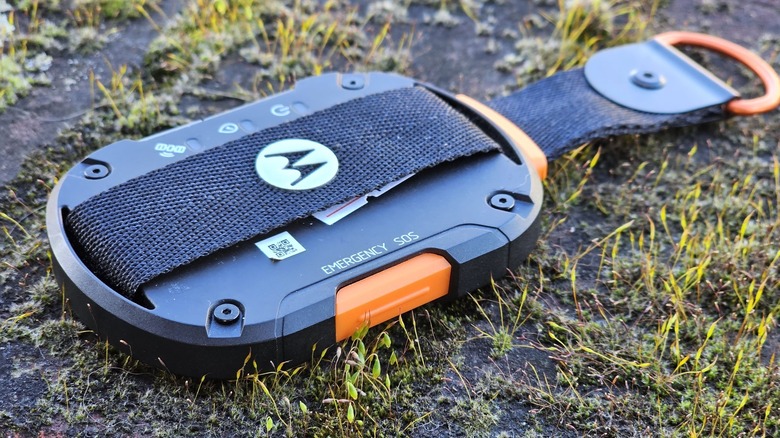 Bullitt Group
Motorola Mobility, in a partnership with innovative British mobile phone manufacturer Bullitt Group, just announced a new Bluetooth device that brings satellite connectivity to existing iOS or Android smartphones. Unveiled at Mobile World Congress 2023 in Spain, the Motorola Defy Satellite Link can enable any smartphone running least iOS 14 or Android 10 to send and receive text messages in places that lack terrestrial cellular signals, as well as providing GPS location tracking and SOS service. All you need is a clear view of the sky.
This technology is particularly valuable to outdoorsy types such as hikers, backpackers, and mountain bikers who frequent remote areas. Satellite messaging not only enables staying in touch with friends and family, but is also a serious safety feature than can be used to alert medical responders in the event of injury or other health emergencies that occur in the wilderness.
The Defy Satellite dongle is slightly smaller than a credit card and weighs approximately 2.5 ounces. Per the manufacturer, the device is dustproof, waterproof, and its 600 mAh battery can last for "multiple days."
It's much cheaper than a new phone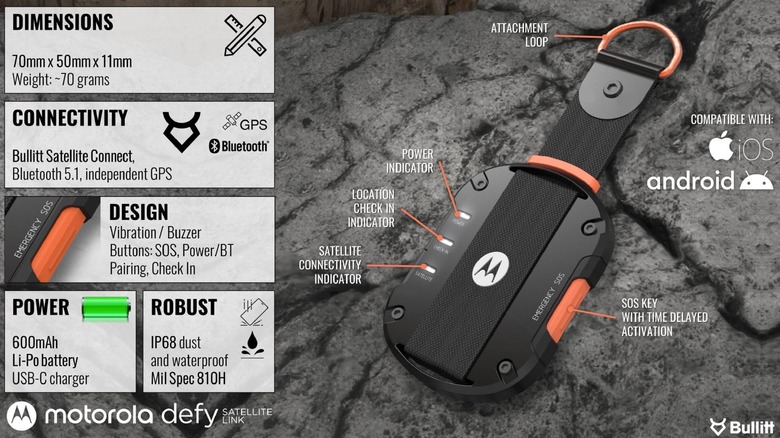 Motorola
Satellite messaging technology already exists in Apple's iPhone 14 and Motorola itself just announced a Defy 2 smartphone with built-in two-way satellite messaging. However, the $99 Defy Satellite Link accessory is certainly much less expensive than buying a new phone. There is a small catch, though. To actually use the device for personal communication, you'll need to pay a minimum of $4.99 per month for a service plan, which is powered by FocusPoint International. There's also a $149 bundle that includes the Defy Satellite Link, plus a one-year subscription to the service which includes up to 30 two-way Bullitt Satellite Messenger messages per month.
For those adventurers intending to use the Defy Satellite Link purely as a safety play, the device's SOS Assist function is free for the first 12 months after purchasing the hardware and includes 24/7 monitoring. To activate SOS Assist, there is a prominent orange button on the side of the device which also has a short time delay feature to avoid accidental activation. 
As an added bonus, Motorola's Defy Satellite Link is transferable between phones, so you can lend the device to friends or family members who are traveling to remote locations. Motorola reports that the Defy Satellite Link will be available for purchase in the second quarter of 2023.