5 Best Joy-Con Alternatives For Your Nintendo Switch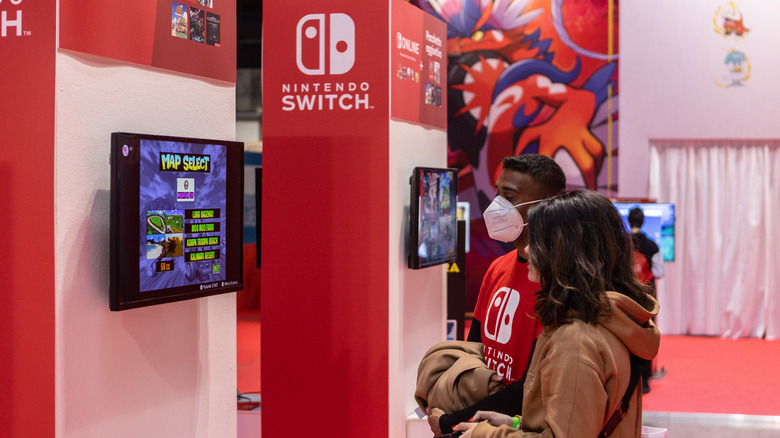 Emanuele Cremaschi/Getty Images
"Legend of Zelda: Breath of the Wild," "Mario Kart 8 Deluxe," "Super Smash Bros. Ultimate," you name it. The Nintendo Switch has a lot of games that are enjoyable for all ages and audiences. That being said, you may not be a fan of the default Joy-Con controllers, which can come with some problems of their own — like the Joy-Con controller drift issues.
Since the Nintendo Switch released, players started reporting false inputs that their Joy-Con controllers were making. For example, characters on screen wouldn't move properly because the controller was inputting in a different direction by itself, frustrating many customers. 
Nintendo changed its policy to repair the Joy-Cons for free, but hasn't changed the initial design of the remotes. Many people think that the reason for this is that the contacts inside the remotes wear down over time. 
Nevertheless, you may want an alternative controller to use if you're having issues with your Joy-Con. Luckily, there are plenty of other options for Nintendo Switch controllers.
Criteria for controller alternatives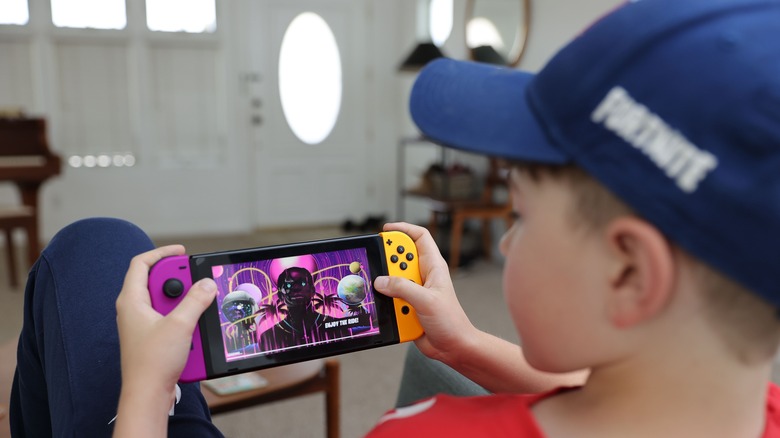 Neilson Barnard/Getty Images
When looking for a controller alternative to the Nintendo Switch Joy-Cons, it's good to keep a few deciding factors in mind. For one, you're going to want to make sure that the alternative remotes are entirely compatible with the Nintendo Switch in the first place. 
Otherwise, well, you wouldn't be able to play in most cases. But the Joy-Cons also come with some unique abilities, such as their ability to act as one remote, whilst simultaneously being turned into two separate controllers for games like "Mario Kart 8."
The Joy-Cons also can use Nintendo amiibos, which add more layers of fun to some amazing games. One could argue the most notable distinction in the Joy-Con controllers is the IR technology that allows for more interactivity in individual games, something that you will want to take into account on your shopping spree. So what devices match these criteria, and which is the best for you?
Pro Controller and Hori Split Pad Pro
The first alternative you might be more familiar with is the first-party Nintendo Switch Pro Controller, which plenty of players prefer to use as their primary controller. The remote feels more like a typical gaming console controller, with the two-handed grip, D-pad on the left, and unique buttons and joysticks that differ from the hardware on the Joy-Con controllers. 
The battery for this device lasts longer than the regular Joy-Cons, it has the same rumbling motion, and it in general might be a more familiar feel for those who've played on other gaming consoles. This device costs $69.99, making it a little cheaper than the Joy-Cons price of $79.99.
The next controller on the list — which is third-party, but also Nintendo-certified — is none other than the Hori Split Pad Pro, and it serves as almost a blend between the Pro Controller and the Joy-Cons. This device only works when using the portable version of the Nintendo Switch, and will not work as two separate remotes. 
This controller is bigger than the default Joy-Cons, something that may be preferable to players who have bigger hands. The device also has rear buttons, which allow players to assign different in-game functions to them, giving players more control over their games. On top of all of this, they're cheaper than the Joy-Cons, only costing $49.99.
Nyko Dualies and 8BitDoZero 2
If playing hands-free mode appeals to you, then the Nyko Dualies may be your best option. These remotes are designed with a more rounded edge and a comfortable grip for those playing sideways. These remotes also have detachable thumb caps, which allow players to better control the joysticks on this device. 
Unlike other third-party remotes that connect on the side of the Switch, these devices charge with a USB-C cable, similar to how you would charge your computer or other devices. Only costing $39.99, the Nyko Dualies are cheaper than both the default Joy-Cons, the Pro Controller, and the Hori Split-Pad Pro.
Unlike the Hori Split-Pad Pro, maybe you're someone with smaller hands and need a device to better accommodate your needs. The 8BitDo Zero 2 remote was designed with this reason in mind. This device is small enough to fit on your keychain, has Bluetooth, and only has a D-pad, two bumpers, and a few buttons to navigate basic games. 
This remote may not be applicable for all games, but for racing games like "Mario Kart" or other motion-based controls, these remotes could be a good fit. Coming at a price of $19.99, this Nintendo Joy-Con alternative is fairly competitive cost-wise compared to competitors.
FUNLAB Joy-Cons
Maybe you're satisfied with the feel of the default Joy-Cons and want something similar to the original design. Well, then FUNLAB Joy-Cons may be for you. These remotes only have around 10-hour battery life, but they have a few added functions that the first-party controllers lack. 
The FUNLAB remotes have a slightly larger grip than its Nintendo counterparts, as well as a D-pad like the Hori Split-Pad Pro. These controllers also use motion sensors and the same IR technology as Nintendo, making them almost identical to the original device.
Where the FUNLAB Joy-Cons differ is the turbo and macro buttons. These buttons allow for better efficiency when navigating menus, as well as generating specific "combos" for things such as fighting games, which rely heavily on this mechanic. They only cost $41.99, making them a much sought after product compared to other third-party vendors. 
All in all, besides the lower battery-life and lack of amiibo support, most of these third-party devices provide unique features that enhance players' gaming experience. Plus, no matter what type of gamer you consider yourself, there is an option for you.