The Best Nintendo Switch Pro Controller Alternatives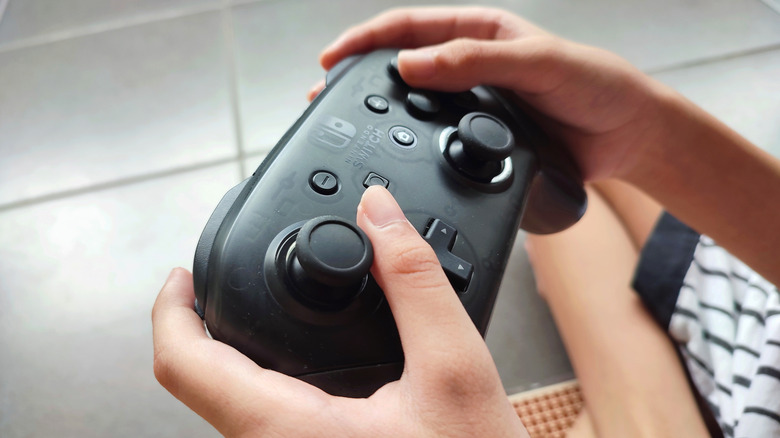 Redneav/Shutterstock
We may receive a commission on purchases made from links.
Let's face it, Nintendo already has a great controller for the more savvy Switch users. Offering better battery life and ergonomics than the JoyCons (unless you have tiny hands), the Pro controller also costs less at $70 and is less susceptible to the dreaded drift issue. But, not everyone is willing to pay $70 for a new controller (or $80 if you opt for new JoyCons) when the Switch itself costs just $300 ($200 for the Lite model). Thankfully, there are great alternatives out there that not only cost less, but also offer the same level of functionality (in most cases) and are available in a variety of colors and designs.
For this article, we'll be recommending alternative controllers that mostly offer the same features as the original, and they cost less too. In cases where one doesn't cost less than the Pro controller, it should have a unique selling point that would justify its price. Some of these are also available in different form factors so you can pick the one that suits your needs.
PDP Faceoff Deluxe+ Audio Wired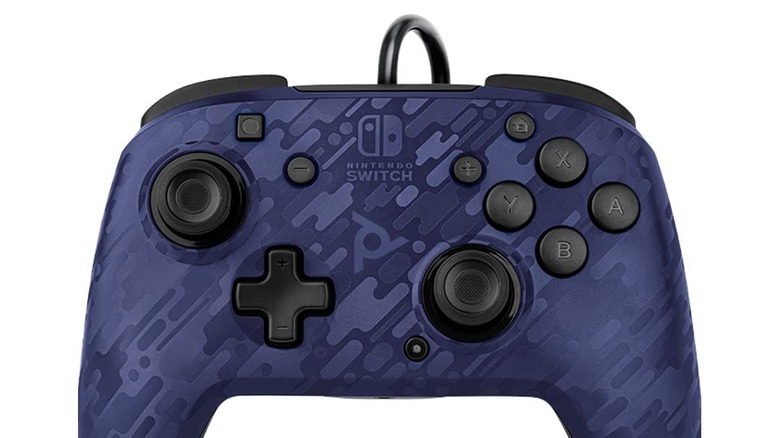 PDP Gaming
Available for $50, PDP's Faceoff Deluxe+ closely mimics the original Pro controller. Offering customizable buttons, sticks, and triggers, it lets you set up everything exactly how you want it to be. The overall ergonomics and feel are also quite similar to the first-party offering. Another small nice-to-have is that it lets you change the volume with its D-Pad, instead of having to change it through the TV remote or the Switch.
The button layout is a bit different for the "Home," "Screenshot," and "+" "-" buttons than the Pro controller so you might end up accidentally pressing the wrong buttons during gameplay sessions. You can also customize button mapping as you need so you can simply swap to a layout that you're used to.
PDP Faceoff Deluxe+ is officially licensed by Nintendo. This means you won't have to worry about certain games or features not working as it comes with motion controls, rumble, and Amiibo scanning. One major caveat that could make or break the deal for you is that it's wired. The wireless version costs over $130 making it a bad deal for anyone but die-hard fans. The wireless version also has no 3.5mm headphone jack — but the less expensive wired version does.
Overall it's a great alternative if you don't mind being tethered to your Switch with a 10-foot cord.
PowerA Enhanced Wireless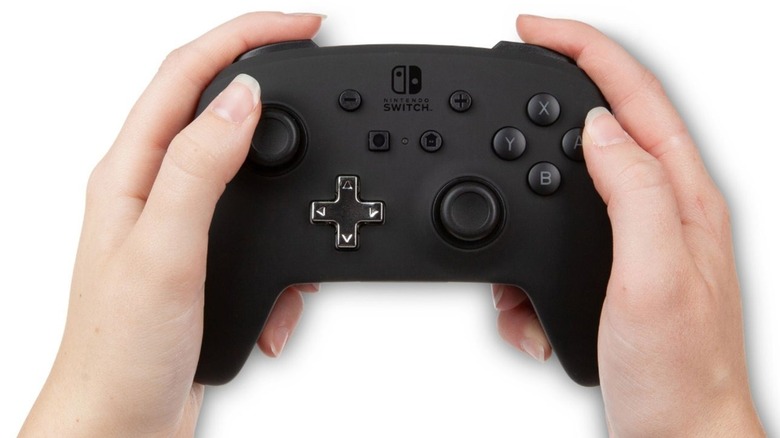 PowerA
The PowerA Enhanced Wireless controller looks virtually identical to the Pro controller but is much more affordable, going for $42 at Walmart. The best thing about it is that it's available in a variety of colorways and designs featuring multiple games and game characters. Build quality is also decent for an affordable controller and it also has customizable buttons on its back. Do note that the rest of the button mappings can't be changed so you're stuck with this layout.
Unfortunately, the lower price tag also means that it lacks a few features, namely no rumble, NFC (for Amiibo), or rechargeable batteries. It does work with cheap AA batteries though, offering up to 30 hours of battery life. It also lacks a USB port, meaning you can't use recharge your AA batteries by connecting the controller to the Switch or use it in wired mode. It also works with Mac and Android phones so you can consider this controller if you are looking to use it on multiple platforms. This controller is known for having high input lag on phones so we wouldn't recommend using it with them specifically.
You should consider getting the PowerA Enhanced controller if you don't mind the lack of rumble or replacing its batteries.
8BitDo SN30 Pro 2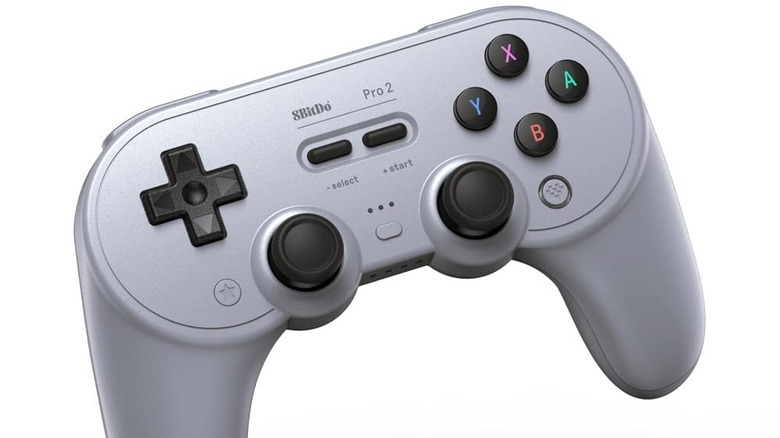 8BitDo
Being a great third-party controller in its own right, the excellent 8BitDo SN30 Pro 2 is a good alternative to the Switch Pro. Going for $50 on Amazon, it's a good $20 cheaper than the Pro controller. But like the previous one, the SN30 Pro 2 also lacks a few features to make up for the price difference. However, it more than justifies its price if you're going to use it with your PC or Android phone.
8BitDo SN30 Pro 2's build quality is right up there among the best controllers out there with decent heft, textured grips, good-quality plastics, and accurate thumbsticks. The D-Pad in particular is great if you like playing retro games. Customizability is the SN30 Pro 2's strength, with its companion software offering extensive options to tweak like the trigger sensitivity, button mapping, vibration, and joystick dead zone. It also has two additional buttons at the back that can be set to whatever you like on top of having custom profiles that you can swap on the fly.
It's good for 20 hours of battery life and allows you to swap out its rechargeable batteries with regular AA ones if you need to.
Now for the bad stuff, the SN30 Pro 2 lacks HD Rumble and NFC. It also doesn't let you wake the Switch using the home button so you'll have to manually go turn it on every time. If you like granular controls and don't care about the rumble or Amiibos then this one might be for you.
YCCTEAM Wireless Pro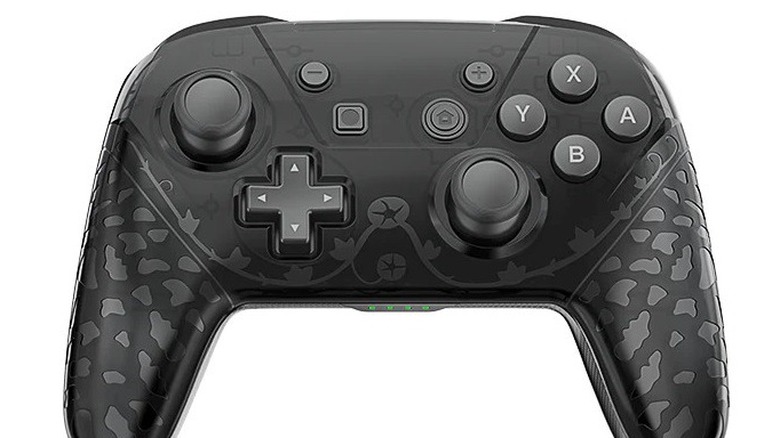 YCCTeam
YCCTeam really outdid itself with this one. There's a reason why most publications recommend this controller for the Nintendo Switch. The Wireless Pro is not only inexpensive ($33.99 on the official website), it doesn't cut corners with any of the features. At just half the price of the Switch Pro controller, the YCCTeam offering doesn't disappoint in terms of build quality either. The buttons, sticks, and triggers don't feel cheap at all even though it's a bit lightweight.
Supporting both HD Rumble and NFC, it mirrors the features of the Switch Pro which most previously mentioned controllers lacked. The home button can be used to wake your Switch too, which can be useful if you don't want to leave the comfort of your couch. YCCTeam advertises that the Wireless Pro can be used for up to 10 hours with 2.5 hours of charging. It lacks additional buttons on the back but it makes up for it with remappable ones and a Turbo button.
A couple of small downsides are that it isn't available in a lot of color options and might get a bit slippery due to the lack of textured grips. Still, those aren't deal breakers for most buyers so you can't go wrong with YCCTeam's Wireless Pro.
FUNLAB Switch Controller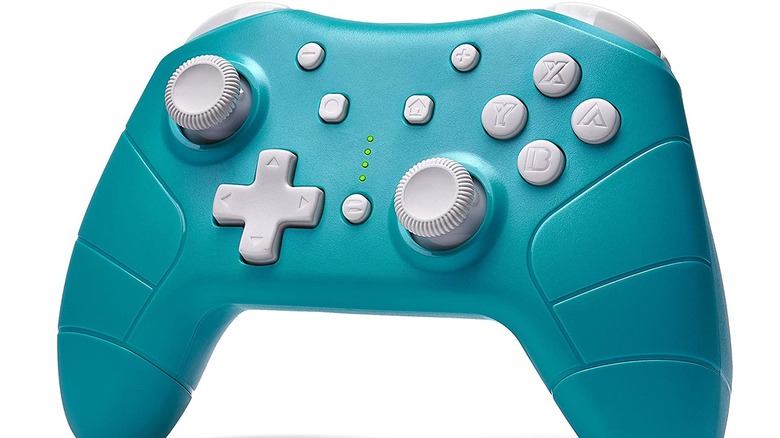 FUNLAB
An even cheaper Switch Pro alternative made by FUNLAB is available for just $30 on Amazon. FUNLAB's swanky little controller manages to keep most of the features despite the low price. With a unique design, it manages to stand out from the crowd while not being too tacky.
FUNLAB boasts about its 6-axis gyro for motion controls being highly accurate which should make it a good option for some shooter games. Featuring 3-levels of vibration thanks to its dual motors, you aren't stuck between choosing earthquake-level vibrations or barely detectable rumbles. The home button can be used to wake the Switch too, just like the YCCTeam controller mentioned earlier. There are also three levels of turbo to choose from if you're one of the twenty people that do use it.
Rounding off the features is the 8-10 hour battery life with 2-3 hours of charging time using the provided USB-C cable.
Although it does feature vibration, it lacks HD rumble and NFC for Amiibo scanning capability. It also lacks additional back buttons and button remapping. FUNLAB's Switch Controller can be used with a PC as well, though the Bluetooth connection might take some time to properly set up.
Mytrix Wireless Controller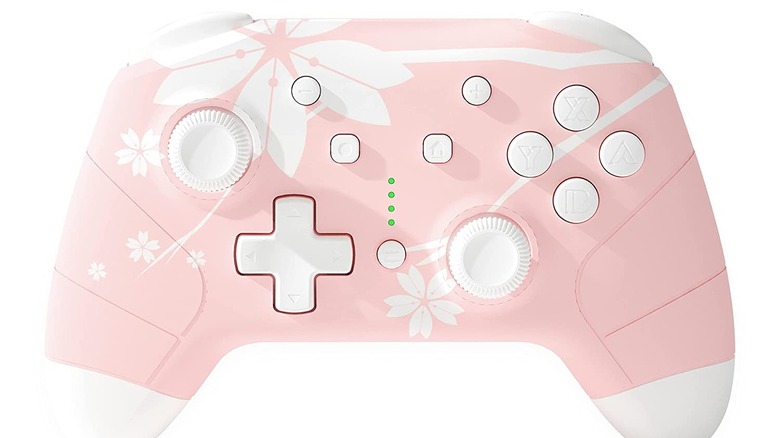 Mytrix
This one is like a mix of the FUNLAB and PDP Faceoff Deluxe+ controllers in terms of functionality and design. Aesthetic-wise this one is the clear winner in the list due to its pink colorway and the use of soft-touch materials for the thumbsticks. 
The similarities continue with Mytrix also advertising the controller's 6-axis gyro for motion controls as being "highly accurate." However, it one-ups the FUNLAB controller with its 4-way adjustable vibration options using dual motors. As for the battery life, it manages an advertised 15-18 hours using its 600 mAh cell. This one can also do the Home button wakeup trick like the previous ones.
A key standout feature for this one is the inclusion of a 3.5mm headphone jack, the same as the PDP controller. However, unlike the PDP controller, this one is cheaper and can work wirelessly. Do note that you'll need to connect the controller via a wire to use a headset with it. If you're using it wirelessly then your headset won't work.
Mytrix's Wireless Controller is available for $37 on Amazon.
CuleedTec 2023 Wireless Switch Controller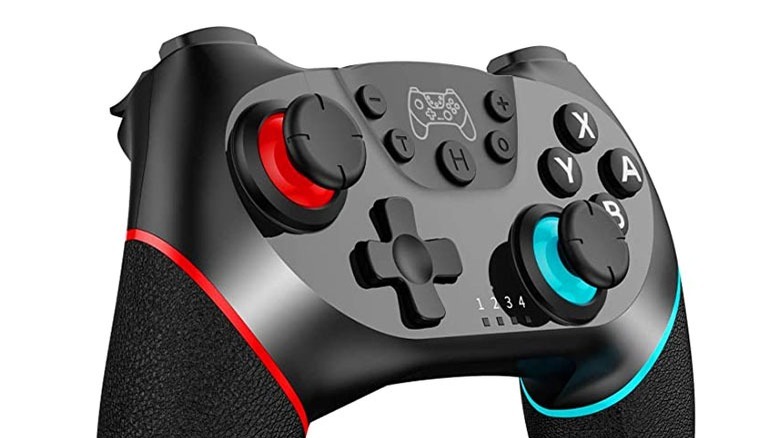 CuleedTec
With the most reviewed controller on Amazon, the shady-sounding CuleedTec seems to be very popular among buyers. Their 2023-version Wireless Switch Controller is quite similar in functionality to the FUNLAB product mentioned earlier. Coming in just $1 less than the FUNLAB controller at $29 on Amazon, it boasts a "unique" design.
You can use CuleedTec's controller with games that require motion controls, but it does not support HD rumble. It does have dual motors for vibration but they aren't adjustable. It also doesn't let you scan Amiibo as it lacks NFC. It does let you wake the Switch via the Home button and it also has a 3-step turbo button for rapid-fire inputs. CuleedTec's controller is a bit lacking in terms of battery life, only managing 6-8 hours of use after 2-3 hours of charging.
It's compatible with Windows PCs as well, though you'll have to use the included USB-C cable for it. Bluetooth connection is limited to the Switch only. An added perk is that it comes with a 1-year replacement warranty and lifetime technical support. This should give you peace of mind if you weren't on board with buying a knock-off Switch Pro controller.
BEBONCOOL Nintendo Switch Controller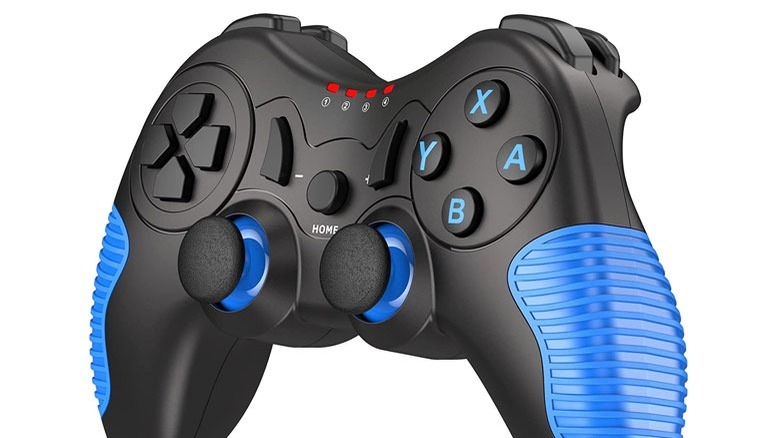 BEBONCOOL
If you absolutely need a controller for your Switch but don't have more than $20, this one is for you. One of the most affordable Switch Pro alternatives on the market, BEBONCOOL's controller is available for just $17 at Walmart. Of course, at that price, it also lacks a few features like NFC, HD rumble, and a home button that can wake your Switch. But it's still a decent option if all you need is a larger controller than JoyCons and the lack of rumble/Amiibo scanning is not a big deal for you.
It may not look all that great with its strong knock-off controller vibes, but despite being $17 it has adjustable vibration with dual motors and a 6-axis gyro for motion controls. First-person shooters or Mario Kart won't feel underwhelming or unplayable with this controller. Another small detail is the side grips which will prevent it from slipping if your hands get sweaty.
It has a small 400mAh battery which BEBONCOOL claims lasts 12-15 hours on a single charge. The controller can be fully charged in 2 hours as well.
With these features and its low price, BEBONCOOL's Nintendo Switch Controller is our pick for the best extreme budget option in this list.
8BitDo Sn30 Pro G Classic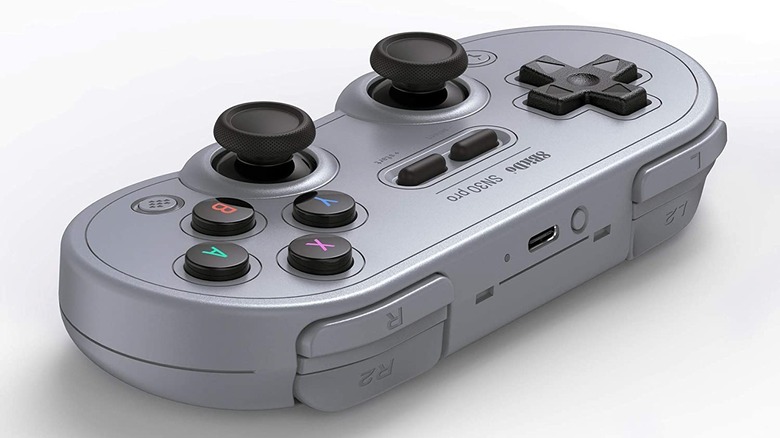 8BitDo
8BitDo's SN30 Pro G Classic looks very similar to the original Super Nintendo controller. Despite its small size, the G Classic matches its bigger sibling in terms of features. Not only do you get customizable buttons and wireless connectivity, but this controller can also pair with virtually anything that supports Bluetooth connectivity. It does lack HD rumble (regular rumble is supported) and NFC, but it still has motion controls on board. Plus, the great companion app that lets you customize vibration, stick sensitivity, and button mapping works well too.
If one of the reasons you were looking to buy a Switch Pro style controller was its larger size, the G Classic isn't a good idea. It's still larger than JoyCons, being just the right size to be used by adult hands. Going for $45 on Amazon, the G Classic is slightly more affordable than the SN30 Pro 2. However, there are a couple of things that you should know before buying this controller. For one, it doesn't support the home button to wake feature. It also doesn't have analog triggers, opting for buttons due to its small form factor.
Still, its retro looks and compatibility with multiple platforms make it an enticing option.
PDP Little Wireless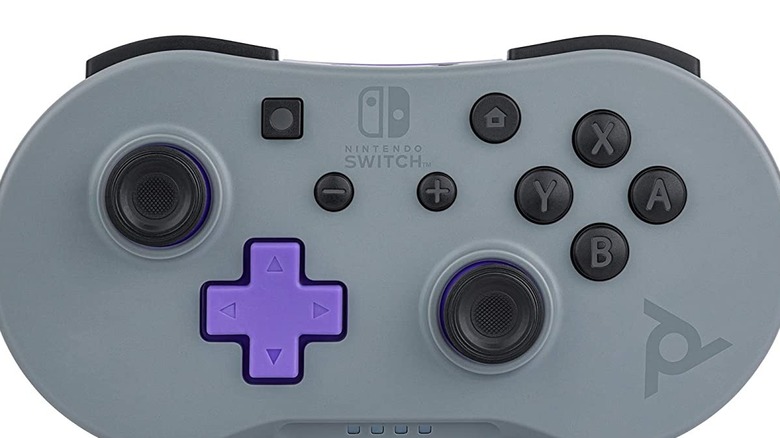 PDP
Here's another option for you retro controller lovers. PDP's "Little" controller is officially licensed by Nintendo, borrowing styling from the powder-purple SNES controllers. In terms of size, it's a bit smaller than the 8BitDo SN30 Pro G Classic but features taller thumbsticks. This is a major plus point in its favor as JoyCon sticks are way too small and the higher mobility makes it easier to play most games. Fighting games may be the only exception as faster inputs are favored over ease of movement in their case.
Like the previous tiny controller, this one also lacks HD rumble and NFC for Amiibo scanning. However, it has a home button that can wake the Switch so that's nice to have. Its biggest selling point has to be its great battery life. Coming in at 40 hours, it lasts just as long as the Switch Pro despite being considerably smaller.
It costs $50 on Amazon, $5 higher than the SN30 Pro G Classic. The higher price is justified by its better battery life. However, it lacks the customizability and platform-agnostic nature of the 8BitDo controller. At the end of the day, it's up to you if you need a controller for Switch only or if playing on other platforms is important to you too.
Hori Split Pad Pro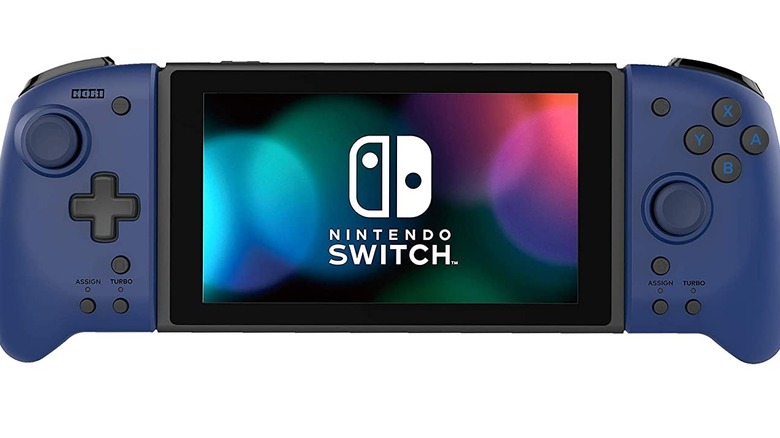 Hori
Last but definitely not least is the JoyCon Pro Max. Sorry, meant to say Hori Split Pad Pro, available for $44 apiece at Amazon.
Officially licensed by Nintendo, Hori's controller aims to replace your JoyCons with something more comfortable. Though the definition of comfortable is subjective and the Split Pad Pro might be a bit too bulky for some. It's designed to be used in handheld mode with the Switch in the middle which could make it a bit too heavy for prolonged use. The Split Pad Pro makes up for it with much better ergonomics than JoyCons.
A turbo mode and assignable rear buttons are on board the Split Pad Pro which could be useful. However, it lacks rumble or any sort of vibration which is a bummer. Another thing to note is that it doesn't have a separate battery, using the Switch's unit to work. This may reduce your Switch's battery life.
If you primarily want to replace your JoyCons and don't mind the lack of rumble, the Hori Split Pad Pro might be a good option.
Final Thoughts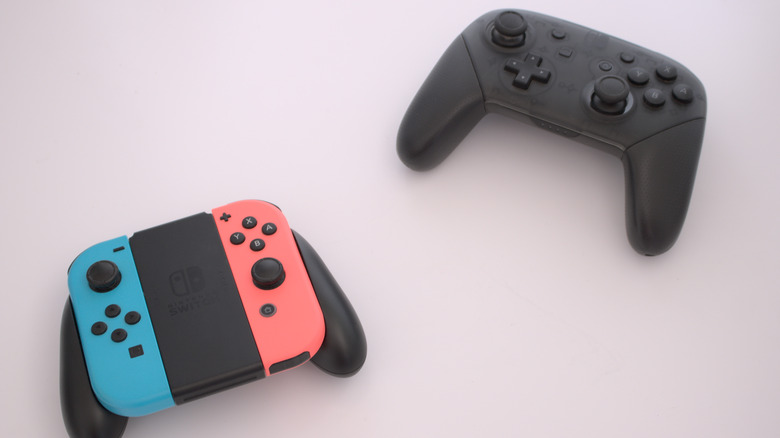 Larissa Kakizaki/Shutterstock
Our recommendations range from wired controllers to fully-featured and cheaper replacements to larger JoyCons. This should make it easier to pick the ones that you like, giving everyone something to choose from. 
If you're looking for the most affordable controller out there, go for the BEBONCOOL. The best overall controller on the list — other than the official controller options — CCTeam's Wireless Pro includes every single feature the Switch Pro controller has. A highly customizable option? 8BitDo's offerings are for you. If you're not worried about functionality so much as you're looking for style and feel, the Mytrix or PowerA should do.
Note that some of these are officially licensed by Nintendo, meaning they should work with every Switch game out there, for the most part. If you aren't sure about which controller to get, going with an officially licensed unit is always going to be your safest bet.