Here's How Fast The 1969 Dodge Charger R/T Really Is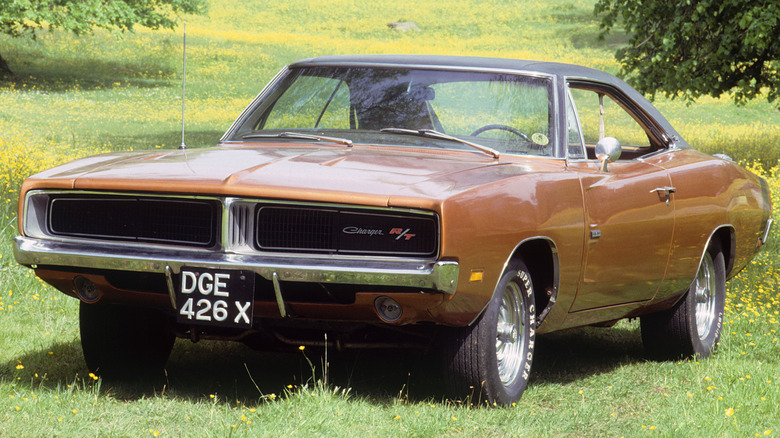 Heritage Images/Getty Images
There are very few muscle cars as iconic as the second-generation Dodge Charger, which was produced between 1968 and 1970. Of course, any child of the 1980s will remember the orange 1969 Charger named General Lee that performed gravity-defying stunts on the hit television show "The Dukes of Hazzard." But Hollywood also gave the second-gen Chargers a starring role in films like "Bullitt," "Dirty Mary, Crazy Larry," "Christine," and the "Fast & Furious" franchise.
The second-gen Charger's lofty pop culture status was no doubt due to its striking Coke bottle shape, which was a daring departure from the first-generation design that it replaced. But the car-buying public loved it and rewarded Dodge with a greater than 500% increase in sales from 1967 to 1968. Another piece of the Charger's success was the introduction of the R/T package, short for Road/Track, which managed to combine explosive performance with a reasonable price of only $3,575 in 1969.
Even though Chrysler's famed 426-cubic-inch HEMI V8 was the highest horsepower motor available in the 1969 Charger, many enthusiasts felt that the base R/T motor, the 440-cubic-inch Magnum V8 was nearly as quick as the HEMI and a better choice for regular street driving. This is because the 440 Magnum engine produced torque at a lower RPM that was more appropriate on public roads. Also, the HEMI featured dual carburetors which were fuel-thirsty and more difficult to keep in proper tune than the 440 Magnum's single four-barrel carb.
The 1969 Dodge Charger R/T was fast for its time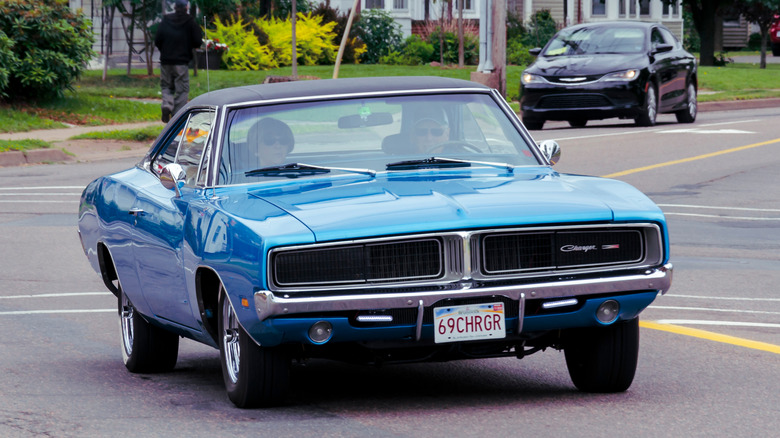 Ken Morris/Shutterstock
So how much power did the 1969 Charger R/T make? The 440 Magnum cranked out 375 horsepower and 480 pound-feet of torque. According to Automobile Catalog, this was enough to propel an automatic transmission-equipped version from zero to 60 mph in just 6.0 seconds and a timed quarter-mile could be completed in a tidy 14.3 seconds at 95 mph. While those figures were irrefutably quick at the time, many modern vehicles are capable of handily beating the 1969 Charger R/T in a drag race, including the current V8-powered Dodge Charger, which has morphed into a four-door sedan.
Automobile Catalog goes on to calculate that the Charger's estimated top speed is 132 mph, which is likely limited by engine RPM because Chrysler's Torqueflite automatic transmission did not feature an overdrive gear. Honestly, with 1960s bias-ply tire technology, you probably wouldn't even want to go that fast. Besides the 7.2-liter 440 Magnum motor, the R/T package included a heavy-duty suspension system and heavy-duty drum brakes. Its interior was furnished with bucket seats, a three-spoke steering wheel, and the sporty Rallye instrument cluster. On the exterior, we find R/T emblems and a signature "bumble bee" tail stripe in black, white, or red.
Nowadays, not too many 1969 Charger owners are brave enough to drive their cars like they were intended due to the risk of causing damage. According to classic car insurer Hagerty, the value of a 1969 Charger R/T is between $103,000 and $236,000 depending on condition. Of note, the "Dukes of Hazzard" television show is said to have destroyed over 300 Dodge Chargers during filming.