Bentley To End Production Of The Iconic 12-Cylinder Engine After 20 Years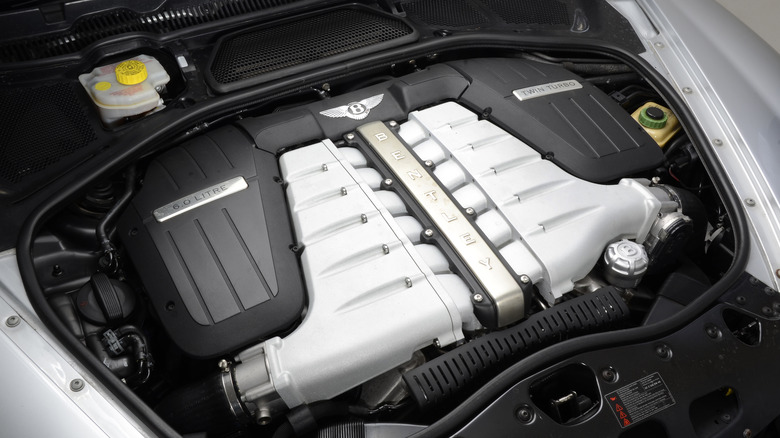 Heritage Images/Getty Images
Bentley announced that it would be ending the production of its 12-cylinder engine in April 2024, according to a press release from Bentley on February 22, 2023. The W12 engine has been an iconic feature of the luxury automaker since it debuted in the Bentley Continental GT in 2003. 
However, Bentley-produced W12 engines were seen in other Volkswagen Group vehicles before this time; namely the Audi A8 in 2001, and Volkswagen's Phaeton and Touareg models before it officially made its way into the Bentley lineup itself. The W12 engine is built as what boils down to dual V6 engines set on a single crankshaft (hence the 'W' in its name). The Continental GT model that originally featured Bentley's innovative technology used two turbochargers and produced 550 brake horsepower.
The engine has seen a number of innovative iterations in the years since it first made its way into the consumer marketplace. In 2017, the Continental GT's third generation was unveiled with a revamped W12 engine. The 6.0L custom powerhouse now brought 626 brake horsepower to bear, and was controlled in tandem with a dual-clutch automatic gearbox that made driving a Bentley a wonderfully rewarding experience. 
In 2020, a limited run of just 12 W12s were installed in bespoke Bacalar models that saw power output boosted to a whopping 650 brake horsepower. Even with these progressions continuing, the W12 isn't exactly suited to the next generation of automotive innovation.
Bentley is focusing its attention on new EV technology instead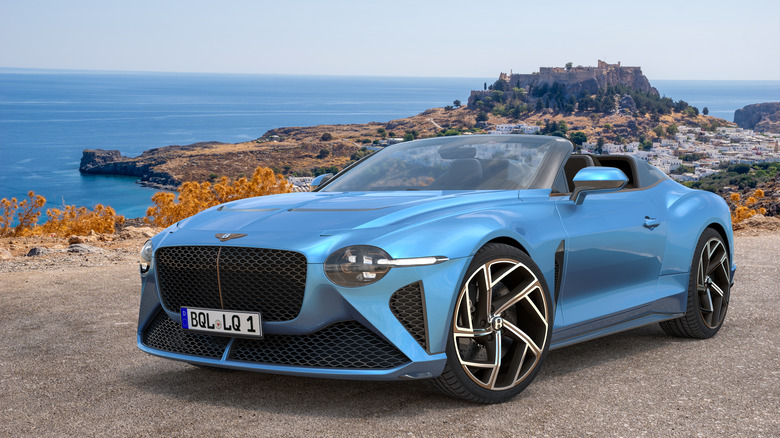 Mike Mareen/Shutterstock
The shift makes way for a renewed focus on EV technology and the future of automotive advancement. In the same way that Bentley's iconic W12 ushered in a new wave of powerful and luxurious vehicles that made driving a pleasure, the brand is looking to the future to revolutionize the electric space as well. 
The team has developed what it deems the ultimate W12 engine, delivering 750 PS (a roughly metric equivalent to horsepower: 1 PS equals 0.9868 horsepower) and 1,000 Nm of torque. The engine will be placed in 18 custom Bentley Batur models, and then the production space will be retooled for use in crafting V8 and V6 hybrid engines.
"Our progressive journey towards sustainable luxury mobility means making changes to every area of Bentley Motors ... 20 years and more than 100,000 W12s later, the time has come to retire this now-iconic powertrain as we take strides toward electrification," Bentley noted in its press release. 
Bentley also made it known that the company was committed to both a shift toward electric vehicle production, and a re-training of all 30 loyal employees who build and test the W12 engines by hand in the already-carbon-neutral factory in Crewe. Bentley has already taken steps to introduce EVs to its range of luxury vehicles, and is aiming to deliver a fully electric lineup to the market by 2030.