5 Cars Owned By George Harrison That Prove He Had Great Taste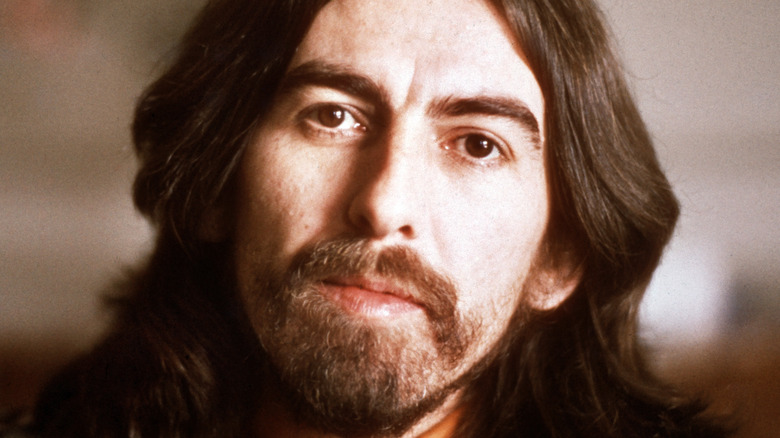 Michael Putland/Getty Images
George Harrison, one of the iconic faces of The Beatles loved cars and driving. Harrison bought and sold many cars, and his love of the open road is likely founded in his early, formative years. At 12, Harrison's father brought him to the Aintree race track to see the 1955 British Grand Prix. The rest was history. This launched a fascination with motoring, and he even spent almost a year following the Formula 1 World Championship around the world. Harrison became friends with the legendary driver Jackie Stewart and was often found in the pitlane with a variety of F1 personalities (including Stewart).
After becoming a part of what must be the most successful band in the history of music itself, Harrison started exploring the automotive world with increased vigor. With the influx of cash that Harrison and his bandmates started to enjoy as their popularity rose, a number of them began to splash out on luxury automobiles and statement pieces that brought them where they needed to go in style. Harrison has owned simple cars and flashy ones, and his tastes are somewhat eclectic. Even still, George Harrison's collection is awe-inspiring, and many of the cars that have sat in his garage are worthy of discussion.
1964 Aston Martin DB5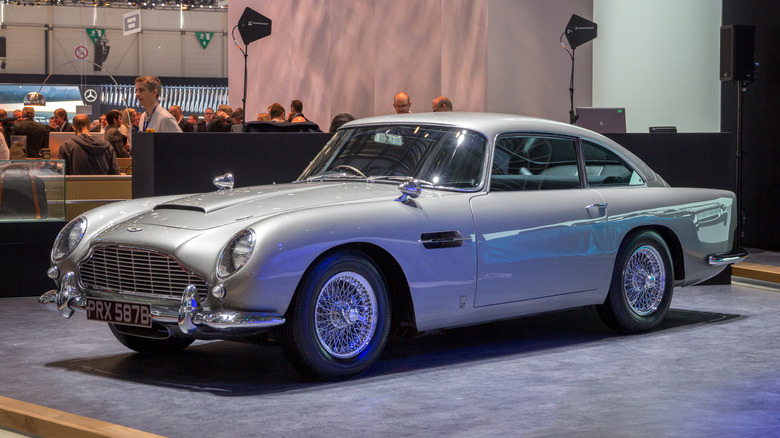 VanderWolf Images/Shutterstock
George Harrison's 1964 Aston Martin is a truly spectacular vehicle. He bought the car in 1965, making it essentially new. As well, it was the first luxury automobile he owned. The car is a marvel of engineering and the fluid lines that run down the sleek edges of the car are the stuff of legends for vintage car collectors. Harrison's Aston Martin was sold for £350,000 (about $421,000) at an auction in 2011.
The Aston Martin DB5 is a classic vintage automobile. The car is powered by a 286 horsepower Inline-six engine. The DB5 can reach a top speed of 142 miles per hour and has a 0-60 acceleration time of 8.6 seconds, operated through a 5-speed manual transmission. The Aston Martin DB5 has famously held a starring role alongside the title actor in eight James Bond films throughout the years. It first appeared in "Goldfinger" in 1964, and has reemerged in more recent releases such as 2021's "No Time to Die."
McLaren F1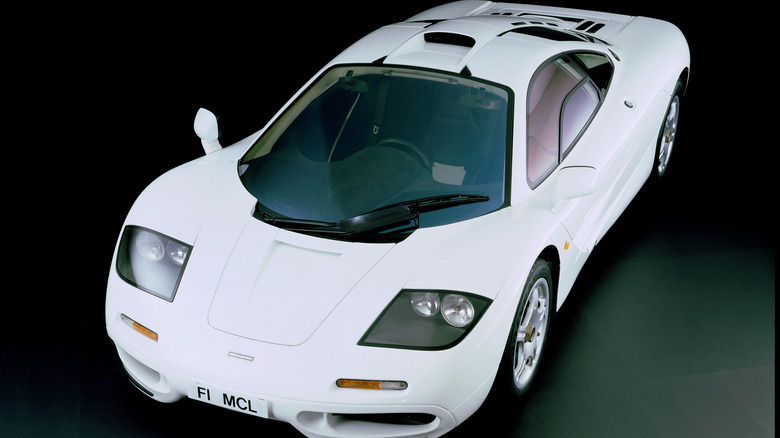 Heritage Images/Getty Images
Alongside many other celebrity owners, George Harrison bought a McLaren F1 in 1994. The car is iconic at the outset, mirroring a true Formula 1 vehicle as best as a production road automobile likely can. McLaren produced just over 100 of these remarkable works of art, making them incredibly rare. What's more, each car produced was custom-built precisely for the individual buyer. Harrison's McLaren F1 is still owned by his estate and certainly made for an elegant and powerful addition to his garage while he was alive.
The F1 brings 620 brake horsepower to bear through a naturally aspirated 6.1L V12 engine. The chassis is built from carbon fiber, reducing the total weight of the vehicle over an alternative build material (like steel). This allows the F1 to reach top speed in a hurry and really zip along the roadway. The car makes use of a one-plus-two seating layout which places the driver centrally in the body of the vehicle. To get in and out of the car, lifting doors are required to make space to drop into the seats. However, this movement also helps form the basis for the vehicle's iconic silhouette.
Austin Mini Cooper S
George Harrison's Mini Cooper is a unique specimen. Unlike the typical Mini — which is a classic British automobile in its own rite –- Harrison's Mini was custom built and eventually made its way onto the "Magical Mystery Tour" film in 1967. Shortly after the production, he gave this iconic vehicle to Eric Clapton, who would eventually return it to him after years of Harrison regretting the decision.
Initially, this Mini Cooper was painted black and it included a number of customizations installed by Harold Radford Coachbuilder Ltd. The design was completed in 1965 after The Beatles' manager Brian Epstein and Terry Doran worked together to source four Minis for the band's members. Harrison's car included a full-length sunroof and special light installations. Later, he would repaint the vehicle red and adorn it with images from the "Tantra Art: Its Philosophy and Physics" book. The psychedelic mini was reportedly the carrier for George Harrison's first experience with LSD. George, and John Lennon, along with their wives Patti and Cynthia were unknowingly given a dose in their tea by a friend and then drove home while experiencing the effects.
Jaguar E-Type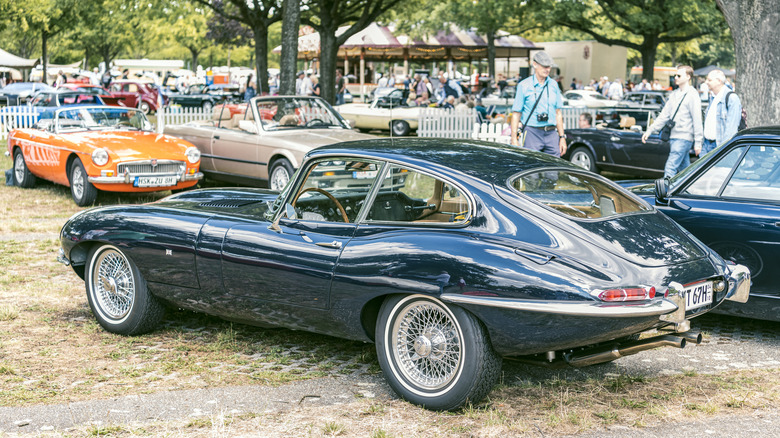 Sjoerd Van Der Wal/Getty Images
George Harrison's E-Type was a 21st birthday present from Brian Epstein (The Beatles' manager). Known as the XKE in the U.S. market, the E-Type is an iconic car with a long, storied history. More recently, as well as the 60th-anniversary reboot from Jaguar, ECD Automotive Design has started reintroducing classic sports cars as electrified vehicles that produce zero emissions. The brand took on three Jaguar E-Types in 2022 to convert them to electric vehicles.
The E-Type was first unveiled in Geneva in March 1961. Initially, the car sold with a price tag of £2,250 (about $2,700 and rising to an inflation-adjusted £38,000 as of this writing, or roughly $48,000). This made the vehicle an instant classic because sports cars simply weren't priced at this sort of affordable level. For the price, a driver gained the reins of a 3.8L engine that could achieve a top speed of 150 miles per hour on the back of 265 brake horsepower.
George Harrison's vehicle was registered in February 1964, meaning it would have been a Series 1 E-Type. The first in production, there were 33,205 Series 1 cars produced, running between March 1961 and December 1968. His was customized, including a record player mounted on the dashboard.
Ford Anglia 105E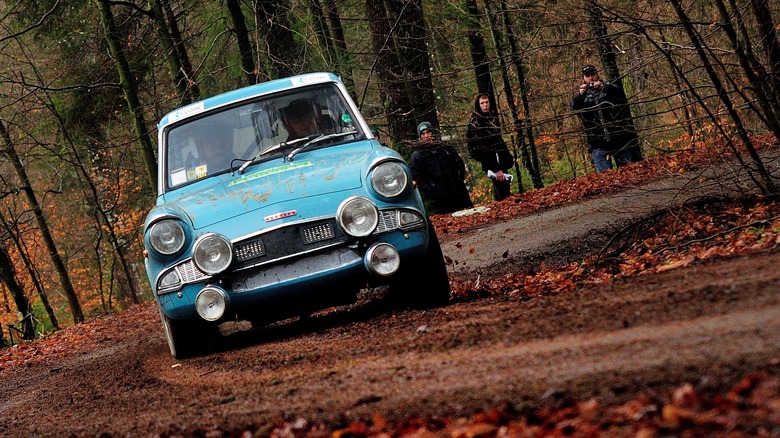 Rodrigo Garrido/Shutterstock
While George Harrison's 1955 Ford Anglia 105E isn't the most expensive car on this (or any other "cars owned by celebrities" list), the car makes it on this one for a different, but very special reason. The Anglia driven by Harrison was the first car he ever owned!
The Anglia 105E was introduced at the Earl's Court Motor Show in 1959 and turned heads in a number of ways. The small British-market Ford was the first of its kind to utilize a four-speed transmission, and it utilized a brand new engine, the over-square 997cc OHV. According to reporting by CarLogBook, there are 280 Ford Anglias remaining on British roadways. In the U.K., vehicles must pass an inspection called an MOT to remain in service, providing researchers and car enthusiasts alike with a clear picture of how popular a vehicle is alongside other crucial insights. The staying power of a simple sedan like the Anglia is therefore noticeable and its value as a collector's item is still substantial.
There's another reason why interest in the Ford Anglia might remain even though the vehicle isn't a sports car or high-performance auto. The vehicle made its way into pop culture in the early 2000s as it featured heavily in the second installment of "Harry Potter." The Weasley family owns an enchanted Ford Anglia 105E, and the vehicle that was used on set in filming the second movie (16 total on set over the course of production) was an authentic Anglia 105E Deluxe.