Here's What Makes The Original VW Bus The Ultimate Road Trip Machine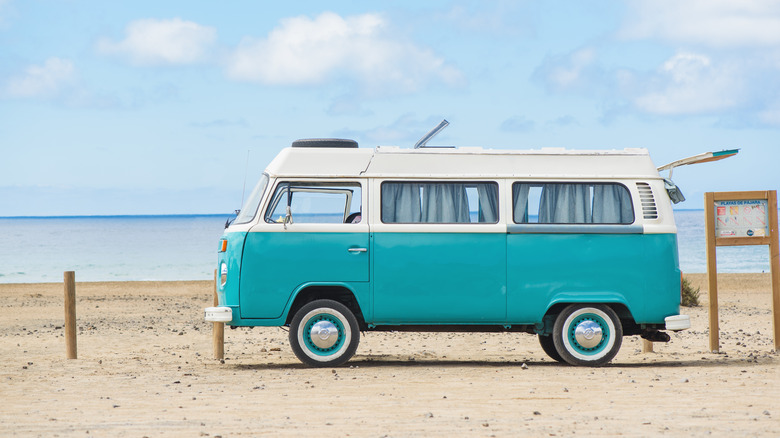 Igor Link/Shutterstock
A van is a perfect vehicle for a long road trip, and it's a shame that SUVs have taken over as the de facto automobile to take on long journeys across the country. Your average minivan in 2023 can carry more and seat more than a regular crossover SUV. For example, a 2023 Chrysler Pacifica has a total cargo volume of over 140 cubic feet with all the seats folded down and 32 cubic feet of cargo space when seating seven people. A 2023 Honda CR-V can store 39 cubic feet of cargo while seating five and almost 76 cubic feet of volume with all the seats folded down. The Pacifica wins out if you plan on carrying lots of people or things over a long distance and is optimal for road trips. 
But long before the Pacifica was around and decades before minivans were even a segment, there was the Volkswagen Microbus, possibly the best road trip vehicle ever devised.
A little van that can do anything
The VW Bus, as it's often called, goes by many names, such as T1, Kombi, and even Transporter (its official name). The bus that's adored today first appeared in the spring of 1950 and arrived in the United States in 1951. The diminutive bus was compact, efficient, and easy to maintain, thanks to its air-cooled Volkswagen motor. 
Where the bus shined was sheer capability. The motor was tucked away in the back, so there was plenty of room inside. You could fill it with seats and make it a people-mover. Removing carpet and interior trim made it a contractor van. But for road trips and long-distance driving, the van was more than adequate. Remove the rear seats and you have more than enough room for coolers, tents, suitcases, and more while still seating several people. It was a grocery-getter as much as it was a long-distance marathon runner. The VW is one of the few vehicles that can do it all. It's no wonder why every picture from Woodstock is dotted with VW vans. One day you could camp out of the van and watch Jimi Hendrix light a guitar on fire; the next day, you could drive it to run errands. 
VW made millions of the van over multiple generations, and it's one of the few vehicles that look at home covered in Grateful Dead stickers, cruising across the country, or parked in a spotless car collector's warehouse.