2023 Porsche 718 Cayman GT4 Review: Saved By The Stick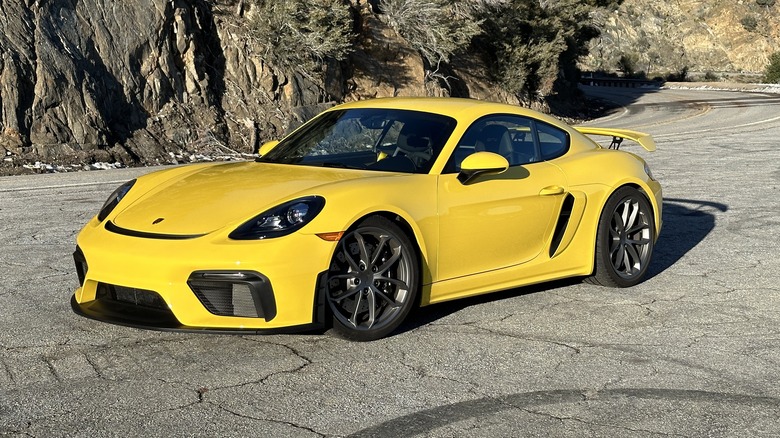 Steven Ewing/SlashGear
Until recently, if you wanted a Porsche 718 Cayman with a free-breathing flat-6 engine, the GT4 was the only game in town. But then Porsche put its 4.0-liter naturally aspirated powerhouse in the Cayman GTS, lowering the cost of entry for flat-6 fun. Never mind, the GT4 was still the most hardcore, best-driving Cayman — though, wait, now there's a GT4 RS.
So where does this leave the regular GT4? Is this former top-shelf rowdy boi of the Cayman range now an afterthought, an also-ran? I can definitely see how you'd make that argument. But let me counter with one standout feature that'll always make the GT4 special: its stick.
DIY glory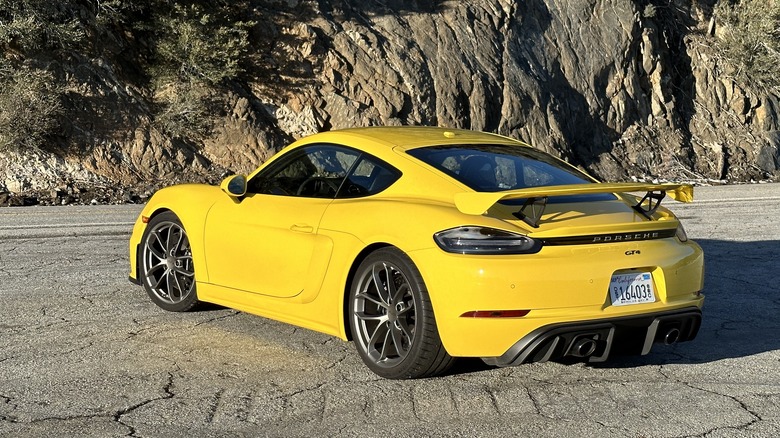 Steven Ewing/SlashGear
In its quest for ever-better lap times, Porsche offers the Cayman GT4 and GT4 RS with its snappy PDK dual-clutch automatic gearbox. This transmission is a peach, able to shift quicker than any human and always keeping the 4.0-liter engine humming in the heart of its powerband. PDK's performance benefits are definitely clear, so it makes sense that this transmission is standard in the RS, but optional in the base GT4.
Happily — for the casual weekend track rat, or the driver who just wants an incredibly involving road car — Porsche still offers the regular GT4 with a traditional six-speed manual. And not just any six-speed manual, one of the absolute best in the business. The clutch is heavy but super communicative with a clear take-up point. The metal shifter with Alcantara suede upholstery feels great in your hand. The lever itself has a satisfying mechanical action. And while you can certainly blip the engine to your heart's content for a perfect heel-toe downshift, Porsche also includes an automatic rev-matching function, making quick gear drops a seamless affair.
Only downsides on paper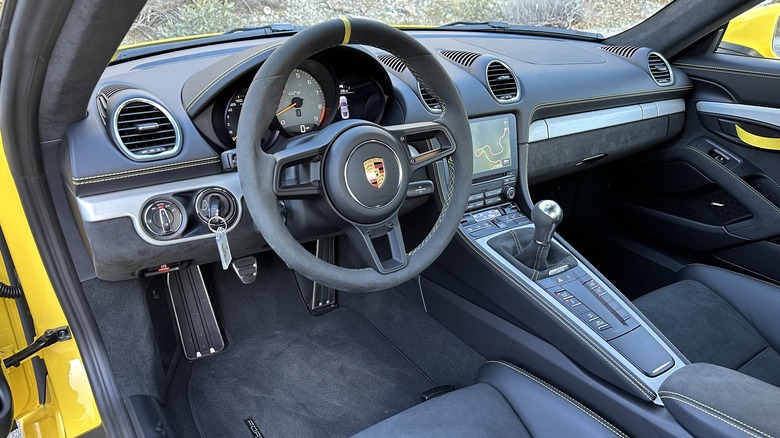 Steven Ewing/SlashGear
Yes, there are a few performance tradeoffs that come with the manual transmission, but they're only noticeable on paper. The manual car is half a second slower in the 0-to-60-mph dash, doing the deed in 4.2 seconds instead of the automatic GT4's 3.7. The manual GT4 also makes a tiny bit less power, its 4.0-liter flat-6 producing 309 pound-feet of torque compared to the PDK's 317 lb-ft. I suppose this hurts your Cars & Coffee bragging rights, but you genuinely won't feel either difference in the real world.
The only other discrepancy is in fuel economy. Frankly, that's barely worth mentioning, considering no one's buying a GT4 for its gas-sipping abilities, but I digress. The manual GT4's EPA-estimated ratings of 17 mpg city, 23 mpg highway and 19 mpg combined are all 1 mpg lower than what you'll supposedly get with the PDK. Not that you'll ever drive this thing in an efficient manner anyway.
Regardless of transmission, the 718 Cayman GT4 makes 414 horsepower, and you can wind the bejesus out of the flat-6 engine all the way up to its 8,000-rpm redline. Opting for the six-speed stick just makes the whole experience more exciting, making you a far more integral part of the drive. Sure, you can play with the GT4 PDK's steering wheel-mounted paddles to choose your own adventure, but that's not nearly as engaging as the clutch-shift tactility offered with the manual setup. I wouldn't buy a GT4 any other way.
One of the finest sports cars around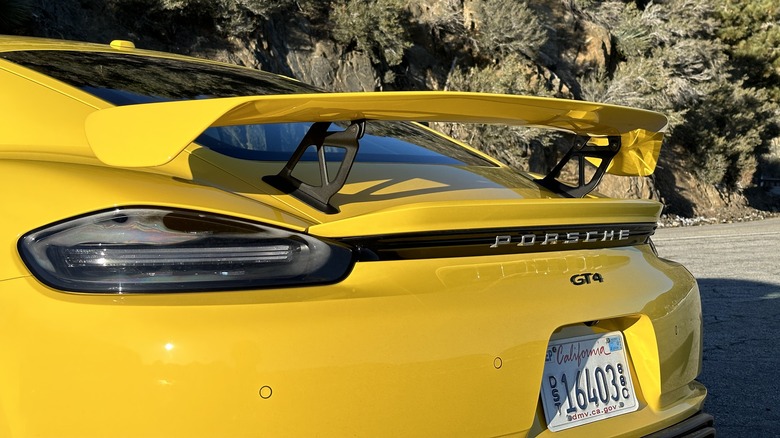 Steven Ewing/SlashGear
Better than the engine or transmission is the way the GT4 handles, and it's the exact same experience whether you choose to go manual or automatic. The Cayman GT4 uses the same front axle setup as the last-generation (991.2) Porsche 911 GT3, a car that never ceased to make me smile. Compared to a 4.0-liter Cayman GTS, the GT4 has a 1-inch lower ride height and a unique rear axle, plus a number of obvious aerodynamic enhancements that help it stay flat as a pancake through hairpin turns. Large 20-inch wheels are standard at all four corners, and that rear wing is manually adjustable, should your hot shoe track day benefit from additional downforce.
A mechanical limited-slip differential perfectly modulates power delivery to the rear wheels, and the GT4's standard 45/35ZR20 front and 295/30ZR20 rear Michelin Pilot Sport Cup 2 tires offer a wealth of grip. The steering is light but blissfully direct, translating exactly what's happening at road level up through your fingertips. 
No frills, just focus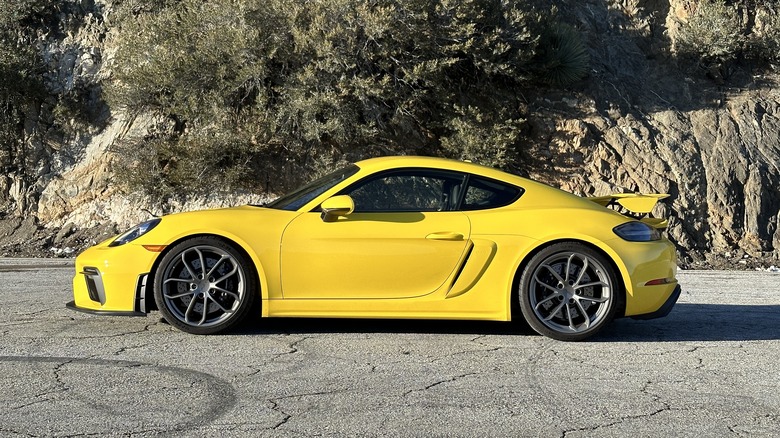 Steven Ewing/SlashGear
I also love that the Cayman GT4 doesn't have a whole mess of drive modes or any other complicated electronics – what you see is what you get. Yes, there are adaptive dampers, but the difference between the standard and stiffer settings are barely noticeable. The only button on the center console that's really worth pressing is the one that opens the active exhaust. Well, that and the stop/start, but only because it's a little rough.
Porsche offers a carbon-ceramic brake package for the Cayman GT4 but, at $8,000, it's an expensive upgrade. Besides, the standard steel stoppers on my test car don't fade under repeated use and are always up to a day of hard driving. Of course, if you're buying the GT4 primarily for track use the more powerful brakes are a logical add-on. But for most buyers, I think you can pass. Oh, and I totally love the way my Racing Yellow tester looks with the optional $900 gloss black caliper option.
A sporty interior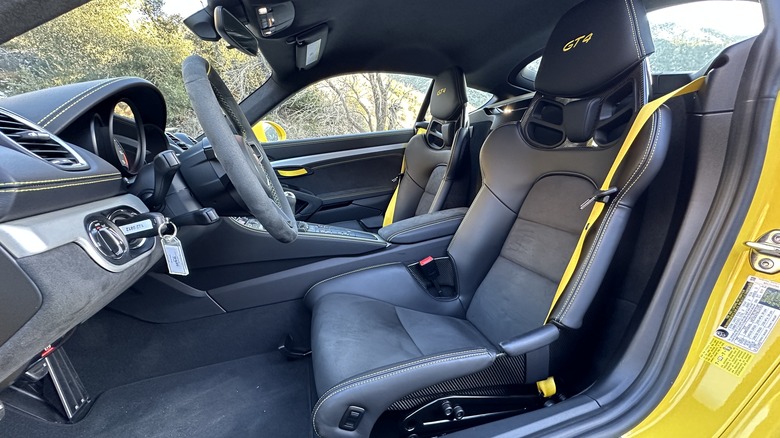 Steven Ewing/SlashGear
A base Cayman GT4 comes with very generic seats, but Porsche offers more comfortable power chairs for $2,640. That's the way to go if you can't live without heated seats, since the full carbon buckets in my test car don't have any kind of climate control. That said, these $5,900 chairs are endlessly supportive and actually quite comfortable, and feel appropriate in a car like the Cayman GT4. I do wish this car at least came standard with niceties like full LED headlights and automatic climate control, but that's Porsche for you.
The 718 Cayman and 718 Boxster model lines are nearing the end of their lifecycle — they're going electric by 2025 — so you'll have to forgive Porsche for not equipping them with the latest and greatest cabin technology. The 7-inch touchscreen runs a seriously outdated version of Porsche's Communication Management software — one that's so old, in fact, that while it contains Apple CarPlay, Android Auto is unavailable. Looking for advanced driver-assistance aids? Nah, brah. Look elsewhere.
Splitting the difference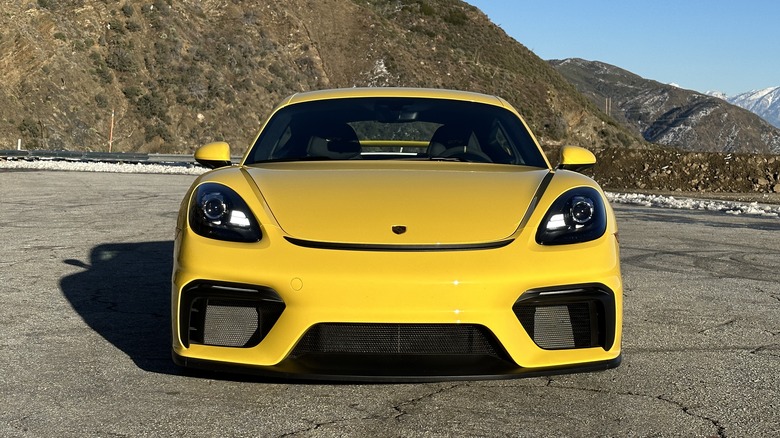 Steven Ewing/SlashGear
A 2023 Porsche 718 Cayman GT4 starts at $107,950, including $1,450 for destination, and a car spec'd like mine with things like the sporty seats, upgraded stereo, embedded navigation and more will set you back roughly $122,000. That's a lot of money in a vacuum, but a relative bargain considering how freakin' good the GT4 is to drive. Not many other cars at this price point are even half as sharp.
But once again, we come back to the problem of where the GT4 exists in the greater 718 Cayman model line. If you just want the sweet experience of a 4.0-liter engine and 6-speed manual transmission, the $91,750 Cayman GTS offers a more road-friendly package. If you want racer vibes to the extreme — and if you're already comfortable with a six-figure price tag — perhaps you'd like to pony up to the $150,550 GT4 RS.
Meanwhile, the Cayman GT4 splits the difference in the best possible way, offering the purity of a naturally aspirated and a stick-shift with enough go-fast engineering to blow the doors off your friends. Yeah, that's a narrow niche, but it's certainly not a bad way to go.