Jeep's 'Electric Boogie' Super Bowl 2023 Commercial Shows Hybrids Have What It Takes To Go Off Road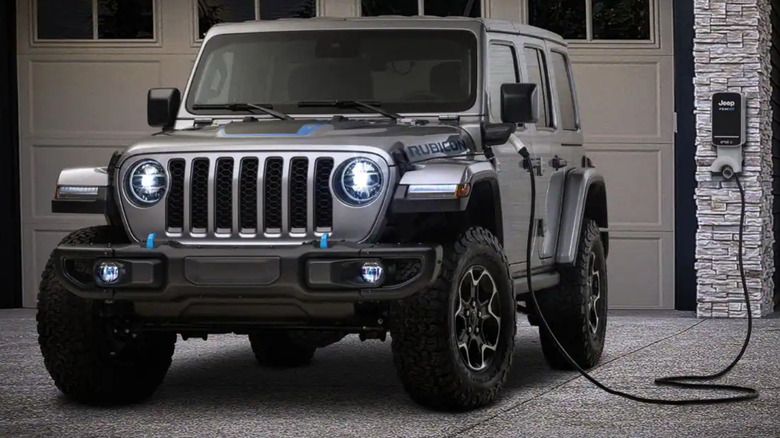 Jeep
Electric vehicles are the future, but not everyone is convinced. Maybe you have range anxiety — the subject of Ram's hilarious REV 1500 Super Bowl commercial — or you're skeptical about whether a battery-powered vehicle can perform on equal footing with its gas-powered peers. Jeep is here to address both of those concerns with its hybrid Wrangler 4xe, offering the best of both worlds with electric power to get around near home, and an internal combustion engine to ensure your off-roading adventures aren't going to suffer from the lack of nearby charging stations.
Whereas Ram made its Super Bowl commercial memorable by spoofing an erectile dysfunction commercial, Jeep went the tried and true route of using a catchy tune — in this case, an update to a classic song called "Electric Boogie (The Electric Slide)" by Marcia Griffiths — that'll no doubt stay in stuck in your head for a while.
The Wrangler 4xe offers the best of both worlds for off-roading
The 2023 Jeep Wrangler 4xe is a hybrid that is handed off to the customer with a Level 1 charging cable that, according to the automaker, can recharge the off-roading vehicle in 12 hours. That should be more than adequate for people who park the Wrangler in their garage at night and use the vehicle to take short trips to work and back the next day. If, however, you want to top up the vehicle quickly while, for example, stopping at the grocery store, you can get a Level 2 charger that will replenish the hybrid's battery in around two hours.
Jeep is bringing solar-powered charging stations to some major off-roading trails in the United States, though it's just as likely that you'll find yourself elsewhere and in need of gasoline to keep the fun going. That's where the 2.0-liter turbocharged engine comes in — Jeep says drivers will get up to 21 miles in the electric mode, after which point the vehicle will switch over to the ICE. The automaker says 4xe owners can expect an estimated 49MPGe and an overall 370 miles range. Multiple versions of the Wrangler 4xe are available, with the Willys 4xe clocking at the cheapest option with a starting price of $54,735.