2024 Maserati GranTurismo First Drive: Electric Folgore For The Future, But ICE Still Sparkles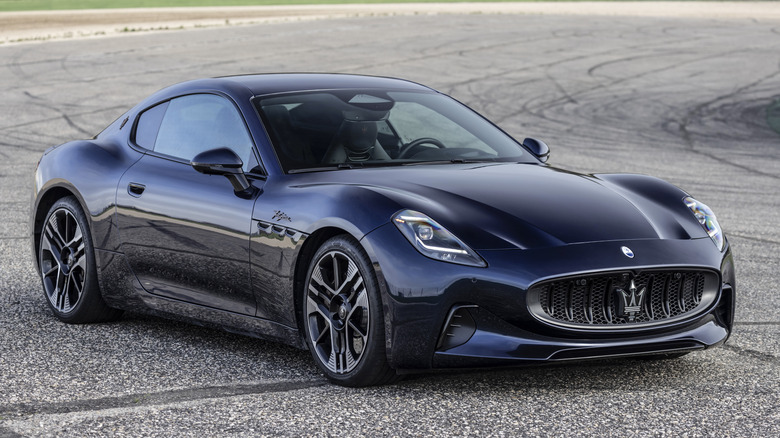 Maserati
For model year 2024, Maserati will revive the GranTurismo for a second generation that finally inaugurates the automaker's inevitable transition to electrification. The all-new grand tourer's aesthetic harkens back to 1947, when Maserati's first road-going A6 1500 Gran Turismo debuted, but the new GT now houses borderline supercar power and performance thanks to an 800-volt fully electric drivetrain. For those not quite ready to embrace an all-EV future, Maserati is demonstrating the worth of its shared platform, offering two internal-combustion variants as well.
Maserati's previously announced Grecale SUV will feature a similar smattering of powertrain options, but the GranTurismo should break ground first. The two gas trims employ the twin-turbocharged 3.0-liter 'Nettuno' V6 that powers the MC20 supercar, albeit in different states of tune to produce 490 horsepower in the Modena and 550 for the Trofeo. However, unlike the Grecale, the GranTurismo will not be offered as a hybrid version.
Driving Two ICE GranTurismos in Italy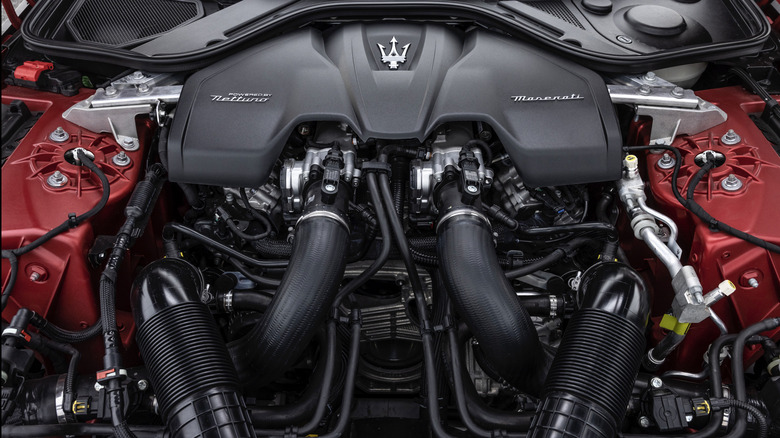 Maserati
Using the same engine, a familiar eight-speed automatic transmission from ZF, and identical all-wheel-drive systems capable of sending 50% of power to the front wheels make the Modena and Trofeo sound relatively similar on paper. And really, 60 horsepower in a 3,950-pound coupe shouldn't feel radically different. But during a beautiful day in the hills north of Rome, the two cars' characters became immediately apparent.
Column-mounted paddle shifters control the transmission and both sport excellent steering, relatively precise and weighty for a grand tourer. But somehow, the Modena feels more nimble despite weighing exactly the same. It also sounds better despite being down on power, as more urgent stabs at the throttle force engine higher up in revs to draw out the requested grunt, resulting in less low-rev turbo noises and more happy exhaust barks as the 3.5-liter mill winds up.
Don't forget the rubber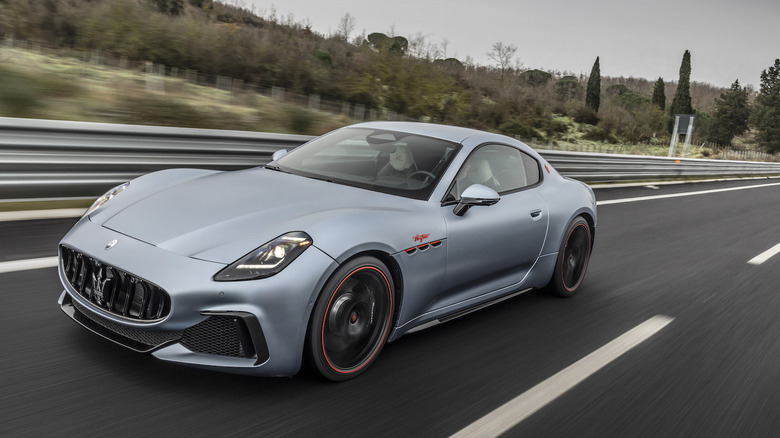 Jumping between the two, I immediately felt an affinity for the Modena and purposefully quizzed Maserati's engineers at length for any suspension, steering, or weight differences versus the Trofeo. Surely, the engine must weigh less or the suspension tuning must be different? None, they assured me, other than the ECU programming and more luxurious interior materials for the higher-priced Trofeo.
On long, flat stretches of smooth highway, both gas GranTurismos produce a bit more wind and tire noise than perhaps expected for a grand tourer, indicating a lean towards the sportier dynamic—though in fairness, both arrived shod in Pirelli P Zero Winter tires mandated in Italy after November 15 and measuring 295 millimeters wide at the rear. Better rubber in regions with less stringent seasonal laws should hopefully reduce some of the hum, as well as the earliest bits of slip under hard throttle or braking that I found quickly outpaced the tires' grip.
A snug but stylish cabin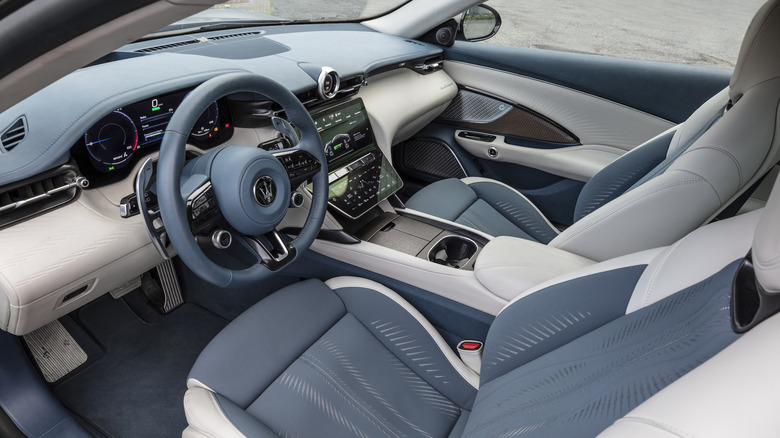 Maserati
All the performance potential arrives in a roomy cockpit capable of hauling four full-size adults—a big priority for Maserati in this two-door coupe—with excellent visibility for the modern age thanks to a lack of B pillars. At 6'1" with long legs, I never felt cramped, and even scooted the driver's seat forward and up a bit. The backseats, meanwhile, work best for kids and luggage, though with the front seats a little further forward, adults can fit, if not happily on longer road trips.
Premium materials and details throughout include an intuitive, crisp 12.3-inch digital touchscreen and 8.8-inch "comfort" display with haptic feedback for climate control, configurable readouts on the "saddleback" gauge cluster that include everything from a g-force meter to navigation maps, and best of all, minimal use of Fiat's ubiquitous piano black plastics.
A New Super-GT-EV Proposition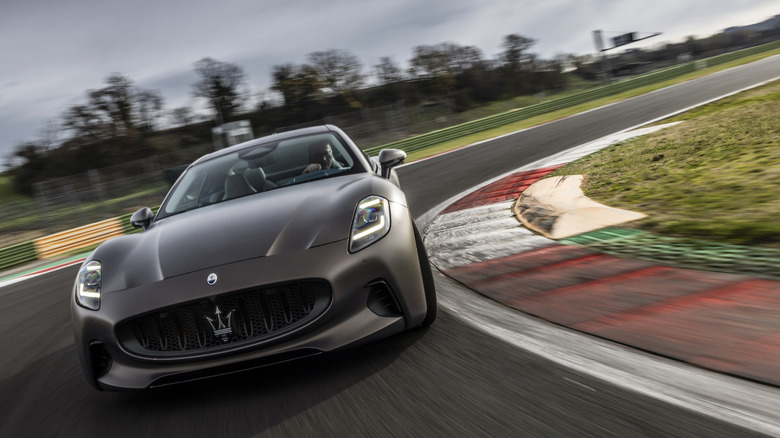 Maserati
Without a doubt more importantly—from the historical perspective—than the ICE Modena and Trofeo trims, the fully electric GranTurismo Folgore bumps output up to an absurd 760 horsepower at the wheels, with instantaneously available torque rating of 995 lb-ft. Most importantly, the Folgore shares its chassis with the gas-powered models, eschewing the by-now-de rigeuer "skateboard" layout in favor of a "dog bone" or "T-bone" battery that snugs into the space formerly occupied by the gasoline engine and driveline.
This somewhat novel distribution of heavier components produces a higher center of gravity, but the more compact packaging reduces what Maserati reps call "rafting" during aggressive driving. The results of that contrarian decision emerged immediately on my first test run in the Folgore, which despite weighing around 1000 pounds (or around 25 %) more than the Trofeo or Modena, easily produces the mind-melting acceleration I expect from range-topping EVs these days.
In fact, the Folgore's battery and silicon-carbide inverter are the bottlenecks for the electric powertrain because each of the three identical motors can handle up to 1,200 horsepower. The lower total output ratings arrives because the batteries max out at only 610 kW of discharge power, but this purposeful decision by Maserati means the system can send up to 100% of the current rearward—even to a single right or left rear motor, if necessary—and also entirely to the front to maximize efficiency during steady cruising.
Future-Proofing the Folgore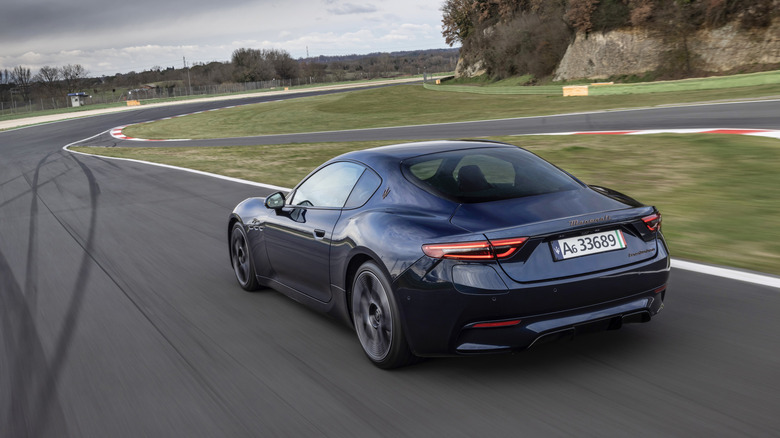 Maserati
The whole point of installing more powerful motors than batteries makes the Folgore something along the lines of "future-proof" or, more appropriately, future-ready to up the ante as soon as better batteries to fit in the T-bone arrive. And the current range target of 450 kilometers (or around 280 miles) arrived as more of an afterthought, anyway, since Maserati prioritized performance goals over distance while developing the new motors and battery (which will eventually appear in other Maserati products, though allegedly not other Fiat or Stellantis products). In the meantime, Maserati claims the Folgore can manage a 20-80% fast charge of 18 minutes on a 270-kW DC charger.
The result? A claimed 0-60 time of only 2.7 seconds for a coupe that weighs over just shy of 5,000 pounds, as well as a top speed of 202 miles per hour despite not using a two-speed gearbox like the similarly-800V Porsche Taycan.
Punch the accelerator pedal hard in Corsa mode, and the rear tires spin a little despite programming that keeps traction control still somewhat engaged to prevent wheel slip and instantaneous tire torching. Then, hauling the heavier Folgore through corners, the T-bone layout produces progressive and predictable body lean before breaking loose, typically at the rear tires first where I admittedly sent a bit more power than perhaps wise before snapping into easily controlled oversteer to avoid oncoming traffic.
A dedicated launch control function and Boost Mode within the Corsa setting allow for raucous quarter-mile blasts, while an Endurance Mode also available in Corsa prioritizes battery temperature management during extended track lapping or canyon carving. Four discrete levels of regeneration, adjustable via the same column-mounted paddle shifters that control the ZF eight-speed on the gas GranTurismos, range from almost total "idle" coasting for highway cruising to full one-pedal city driving with as much as .65 G of braking in the "D=" setting (pronounced "D minus minus").
Sustainability And Reliability Enter the Chat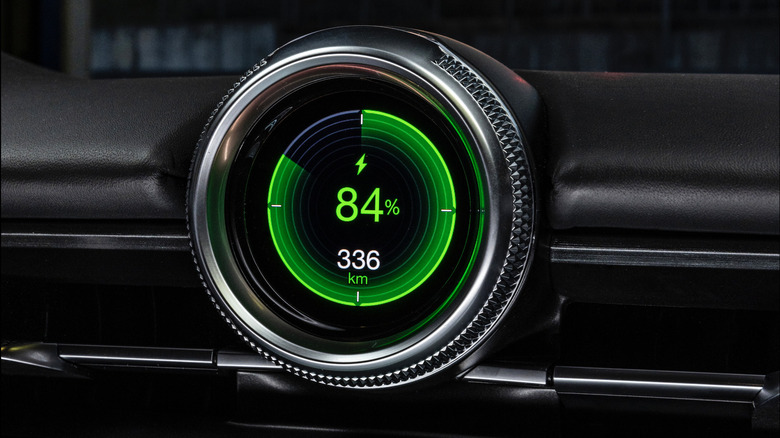 Maserati
To reinforce the Folgore EV's sustainable ethos, the interior sports recycled nylon from fish nets for the seat upholstery; leather will not be available, though the green material's textures left me more than satisfied. Otherwise, few cues inside or out differentiate the EV from its fossil-fuel siblings.
On road, despite the lack of rafting effects on wavy surfaces or through corners, the added weight does sit down harder into road depressions and clunk a bit more over surface imperfections, while the wind and tire noise ramp up even more without a twin-turbo V6 as camouflage (again, it's a similar story with the exact same Pirelli P Zero winter tires). The electric motors make a noticeable whine in addition to a "futuristic" (read: simulated) hum pumped into and outside the cabin. Unfortunately, I must also report that the T-bone layout means no frunk here.
An impressive start to an electric future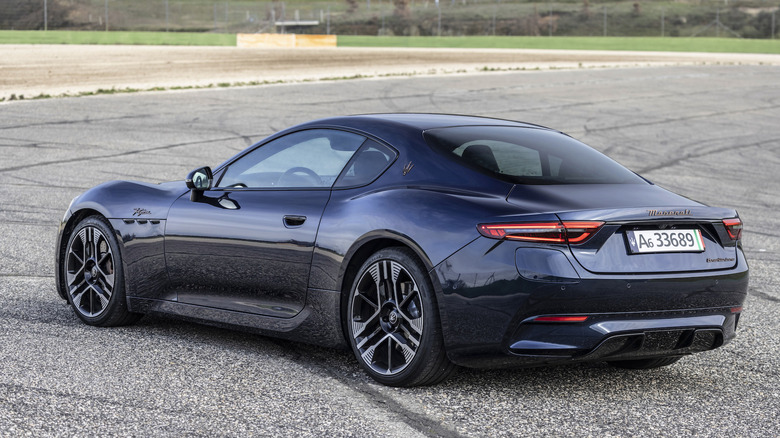 Maserati
The Folgore aims to provide a solid alternative for EV veterans hoping to ditch Teslas after experiencing too many years of deteriorating plastic parts without a significant generational update. The slick design shared with the MC20 and paired with better creature comforts will certainly help, and 270 miles of range or so sounds likely to satisfy those consumers experienced enough with EV life (and who, at the Folgore's price point, will certainly have fast chargers at home). The expanding base of potential new EV customers, who typically trend towards higher buying power, may well find the luxurious appointments and borderline timeless design appealing, too.
Pricing will play a big role in the GranTurismo's overall success, of course, but especially for the Folgore as Maserati's first full EV. The Modena already starts at $174,000 and the Trofeo stickers at $205,000, so expect the Folgore to bump up even higher. 
Reliability, as always, remains a concern—hopefully, the fewer moving parts required by electric powertrains, plus support from Stellantis, can help inaugurate a new era of build quality in the electric age whenever Folgore deliveries actually begin. That's expected well after American showrooms start receiving new Modena and Trofeo GranTurismos in early summer of 2023.