The Old-School Tech That Made Burt Bacharach And Elvis Costello's Collaboration Work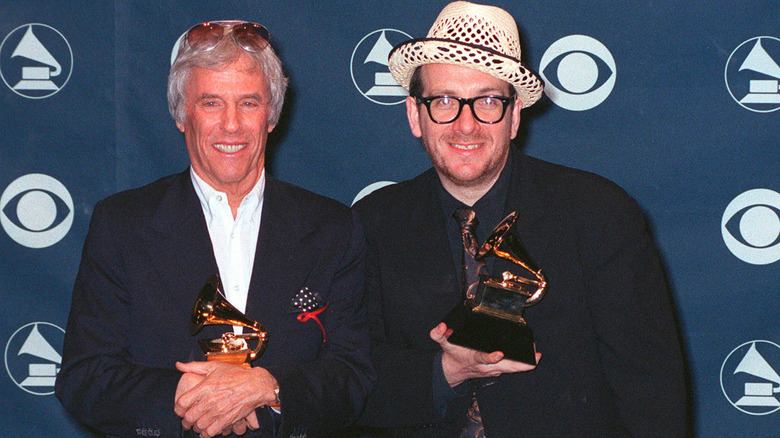 Featureflash Photo Agency/Shutterstock
Burt Bacharach passed away in Los Angeles at the age of 94 on Thursday, February 9, 2023. The entertainer's decades long career saw him release hits like "I Say A Little Prayer," "Walk On By," and "What The World Needs Now Is Love." He also had strong ties to Hollywood, working as a composer for classic movies like "Butch Cassidy and the Sundance Kid" and "My Best Friend's Wedding." 
He even appeared as himself in the "Austin Powers" franchise — a series of spy-based comedies starring Mike Myers. One of those appearances, in "Austin Powers: The Spy Who Shagged Me" specifically, saw him appear alongside Elvis Costello — who is a groundbreaking artist in his own right, and one of Bacharach's most famous collaborators.
The pair worked together for decades. Initially, Bacharach and Costello worked together on a song for the movie "Grace of my Heart," which was released in 1996. Eventually, the pair would go on to release an album together titled "Painted from Memory" in 1998. 
From there, the American and British duet would release further tracks, make live appearances together, and even receive a Grammy award for best pop collaboration with vocals (via Pitchfork). While their success was well noted, the early days weren't so simple. Bacharach and Costello had to rely on tech from the time to make things work.
You can record a hit with a fax machine
Burt Bacharach's first collaboration with Elvis Costello resulted in the song "God Give Me Strength," which was featured in the movie "Grace of my Heart." The song itself turned out great, but it wasn't easy to put together. 
Costello is and was a tremendously successful artist who regularly tours. In addition to his own work, which has included songs like "Oliver's Army," "Pump it Up," and "Brilliant Mistake," he also took on wider roles in the music industry as a whole, contributing to the success of other major bands like "Stiff Little Fingers" and "The Pogues." 
The Scouse songwriter's tracks even appeared in "Rock Band," the ensemble counterpart to popular rhythm game "Guitar Hero." To add a further complication, Costello is British and remains based in the U.K., while Bacharach was L.A.-based. This all meant it was hard for the two to get together, but they found a solution.
According to Bacharach himself, the two never met in person to work on that first song. Instead, they relied on the tech of the day to write and record what has been described as a "mini-masterpiece." 
Bacharach said: "Elvis is terrific, a very good musician. He had a musical input as well as lyrical. We never got together in person, we just did it over the phone, answering machines, fax machines, and speaker phones. And it sounds great." 
The pair did eventually meet up, and continued working together for close to three decades. Bacharach leaves behind a legacy that consists of over 50 Top 40 U.S. hits, and a body of work that saw him working alongside a literal who's who of 20th century stars.