This Kirby Song Just Won A Grammy - Sort Of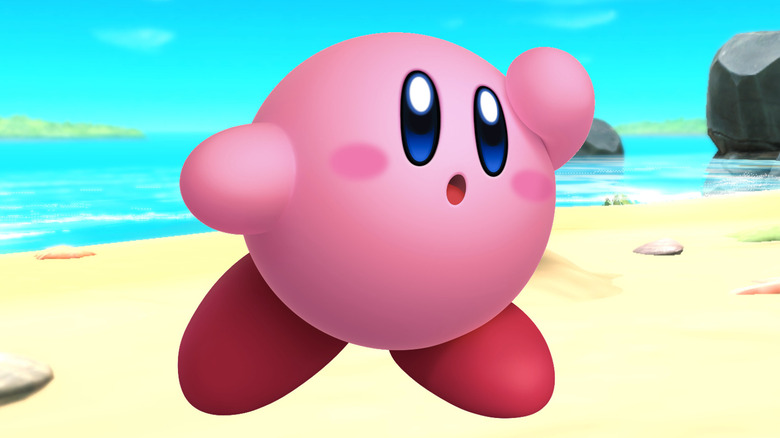 Nintendo
If you didn't think Kirby could win a Grammy award, think again. The 2022 Grammy Awards show took place Sunday, April 3, and among the many talented artists, producers, and music engineers was a spot for the infamously pink and round protagonist best known for his role in many video games published by Nintendo — including the "Kirby's Dream Land" and "Super Smash Bros" series. Clearly, Kirby himself didn't win any awards, but a big band reimagining of the "Meta Knight's Revenge" theme from the 1996 title "Kirby Superstar" was evidently good enough to make heads turn. Take a listen for yourself.
The "Kirby Superstar" cover won the Grammy for "Best Arrangement, Instrumental or A Cappella," which is on the 65th spot on the overall list under the large header that says "Composing/Arranging." Charlie Rosen and Jake Silverman, the arrangers of The 8-Bit Big Band, are at the front of its success. Rosen played a pivotal role in organizing the band ahead of releasing its first album "Press Start!" in May 2018, and since then, he's guided the "30-65 member" jazz and pop orchestra through several years of reinventing popular video game soundtracks. Other games the band has covered include "Super Mario Land," "Chrono Trigger," and "Metal Gear Solid," among others. More information is available on The 8-Bit Big Band's official website.
Kirby isn't the first video game to win a Grammy
It's been nearly a decade since video games became a legitimate contender at the Grammy Awards. Back in December 2012, at the 55th Grammy awards ceremony, a popular indie video game called "Journey" received a Grammy nomination for "best score soundtrack for visual media." For those unfamiliar, the premise of "Journey" is euphoric; the player surfs between sand dunes across a barren desert with very little in the way of user interface. It's focused on the feelings that it produces through its visuals, and these visuals likely inspired "Journey" composer Austin Wintory to create a soundtrack that matches the emotional impact of being windswept that the gameplay and visuals present to the player. You can listen to one of his most popular tracks, "Apotheosis," in the embed below.
Kirby has made other headlines recently for releasing its very first 3D platformer. "Kirby and the Forgotten Land" is making waves among critics worldwide, and Nintendo Life reported on Saturday that it made for the biggest "Kirby" launch in Japan's history. Between the new game and the Grammy Award, it sounds like this beloved video game character has plenty to celebrate.