2024 BMW X5 And X6 Show Why Electrification Really Matters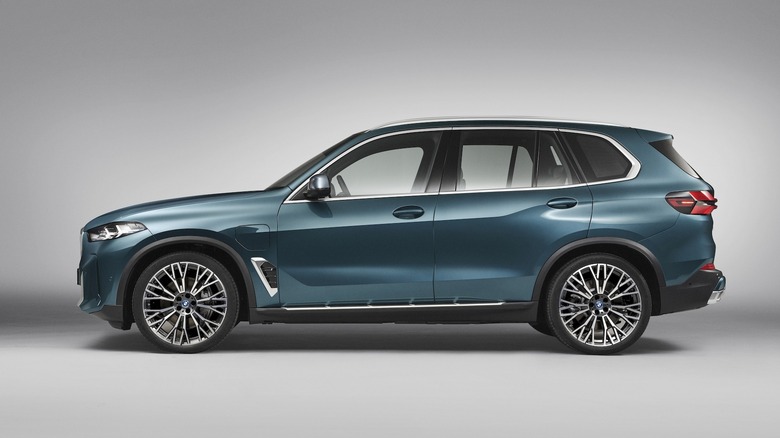 BMW
Automakers are pushing, now more than ever, to electrify their lineups. Whether through plug-in hybrids that can go a few miles while running only on batteries, or by making fully electric versions of cars, several automakers are continuing to iterate on electric car design. 
Chevrolet made waves with the long-rumored Corvette E-Ray hybrid that's helped by both electric motors and a 6.2-liter V8. BMW electrified the 7-Series in the form of the 2023 BMW I7 xDrive60. That car benefitted from 544 horsepower and upwards of 310 miles of range. Cars are changing rapidly as electrification becomes more practical, and many automakers are planning on either hybridizing or electrifying their entire lineups within a few short years.
BMW just announced a host of changes to its X5 and X6 SUVs for the 2024 model year. Those changes bring a host of improvements to both models with more powerful engines, a more high-tech and contemporary interior, and a much-improved plug-in hybrid version of the X5.
Useful electrification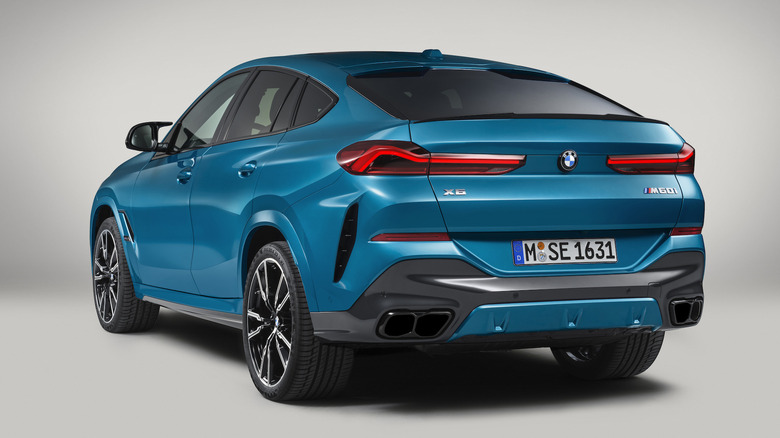 BMW
According to a press release from BMW, there will be two new engine choices for the X5 and X6: a twin-turbo 3-liter inline 6 that produces 375 horsepower on the X5 xDrive40i and X6 xDrive40i models, and a twin-turbo 4.4-liter V8 that throws down 523 horsepower on the X5 M60i xDrive and the X6 M60i xDrive. Both engines will benefit from a 48-volt mild hybrid system that boosts torque, and works with the eight-speed transmission to allow for a smoother driving experience. 
The real star of the new model range is the plug-in hybrid X5 xDrive50e. The revised drivetrain consists of a twin-turbo inline-6 and an electric motor that puts out 483 horsepower and 516 pound-feet of torque when working together. BMW says the plug-in X5 can accelerate from 0-60 miles per hour in 4.6 seconds, showing that a hybrid system is useful for more things than just efficiency. BMW also says that the plug-in can travel up to 40 miles on just battery power without using a drop of gas.
Modernized, capable interior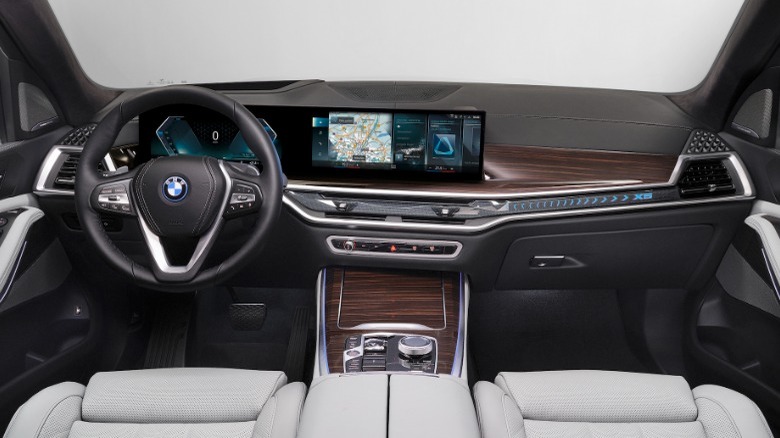 BMW
The inside of both the X5 and X6 will also feature a new 12.3-inch curved infotainment screen, and a 14.9-inch curved display for controls. Updates bring the infotainment in the X5 up to the latest BMW iDrive software, alongside a new heads-up display, Augmented View, and more modern features.
The displays will be paired with the updated BMW Operating System 8, which includes improvements to the optional driver support systems with the new Highway Assistant, and reverse assistance with optional parking assistance technology as well.
The base model X5 sDrive50i starts at $65,200, the X5 xDrive40i begins at $67,500, the plug in X5 xDrive50e has an MSRP of $72,500. The X6 xDrive40i starts at $73,900. Lastly, the M60i xDrive versions of the X5 and X6 start at $89,300 and $93,600 respectively. Prices do not reflect the $995 destination charge.
BMW says that production will begin in April of 2023 at BMW's Spartanburg, South Carolina plant.