Jay Leno Breaks Multiple Bones In Motorcycle Accident, Just Months After Garage Fire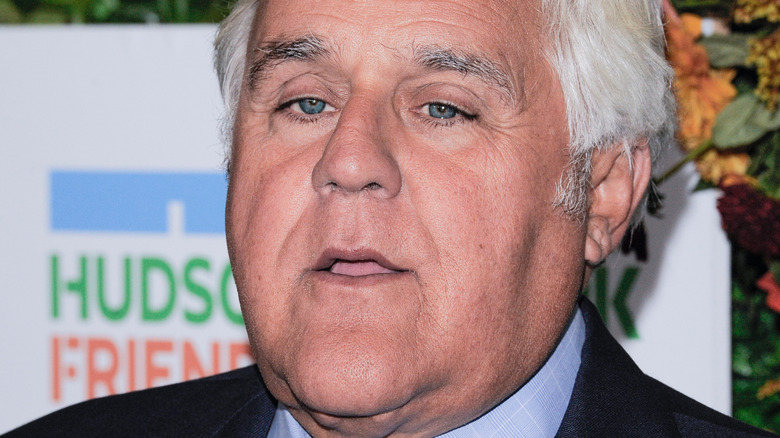 lev radin/Shutterstock
Former talk show host and enthusiastic gearhead Jay Leno has been injured in another accident. The comedian is still recovering after a previous accident in his garage left him hospitalized with severe burns to his arms and face. The November incident happened when the comedian was sprayed with fuel while working on his 1907 White Steam Car. The fuel then ignited, and Leno received second degree burns. All of Leno's appointments were canceled and he was rushed to the country's best burns unit where he spent several days. Some cutting edge treatments were used, including a stint in a hyperbaric chamber which assists the healing process. Leno also received a number of skin grafts.
Despite the severity of his injuries, Leno seemed to take the whole incident in his stride. He regularly shared jokes with medical staff while receiving treatment, and insisted he only needed a "week or two" to recover from the accident and "get back on his feet." Doctors and employees also praised the comedian's "toughness" with Dr. Peter Grossman saying "As I'm getting to learn about Jay, I don't think it's going to be months. I really think he's the type of guy who's just going to move forward." Now an apparent motorcycle crash has left Leno with multiple broken bones, but that toughness is on display again as Leno insists it isn't slowing him down.
Leno left with multiple fractures after motorcycle crash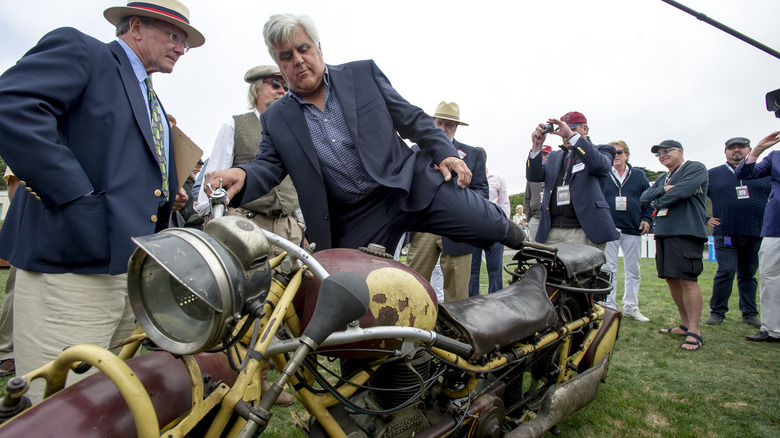 Bloomberg/Getty Images
As with the previous accident, Leno's latest injuries also come from a garage-related incident. The comedian claims he was taking a 1940 Indian motorcycle he had been working on out for a test drive, and started to smell gas. The smell made Leno turn off down a side street and cut across a parking lot. Unfortunately, a wire had been strung across the parking lot, and Leno ran into it. 
"So, you know, I didn't see it until it was too late," Leno explained to the Las Vegas Review Journal. "It just clothesline me and, boom, knocked me off the bike." The incident has left Leno with a broken collarbone, two broken ribs, and two cracked kneecaps. Leno also says he has avoided publicizing the accident after his other recent mishap made the news. "You know, after getting burned up, you get that one for free," he added. "After that, you're Harrison Ford, crashing airplanes. You just want to keep your head down."
As with his previous accident, Leno isn't letting the crash slow him down. Despite the accident happening less than two weeks ago, Leno claims he is still working and has plans to work this weekend. The septuagenarian is still performing live, with gigs booked for February and March of this year — including one on the Las Vegas strip. Unfortunately, we may be seeing less of him on our screens. CNBC has announced that it is canceling "Jay Leno's Garage" which marks the end of the host's 30-year association with the network.