Here's How The Yamaha 'Fizzy' Became A British Cultural Craze In The 1970s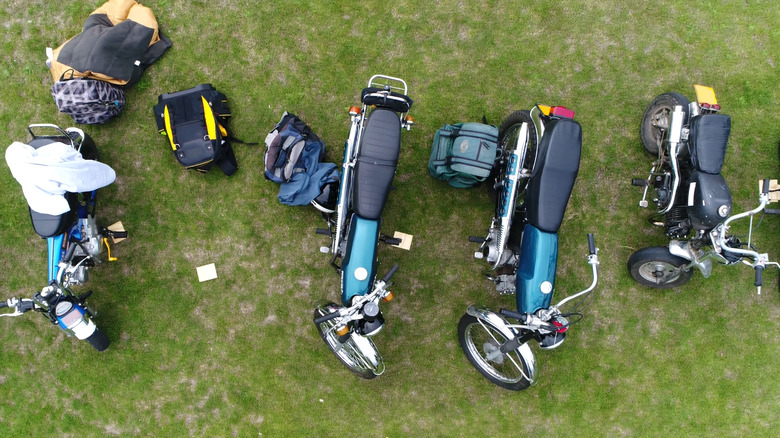 GLF Media/Shutterstock
As exciting as massive tourers and plastic-wrapped superbikes can be, there's a special place in every motorcycle fan's heart for a classically styled bike. Simple and stripped back, retro-designed bikes go by many names — cafe racers, naked bikes, scramblers, street bikes, streetfighters — but all deliver a clean, simple design, plenty of power, and not a lot else. These are purist bikes; just two wheels, an engine, and endless possibilities.
Of course, there can't be a retro movement without an original to borrow inspiration from. Many of the classics in the category got their start in the U.K. — BSA, Triumph, and other British manufacturers built many of the iconic motorcycles modern street bikes admire. 
One name in British motorcycling was decidedly not local, however: the legendary Yamaha FS1-E, "Fizzy" to its friends. Here's how a Japanese masterwork became the road bike to beat for young riders in the U.K. throughout the 1970s.
Old-school, accessible perfection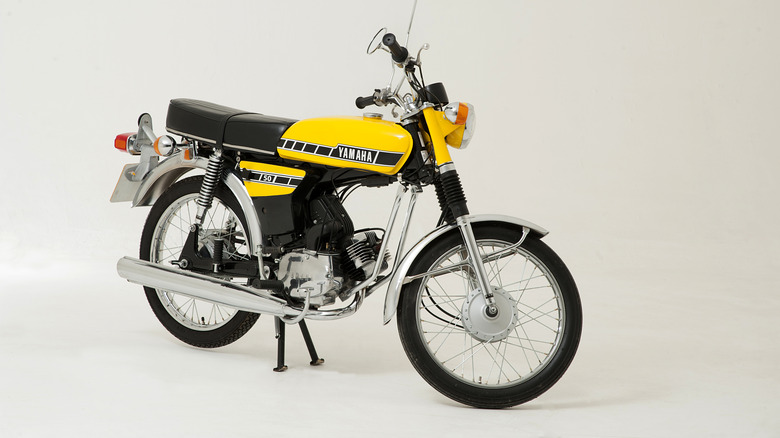 Heritage Images/Getty Images
Motorcycles have been popular in Britain virtually since invention: The thoroughly British Triumph Model H, released in 1915, ranks among the first modern motorcycles released to the civilian market (via Rider UK). While motorcycle manufacturers proliferated in the U.K. building all kinds of design, the classic street bike took on iconic status both in and out of the country. The archetypal British motorcycle was the "cafe racer," a light, fast ride built for quick maneuvers on urban roads — worlds away from America's thundering highway cruisers.
In fact, cafe racers were so popular that, in some respects, they became a problem. Concerns about motorcycle injuries, especially among young people, shifted popular opinion and eventually pushed legislation that restricted learners — that is, mostly 16 and 17-year-old kids — to bikes that had pedals and engines no larger than 70cc (per Timeless 2 Wheels).
Enter the "Fizzy." The Yamaha FS1-E was built specifically to meet the new legal requirements in the U.K. (that final "E" stands for England, as in "anyone can ride this legally on English roads," per Timeless 2 Wheels). The bike was feather-light and highly responsive; not a putt-putting "moped," but a legitimate light motorcycle that could easily hit 60 mph on a straight.
Young riders bought the Fizzy in droves, making it one of the icons of the 1970s in Britain. Enthusiasts worked their way up the Yamaha range as they aged out of legal restrictions, establishing not just the FS1, but Yamaha bikes in general in the British market.