How And When To Watch Today's Xbox Developer Direct Showcase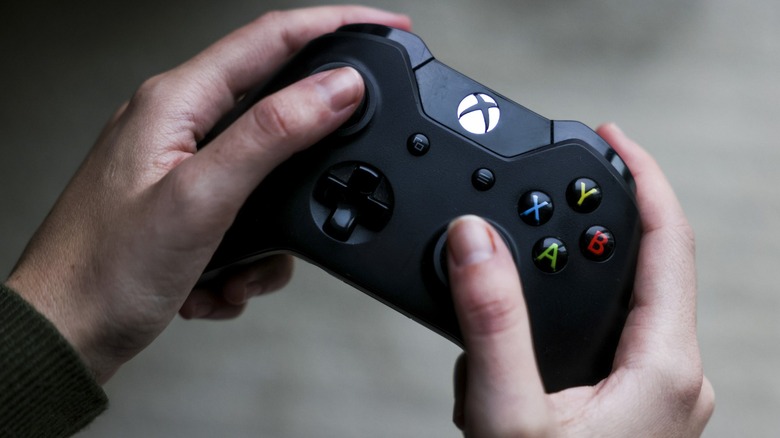 Bloomberg/Getty
Gone are the days when we'd be forced to patiently wait for E3 before being treated to the year's most exciting game announcements. It seems we're getting spotlights and showcases every other month now, as console makers and major publishers use these events to keep eyes on their platforms and games. 
Especially with the frequency and quantity of cancellations and delays of late, it's important to instill confidence in consumers that their expensive console purchases will be worth it in the long run. After all, everyone's money is running just a little tighter than it used to, and many can ill afford to spend thousands of dollars on a hobby that's feeling stagnant.
Microsoft has been one of the big question marks going into this console generation, with the company garnering a reputation for being unable to steward more than just a handful of game changing original IPs. The three-headed giant of "Forza," "Halo," and "Gears of War" has carried Microsoft's game line up for a while, but the company has also acquired a ton of studios over the past several years. We're about to get a window into Xbox's upcoming plans in a developer showcase that's airing today – and perhaps see more products from these recently-acquired studios.
How to watch the Xbox Developer Direct showcase live
First, the bad news: if you're a daytime worker, you'll probably need to cut a slice out of your lunch to check this one, as the presentation is airing promptly at 3:00pm Eastern, or 12:00pm Pacific. You'll have your choice between Twitch and YouTube livestreams when the time comes.
Microsoft has already given us a little hint of what we can expect to hear about, including news about the newest "Forza Motorsport," the traditional circuit racer that aims for more realistic driving simulations than the open-world "Horizon" series that spawned from it. The game is hotly anticipated, especially after a strong showing at Microsoft's E3 2022 showcase last June. 
We're also said to be hearing more about Bethesda's "Redfall," which was unfortunately delayed until the first half of 2023. Bethesda apparently has new goods to announce related to "The Elder Scrolls Online" as well, though some are undoubtedly hoping for more information on "The Elder Scrolls VI," as news of that game has been nearly nonexistent since its very brief tease at E3 2018. Whatever Bethesda reveals, we know that "Starfield" won't be part of the show, since that will be getting its own dedicated presentation at some point in the (hopefully near) future. There are sure to be more surprises in store, so tune in promptly.