Best Note-Taking Apps For Android Phones And Tablets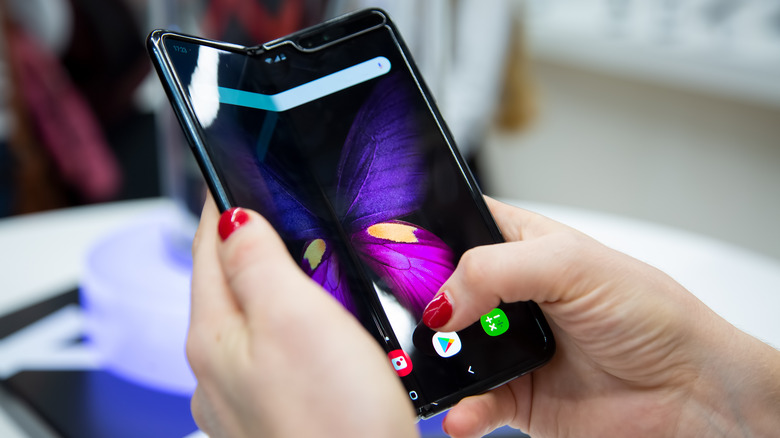 Mariaprovector/Shutterstock
Many of us spending a large chunk of our waking hours on our smartphones. Many often chide smartphone users for having been transformed into living zombies, addicted to their pocket computers, and doing nothing but consuming content like they were fresh brains. It doesn't have to be the case, at least for the latter scenario. Smartphones have become so powerful and so complex they can be used for both creating and organizing content and, by extension, our lives. For those whose creativity and productivity involves mostly written or typed content, there's a plethora of Android apps available. Some work on any device, others work best with a pointy stick. Whatever the case or device, there's an Android note-taking app for that!
Simplenote
Never underestimate the power of plain text. Lightweight and easy to manipulate, plain text can still be presented in a pretty way thanks to the magic of Markdown. Simplenote makes taking such plain text notes a breeze and can even take you back through time to see changes you have made to notes. All these features, including syncing, is available for free, thanks to Automattic, the same people behind WordPress.com (not .org), WooCommerce, Jetpack, and Gravatar.
Download: Simplenote
ColorNote
For some people, even lengthy plain text notes are too much. These might be people who swear by the brevity and liveliness of sticky notes on their desks, monitors, walls, and wherever. ColorNote is the digital analogue of those colorful sticky paper, with the advantage of things like checklists, reminders, and, of course, cloud sync.
Download: ColorNote
Omni Notes
More powerful than sticky notes but less convoluted than Evernote, Omni Notes is a versatile yet lightweight tool for keeping not just text but also images and even audio files in one place. Its biggest pull, however, is its open source nature
Download: Omni Notes
Monospace
Monospace pulls double duty as a note-taking app as well as a writing app. It favors a clean, minimalist look but provides just enough formatting options to spice up your would-be novel. It does have an unconventional organization system that uses hashtags on the last line of your text. It does have its own cloud sync but that comes as a $3.99 in-app purchase.
Download: Monospace
FiiNote
iOS users, especially iPad Pro owners, love their GoodNotes app. That note-taking and PDF editing app has been mostly been turned into a digital equivalent of a paper planner. While Android doesn't have an exact equivalent, there is FiiNote. Unlike most of the note-taking apps in this list, FiiNote supports less conventional types of content, from links to specific portions of a note to a "slideshow" presentation. The downside? FiiNote's interface shows its age and has a somewhat steep learning curve. That said, all features are available for free, making it a small sacrifice.
Download: FiiNote
LectureNotes
As the name so obviously points out, this app was designed specifically to be a learning aid. It is one of the only two in this list that allows you to record audio, like a lecture, while active taking notes in the app. The price to pay for this is literal, as the plugins for LectureNotes aren't free, in addition to the price for full use of the app itself, plugins excluded.
Download: LectureNotes (Trial), (Full – $4.99)
Squid
Many of the previously listed note-taking apps have handwriting support mostly as a nice to have or just another mode of input. In contrast, Squid, formerly known as Papyrus, puts inking front and center. It's even proud of how it partnered with Google to make Squid a premium app for the first stylus-enabled Chromebooks. Perhaps it's no surprise, then, that something that seems so basic as typed text input comes as a subscription. Fortunately, there is indeed a one-time payment option just for the tools, but you'll be missing out on cloud backup and sync.
Download: Squid
MetaMoji Note
MetaMoji Note is admittedly an odd one. Available on Android, iOS, and Windows 10 (as a UWP app), it is one of the more powerful and fully featured note-taking apps around. It is also one of the least known. Aside from LectureNotes, it is one of rare apps that lets you take notes will recording audio. No surprise that only comes in the Pro version of the app.
Download: MetaMoji Note (Free Lite), (Paid – $7.99)
Nebo
Just like Squid, Nebo places a heavy emphasis on inked/drawn content. So much so that, unlike Squid, it doesn't even have any typed text support. Instead, it converts scribbles into searchable text and diagrams you can move around. If you never type your notes, Nebo is an interesting compromise that still lets you search your most indecipherable handwritten notes.
Download: Nebo
INKredible
But if your interest is handwriting and only handwriting, INKredible might be a better choice. Or at least it advertises itself as the best app for digital handwriting. That's because its inking engine doesn't need a pressure sensitive stylus at all and "fakes" even your finger strokes. It pushes the UI out of the way and places the "paper" front, center, and full screen. Ironically, it hides most of those pen styles and paper formats behind IAPs.
Download: INKredible (Free),(PRO -$4.99)