Apple Reveals New HomePod With Next Level Audio Quality In Another Surprise Announcement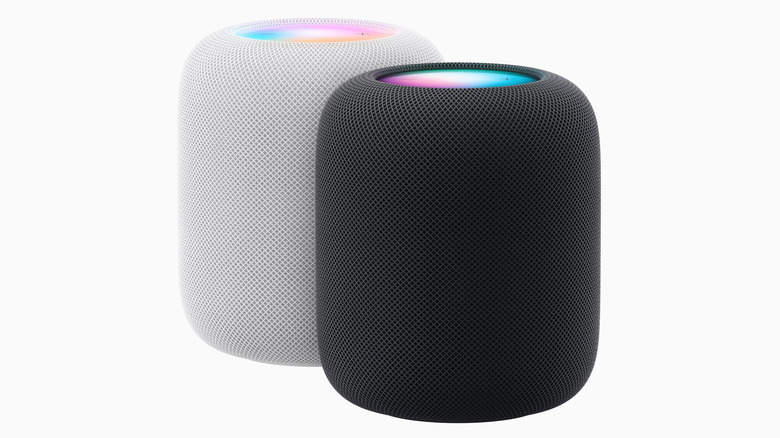 Apple
Apple has revealed a new HomePod smart speaker, with the HomePod 2nd generation the unexpected follow-up to the Cupertino firm's first, controversial competitor to Amazon's Echo. The new 2023 HomePod will be priced at $299, and at first glance you'd be forgiven for wondering if Apple had simply wheeled out old stock of the first-generation speaker.
That's because the aesthetic sticks closely to that original design. There'll be two colors — white and midnight gray — for the fabric-wrapped design, with the acoustically-transparent mesh gently curving around the speaker underneath. Apple says the fabric itself is 100-percent recycled, and the power cable is sports a matching, woven finish.
At the top, there's a backlit touch panel. Unlike with the original HomePod, on the HomePod 2nd generation the whole surface is illuminated rather than just a circle in its center. Different animations show when Siri is listening and responding, while taps and touches do things like play and pause music.
Small footprint, big sound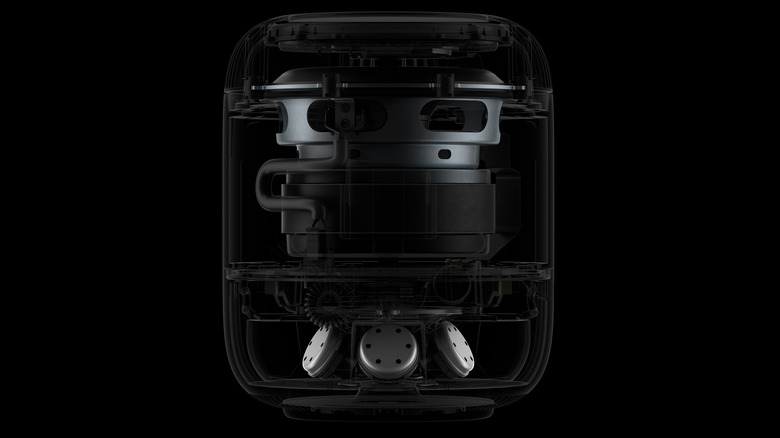 Apple
Inside, there's a custom-engineered high-excursion woofer, which Apple says can drive the speaker diaphragm a full 20mm. There are also five tweeters — using beamforming to direct their sound — and a bass-EQ microphone. The new HomePod uses sound reflections from the surfaces around it, whether walls or something else, so that it can adapt its musical tuning in real-time. Apple says that it's also capable of beaming direct and ambient Spatial Audio to listeners.
It's all powered by the Apple S7 chipset, which supports Spatial Audio with a single HomePod or a pair wirelessly linked together. It's possible to wirelessly hook them up to an Apple TV 4K, too, for TV and movie audio. Siri can then be used to control the Apple TV 4K hands-free. It's worth noting that stereo pairs will only support two identical HomePods: you won't be able to pair a first-gen and a second-gen together, for example, or this new 2023 HomePod and a HomePod mini.
Features like multi-room audio are also controlled by Siri. That responds to the familiar "Hey Siri" wakeword, but it's also possible to hand off iPhone audio — using Ultra Wideband — to a nearby HomePod. That can include music, podcasts, and phone calls. "Find My" on HomePod allows lost devices to be located by voice command.
A HomeKit hub with Matter support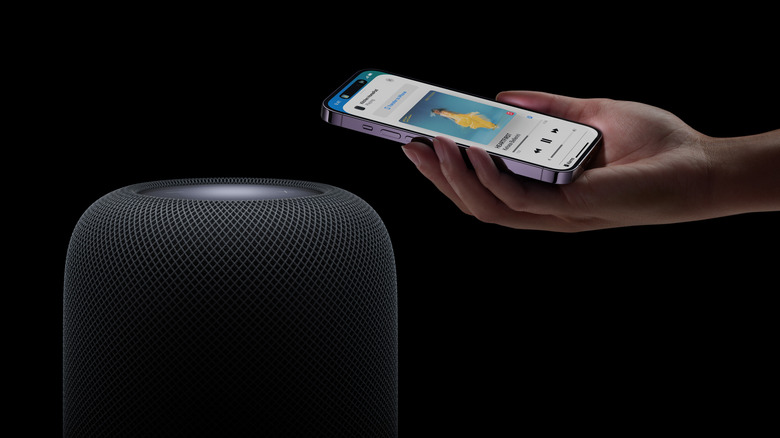 Apple
It's the smart home where the new HomePod might prove most useful, though. It'll work as a HomeKit hub, of course, but also has Matter support now. Come an update this spring, its microphones will be able to listen out for emergency noises — such as smoke alarms or carbon monoxide detectors — and prompt a warning notification on an iPhone. Apple has also added temperature and humidity sensors, so that those factors can trigger HomeKit automations.
Siri can speak, of course, but also use a freshly-rerecorded roster of ambient sounds. That includes ocean, forest, and rain, Apple says. There's a new confirmation tone that suggests Siri has acted on an instruction for a device either out of sight — such as in another room or a closet — or which doesn't visibly show a sign of change, like a heater turning on.
Sales of the new HomePod 2nd generation kick off today, priced at $299. It'll be available first in Australia, Canada, China, France, Germany, Italy, Japan, Spain, the UK, the US, and 11 other countries and regions. Deliveries begin from February 3, 2023.