Why Samsung Pay App On Some Galaxy Phones Is Better Than Other Tap-To-Pay Apps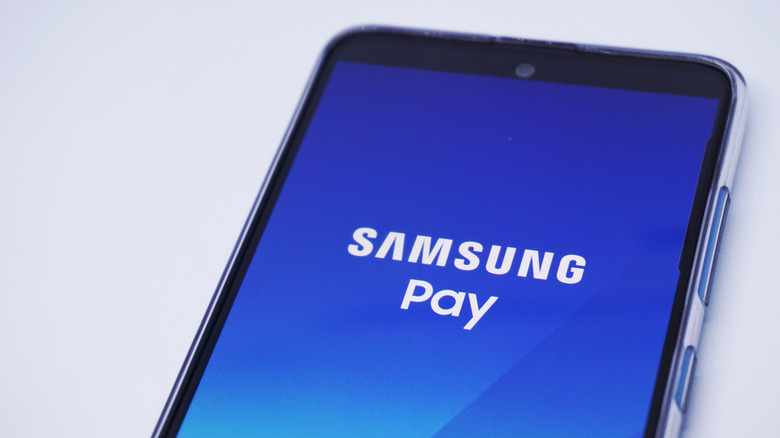 rifky naufaldy/Shutterstock
Just like Apple offers its own payment system in the form of Apple Pay and Google has its Google Wallet app (or GPay, depending on your country), Samsung has been shipping its own Samsung Pay app for a while now. The app stores an encrypted version of your credit or debit card that is shared with payment terminals when you make a contactless transaction.
As an added security measure, the Samsung Pay app stores all card information separately in a secure storage vault that it calls Samsung KNOX, complete with its own security algorithms. Like Apple and Google, it also supports many regional payment systems, like UPI in India or NPP in Australia. The app also serves as a wallet that lets you quickly generate QR codes for receiving digital payments. There used to be one thing that made Samsung Pay truly unique, though.
The debut of the Galaxy S21 series marked the demise of a critically important feature that made Samsung Pay one of the most versatile apps of its kind. That feature was called Magnetic Secure Transaction (MST), which worked alongside Near Field Communication (NFC) and made Samsung Pay a far better app than its rivals.
The magic trick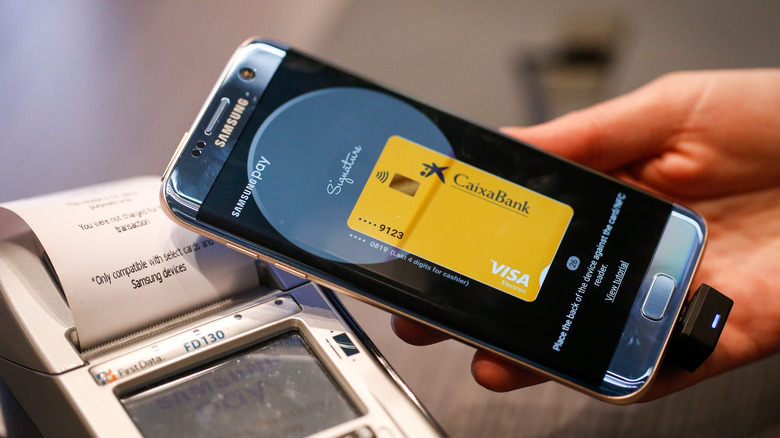 Bloomberg/Getty Images
MST was Samsung's best feature, but now it's only available on very few phones, and the particular models vary in different markets. MST employs the same data transfer technology as a typical credit or debit card with a magnetic stripe, just without having to swipe anything.
With an MST-enabled phone, you could use Samsung Pay to make payments at almost any standard payment terminal, not just those that support tap-to-pay. Samsung enabled MST on its phones by embedding a magnetic coil at the back of its smartphones, which transmits the same data a magnetic stripe would, but without having to make contact. All you need to do is tap your phone against a card swipe machine or payment terminal, and you're good to go. Swipe-based payment systems are still far more common than tap-based NFC versions, especially in developing countries.
Even in developed countries, the older swipe-based payment machines are still widely used, especially outside of major cities. In a nutshell, users with MST didn't have to worry about what kind of payment terminal they came across at a place, and weren't forced to carry a physical card as a safety measure. Samsung Pay is free, and it is now available on budget Galaxy-branded phones. Sadly, MST is no longer available on current-gen Samsung phones.
Why Samsung Pay is less alluring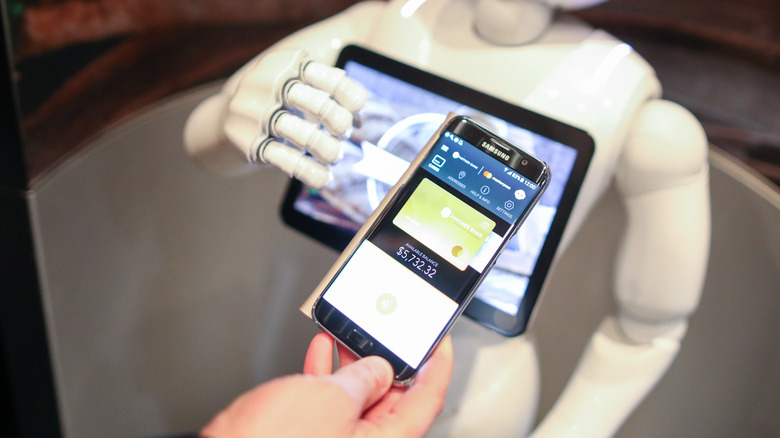 Bloomberg/Getty Images
Starting with the Samsung Galaxy S21 series, Samsung ditched the MST feature on its phones. Samsung reasoned, in a statement to Android Police, that "due to adoption of near field communication (NFC) technology by consumers and businesses, beginning with devices launched in 2021, Samsung Pay will focus its support on NFC transactions, across the Galaxy portfolio." To put it simply, MST was nixed in favor of wider NFC adoption.
With no MST, the Samsung Pay app on newer phones has suddenly become a far less appealing option. That's because it now directly competes with rivals like Google Wallet and Apple Pay, which offer a whole lot of extra features compared to Samsung's app, while also providing the core NFC-based contactless payment functionality.
Google Wallet's interface is clean, there are no ads, and the rewards and referral program works like a charm. Samsung Pay does offer some of the same features as Google's app, but it just doesn't feel as seamless. Samsung Pay features like smartwatch payment are also available with Google Wallet and Apple Wallet apps on smartwatches running WearOS and watchOS, respectively. Right now, Samsung Pay is just another NFC-reliant payment app that offers little reason to pick it over Google's app, even on Samsung's own phones.
A faint glimmer of hope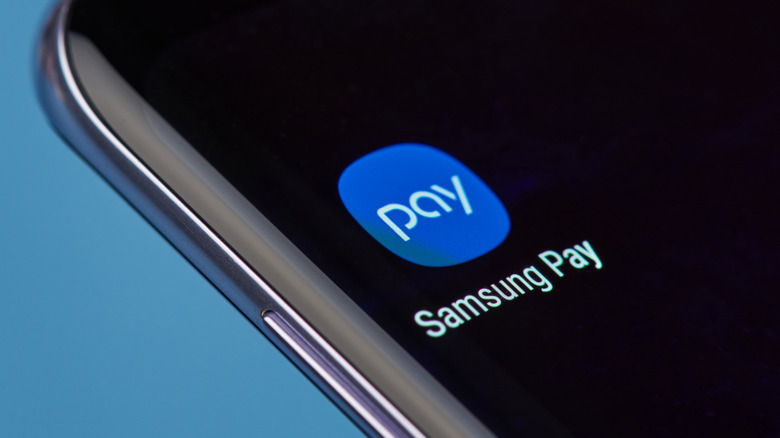 PixieMe/Shutterstock
Samsung abandoned MST tech widely starting with the Galaxy S21, but only on a per-market basis. Older Samsung phones that pack the requisite magnetic coil hardware will still let you tap and pay at swipe-based terminals using the Samsung Pay app. So, if you're rocking older Samsung flagships such as the Galaxy S20, the Galaxy Note 10, or their respective predecessors, you will still be able to use MST for payments.
Some recent phones such as the Galaxy Z Fold 4 and the Galaxy Z Flip 4 still list "MST and/or NFC" in the official specifications sheet. This only applies to some markets, though. Samsung has entirely dropped MST in the U.S., but if you are in an overseas market, you might want to take a good look at the specifications sheet on Samsung's website for your region to confirm the presence or absence of MST hardware.
Depending on the market adoption status, MST availability might vary. While it's a great feature, it's not recommended to stick with an old Samsung phone only because of MST. That's because older Samsung phones had a far shorter update cycle, which means your older MST-ready Samsung phone is probably no longer supported and has stopped receiving updates. It's not just about new features though, as these updates also deliver critical security patches to fix vulnerabilities and keep your phone safe, something you should definitely worry about on a phone used to make payments.