Google May Be Working On An AirTag Rival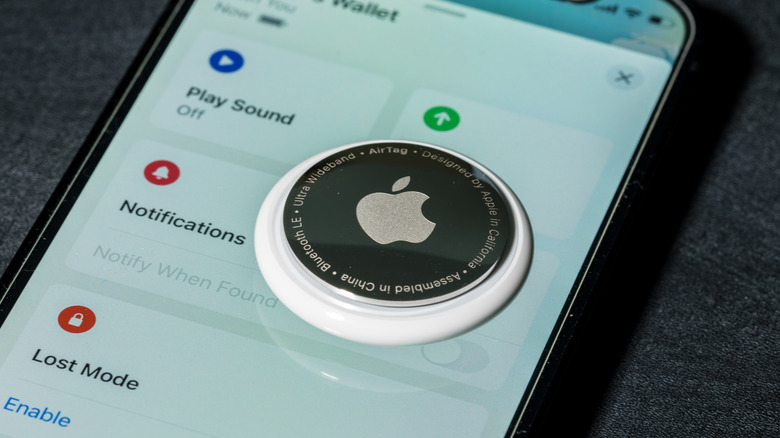 Steve Heap/Shutterstock
The Apple AirTags have made quite a splash for both good and bad reasons. Naturally, Google also wants in on the object tracker trend, it seems, following in the footsteps of Apple. Code sleuth Kuba Wojciechowski has shared information about an upcoming device codenamed "Grogu" alongside variations such as "GR10" and "Groguadio" that is currently in development with Google's Nest team.
Google is working on a smart tracker similar to Apple's AirTag, codename "grogu" – report 🧵👇 pic.twitter.com/8K6KO7tfzj

— Kuba Wojciechowski⚡ (@Za_Raczke) January 16, 2023
Just like the AirTags, Google's supposed tracking device has an onboard speaker that emits sound to help find the object attached to it. If the AirTags privacy fiasco is any indication, the speaker might likely be used to send audio alerts if a person's phone detects an unidentified tracker moving with them.
Google won't exactly be the first to the market with an object tracker that plays well with Android phones. Tile has been making well-received trackers for while now. Samsung sells its own version called the Galaxy SmartTag as well. Chipolo One, CubePro, and Baseus Intelligent T2 are some additional options if you're on the lookout for a decent object tracker to pair with your Android device.
The foundation has been laid
Notably, Wojciechowski also unearthed support for Bluetooth Low Energy and Ultra Wideband (UWB) tech on the supposed tracking device. For the unaware, UWB is a radio wave-based communication technology that allows precise location tracking and can detect objects within a range of 10 centimeters. Notably, Google has baked this tech in at the heart of the Pixel 7 Pro, as well.
The Fast Pair developer console added "Locator tag" as a device type👀

"Locator tag" likely refers to Bluetooth trackers (think AirTag, Tile) that in this context support Google Fast Pair.

H/T @Za_Raczke pic.twitter.com/HoPX8JMd8Q

— Mishaal Rahman (@MishaalRahman) January 16, 2023
Interestingly, Google is said to be working on something called "Finder Network," which sounds like an Android equivalent to Apple's Find My system for locating devices. Moreover, it will likely rely on the Fast Pair tech developed by Google that connects nearby devices over Bluetooth waves. That sounds plausible, as Google has officially added "locator tag" as a device category to its developer dashboard.
At the moment, there is no information on how Google's object tracker is going to look, and when it is going to launch. However, designer Obi Fidler has submitted a design concept for Google's device, imagining it in the same colors as Pixel and Nest devices, with a familiar Air-Tag like design and a Google logo at the center. Fidler has named his concept "G Spot," and says it should latch on to Google's existing Find My Device ecosystem.