2024 Corvette E-Ray Revealed As V8 Hybrid With E-AWD And Stealth Mode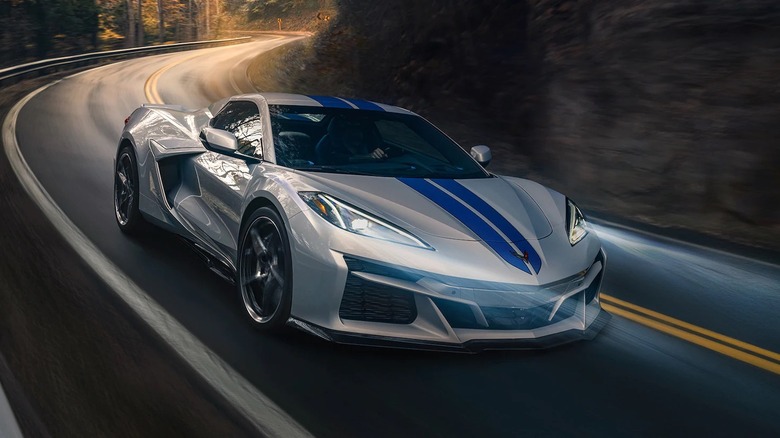 Chevrolet
Chevrolet has revealed the 2024 Corvette E-Ray, the hotly-anticipated electrified version of its iconic sports car. While it may look, at first glance, like a regular Corvette C8 Stingray, the E-Ray will feature both a V8 gas engine powering the rear wheels and an electric motor which drives the front axle. The result is e-AWD, and a total of 655 horsepower.
What drivers won't have to do is find a charger. The Corvette E-Ray isn't a plug-in hybrid; its 1.9 kWh lithium-ion battery — mounted longitudinally down the center of the car — is designed instead to pick up energy from braking.
Pricing will kick off at $102,900 (plus destination) for the Corvette E-Ray 1LZ Coupe. The 2LZ Coupe trim will start at $108,400, while the 3LZ Coupe will be from $113,850. Chevy will also have convertible versions, priced from $109,900 for the 1LZ, $115,400 for the 2LZ, and from $120,850 for the 3LZ.
Forget the purists, check out the power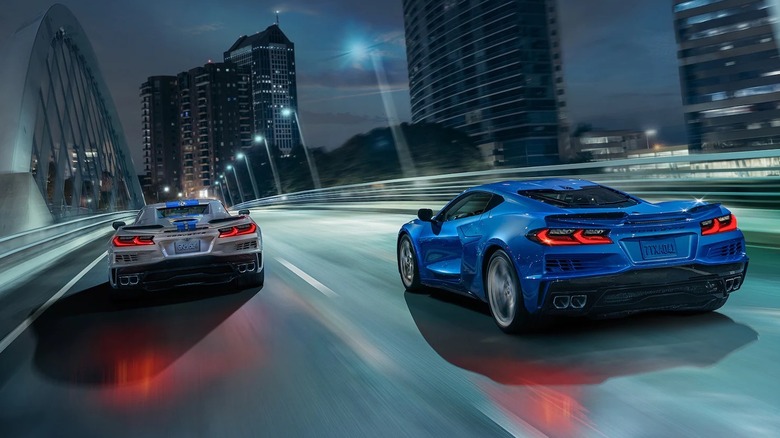 Chevrolet
While purists might question the addition of electrification to the Corvette, there's no denying the performance increase that the hybrid drive system brings. The 6.2-liter small block LT2 V8 gas engine delivers 495 horsepower and 470 lb-ft of torque, just as we've seen in other Stingray applications. It's paired with a standard 8-speed dual-clutch transmission with paddle-shifters.
However, it's the electric motor where things get really interesting. It adds 160 horsepower to the party, directly to the front wheels, along with 125 lb-ft of torque. It makes this the first official hybrid application for the Corvette, which has resolutely stuck to pony car tradition with a rear-wheel drive layout until now. 
It means the 0-60 miles per hour time is trimmed to 2.5 seconds, Chevrolet says, a half-second improvement on the gas-only car. The quarter-mile, meanwhile, is dispatched in a mere 10.5 seconds. In short, it's the fastest 0-60 for the factory Corvette so-far.
Healthy trim levels for everyday usability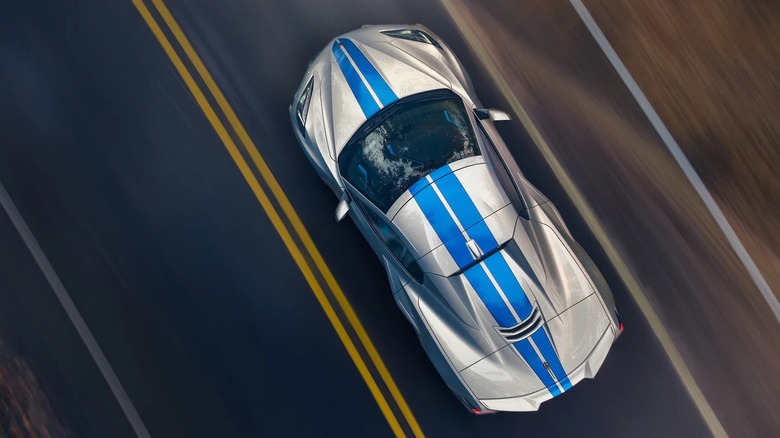 Chevrolet
The e-AWD, though, brings more benefits than just straight-line speed. For a start, Chevrolet points out, there's a big uptick in four-season performance: anybody who has tried to coax a potent rear-wheel drive sports car around snow or ice will probably appreciate that. There's also the addition of electric-only drive modes, liker Stealth Mode, which allow the Corvette E-Ray to operate in near-silence for short periods.
Magnetic Selective Ride Control is standard on all trims, along with carbon ceramic brakes, a head-up display, leather-wrapped wheel, and rear camera mirror. The Coupe has a removable roof panel. The 2LZ trim adds Chevy's Performance Data Recorder, HD front and rear vision cameras, heating and ventilation for the seats, a Bose 14-speaker audio system, and wireless phone charging.
The 3LZ trim adds GT2 seats with Napa Leather and carbon fiber trim, a leather-wrapped interior and door panels, sueded-microfiber to the upper interior trim, and a carbon fiber steering wheel with matching panels. Convertible versions of the E-Ray get a fully-retractable hardtop roof. A ZER Performance Package will be available, complete with Michelin Pilot Sport 4 S ZP summer-only tires — to replace the standard all-season rubber — along with special chassis tuning and other tweaks.
A familiar 'Vette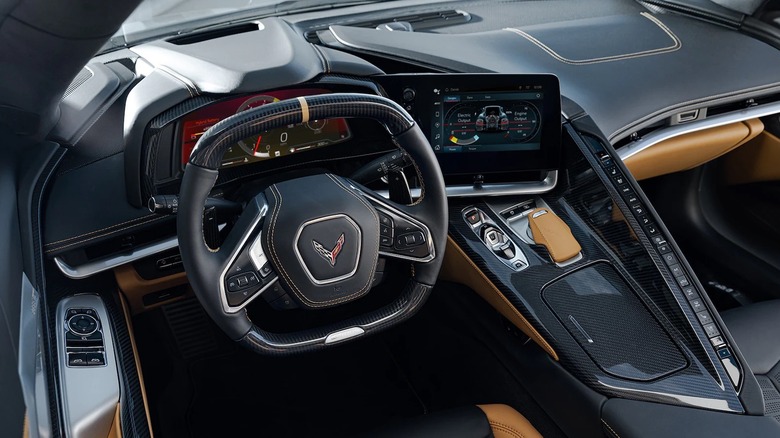 Chevrolet
Outside, while the silhouette may be familiar, enthusiasts will spot some changes. The fenders are wider, as are the quarter panels and fascias. Chevy has made much of the trim body-color, and there's new E-Ray badging sprinkled throughout.
Inside, the cabin looks much the same as we've seen already, with a large central console that divides the driver and passenger halves of the cockpit. The infotainment system supports Apple CarPlay and Android Auto — both in their wireless flavors — but there's a new driver information screen available that shows battery power alongside the V8 metrics.
A new E-Ray App runs on the center touchscreen, meanwhile. That digs deeper into hybrid performance data, including showing things like RWD versus FWD power from the two aspects of the drivetrain. Lane Keep Assist with Lane Departure Warning, Forward Collision Alert, and Automatic Emergency Braking are all standard.
A fully-electric Corvette is still to come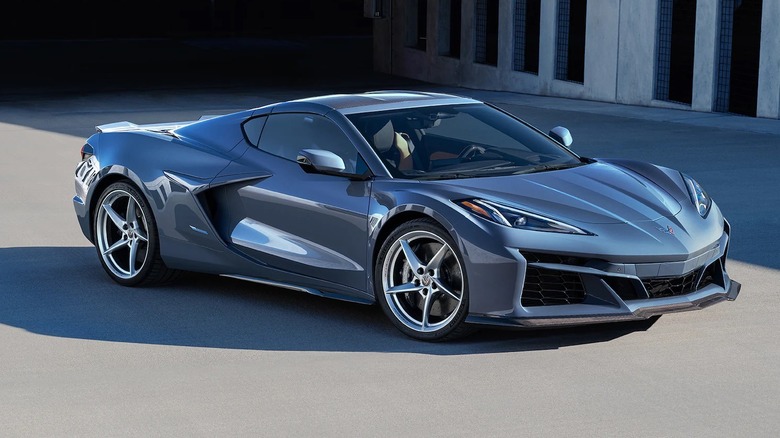 Chevrolet
Clearly, there's a big step up here from the standard Stingray. A regular, V8-only Corvette C8 starts at $64,500 (plus destination), meaning there's a $38,400 delta involved in switching over to the hybrid car. All the same, it's hard not to be impressed by what Chevrolet is offering here, at least on paper.
After all, the world of performance hybrid sports cars isn't exactly a well-populated one. While we've seen all-electric models push the idea of EVs being torque-heavy playthings, the Corvette E-Ray has the benefit of not needing a charger. Instead, drivers will be able to pull in at their usual gas station.
An all-electric Corvette is on the cards, mind. Chevrolet has said it plans to launch that in 2024, as a model year 2025 car. Before that, though, the 2024 Corvette E-Ray will have some time in the spotlight: order books will be opening soon, with deliveries expected to begin in late 2023.