The Reason Robbie Knievel Didn't Use A Harley-Davidson Like His Father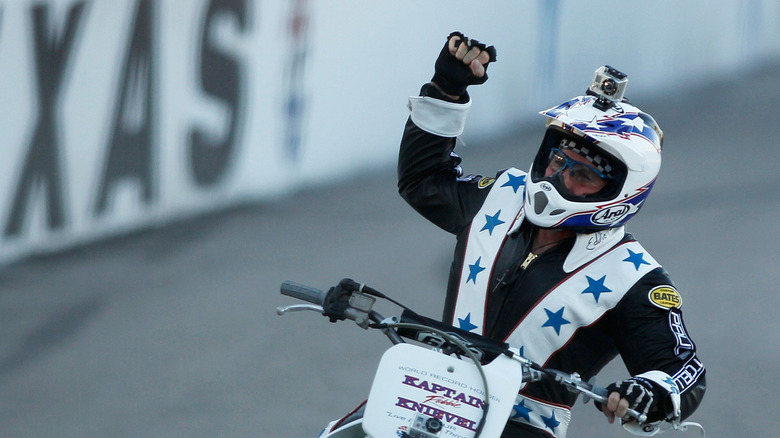 Jonathan Ferrey/Getty Images
Robbie Knievel, son of the infamous 1970s daredevil Evel Knievel, passed away in a hospice on Friday following a battle with pancreatic cancer. Like his father, the younger Knievel built a career around performing dangerous stunts on a motorcycle — though there was one key difference between Robbie's bike and the one his father became a legend on. 
The junior Knievel got a pretty early start to his career, jumping motorcycles with his father from a young age. Like his father, he also had a popular action figure. Aged just 13, he saw his likeness captured in plastic with "Robbie, The Teen-Age Stuntman."
According to Biography.com, the younger stuntman's talents began to cause a rift between Robbie and his legendary father. He moved out at the age of 16 and began to focus on his own career. In total, Robbie Knievel completed over 350 jumps in his career, setting 20 world records in the process. Eventually, Robbie — who was also known as "Kaptain Knievel" — even surpassed his father in a way. 
One of Evel Knievel's most famous failed stunts was his attempt to jump the Caesars Palace fountains in Las Vegas. The 1967 stunt resulted in a crash which landed Knievel in a coma for several months. Robbie had more success, jumping a total of 150 feet during his April 1989 attempt, and landing successfully. 
Robbie's success isn't all down to talent — he may have had a significant advantage over his dad in one department. While Evel performed most of his most famous jumps on a heavy Harley-Davidson XR-750 racing motorcycle, Robbie opted for a far lighter bike.
Robbie Knievel preferred a lighter bike to his father
Evel Knievel made his name straddled across another American icon — a Harley-Davidson. Robbie, however, opted for something lighter, more agile, and Japanese. While it doesn't quite have the same symbolism, the Honda CR500 is far better suited to the kind of stunts the Knievel dynasty was known for.
Its lighter weight meant faster acceleration, meaning the stuntman could hit the ramp at a greater speed with a shorter runup. The lighter weight and dirt bike suspension would have also made landings easier, which are arguably the most difficult part of a jump. The bike was originally designed for motocross racing, so it had the added benefit of better performance in rough terrain. His father's Harley had a bigger engine, and it was also designed to race on a flat track, but its added weight was definitely a hindrance to anyone trying to vault over 40 school buses.
In November 2007, the senior Knievel died at the age of 69. The same year, Robbie was inducted into the motorcycle hall of fame. The younger Knievel continued performing stunts well into his 40s, but as with many people in his profession, injuries eventually took their toll. The number of performances he could complete annually declined drastically as time went on.
Despite Robbie's passing, the Knievel legacy lives on. He is survived by two daughters, Krysten and Karmen, his brother Kelly, and his two sisters Alicia and Tracey.