The Honda Motocross Bike Robbie Knievel Trusted For His Daring Grand Canyon Jump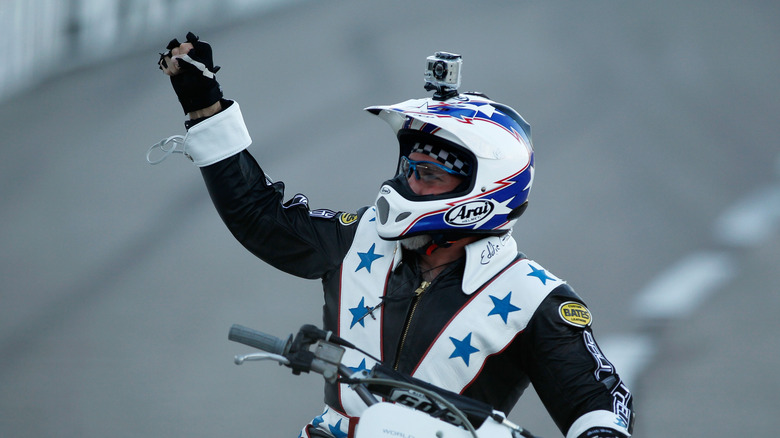 Jonathan Ferrey/Getty Images
Robbie Knievel, son of famed daredevil stuntman Evel Knievel, unfortunately, passed away at the age of 60 after a battle with cancer, TMZ confirms. Much like his father, Robbie Knievel was a stuntman in his own right, performing death-defying motorcycle jumps over everything ranging from Caesar's Palace in Las Vegas to the Grand Canyon. According to Biography, the late Knievel completed 350-plus jumps over the course of his career which allowed him to break 20 world records. 
In 1999, Robbie Knievel completed a 228-foot jump of the Grand Canyon in Arizona. While Robbie Knievel followed in his father's footsteps in becoming a stuntman, he did not however stick to his father's preferred marque, Harley Davidson, for his choice of steed. For the Grand Canyon jump, Robbie Knievel went with a bike significantly more pedestrian than the big Harley-Davidson XR-750 his father was known to ride (via Biography). Robbie Knievel trusted a Honda to do the job.
The humble Honda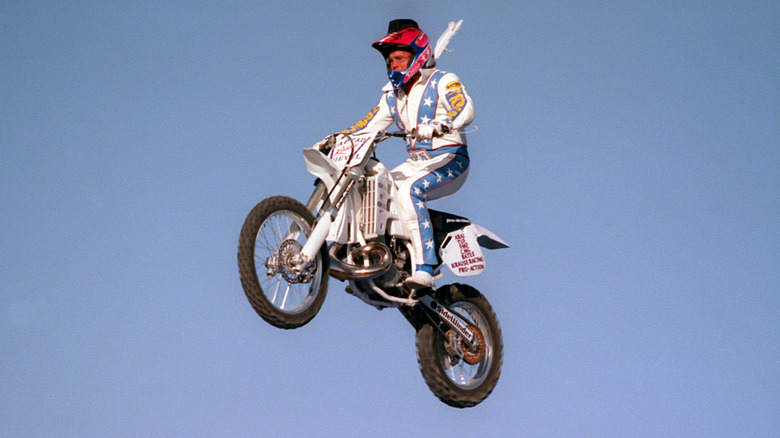 Frank Micelotta Archive/Getty Images
Specifically, Robbie Knievel used a Honda CR500 for his record-breaking jump. As opposed to the heavily modified Harley, the CR500 was light, nimble, and designed for Motocross competition.  Despite its lightweight, the Honda was powerful for its size and the big beefy shocks made it perfect for racing and jumping. Its 491cc motor made over 52 horsepower, which was more than enough grunt for competition. To this day, the CR500 is remembered as an iconic bike in its own right, among fans of Knievel and riders in the competitive scene. These attributes, combined with Honda's legendary reliability and Knievel's expertise behind the handlebars, made the bike a perfect candidate for the jump.
Robbie Knievel will be fondly remembered as a father and incredibly talented motorcycle rider and stuntman who set the stage for other riders like Travis Pastrana. The humble Honda CR500 will be remembered as the bike that didn't let him down.