The Reason Your iPhone Says SOS Only And How To Fix It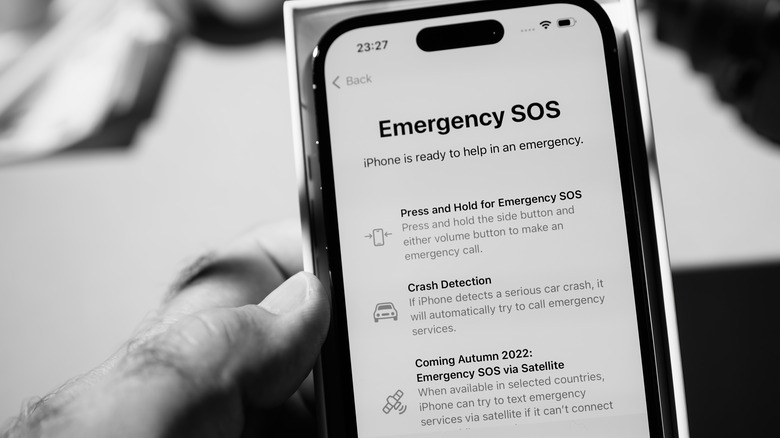 Hadrian/Shutterstock
The iPhone 14 launched to great critical praise thanks to a few key hardware and software enhancements that elevated what's become the new Apple standard. For iPhone 14 Pro models, the always-on display is exciting, even if imperfect. Many also rave about the upgraded camera system, though that's become something of a timeless tradition over the years.
Not all changes were great, though. For instance, on the Pro models, we lost the unsightly notch in favor of an in-display pill-shaped hole for the front-facing camera system, which not everyone is super pleased about. But it did give Apple inspiration for the new Dynamic Island feature, which adds some neat utility for several apps, and it can only get better with time.
There is one change that not many people have talked about, however: sometimes, your iPhone may show an "SOS Only" label in the status bar. It almost sounds scary, but your fears should fade once you understand its purpose.
What does SOS Only mean on iPhone?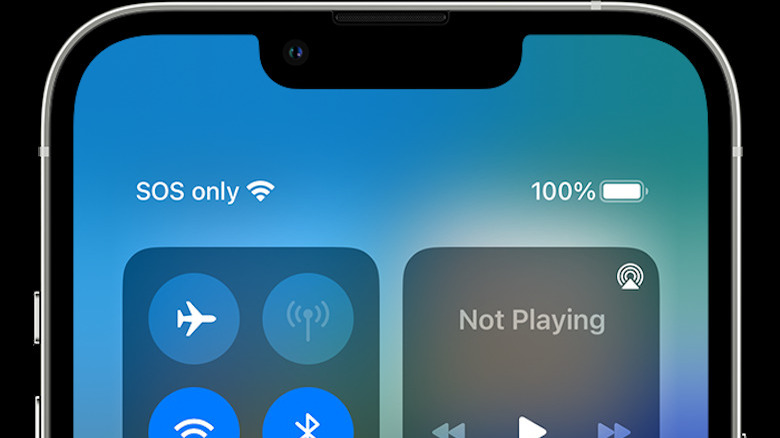 Apple
According to Apple, the latest version of iOS made a change to a government-regulated feature (a requirement of the 911 act) that requires all smartphones in the United States to be able to dial 911, even if the phone doesn't have network access. This means you can access emergency services on any iPhone (and Android), even if you don't pay for service from the company that the phone is tied to. For subscribers, it also works if you happen to venture away from cellular coverage.
It makes sense, then, that the "SOS only" label replaces the carrier's name in this instance. Most people only started noticing this change as of the iPhone 14's launch, but it should apply to any iPhone on the latest version. You may not see it if you don't live in the United States, Canada, or Australia, however, as the emergency dialing feature is only available in those three countries as of writing.
If you ever notice this on your iPhone and you're certain you should be within range of an appropriate cellular tower, you may want to try toggling cellular data off and then back on (found in Settings > Cellular). If you're in international territory, make sure you've turned roaming on. When all else fails, powering your iPhone off and on can also fix the issue. Otherwise, you may need to give your carrier a call to see why its network is rejecting your iPhone.