Why The Kawasaki Ninja Is One Of The Most Famous Motorcycles Ever Made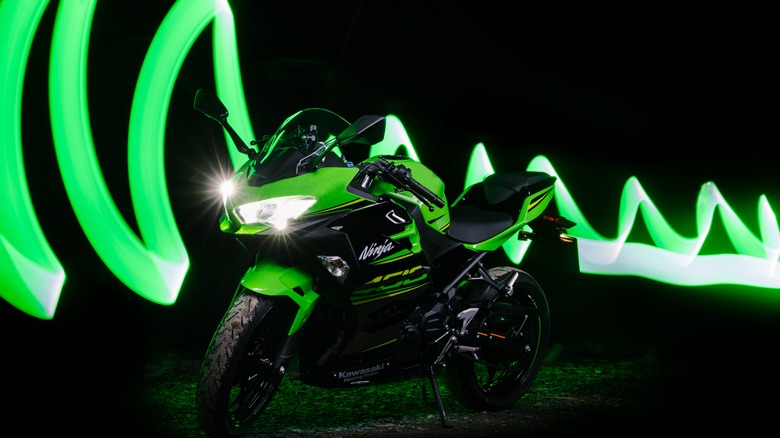 Wirestock Creators/Shutterstock
The Kawasaki Ninja is sportbike royalty. Flexible, affordable, with performance consistently challenging the top of the market, the Ninja family of entry-level performance motorcycles has consistently grown its fanbase and improved its engineering since the marque's 1980s debut. At Slashgear, the affection for Ninja bikes is well-established – after all, three different Ninja models on the list of best Kawasakis ever made.
Why? Sensible prices and brand recognition both played their part, but the true history of Kawasaki's most reliably excellent model family goes back two decades before its debut. For decades, Kawasaki looked beyond the contemporary state of play to what the future market for motorcycles could be. In doing so, it saw and seized possibilities no manufacturer had yet tested, establishing the legendary Ninja brand and kickstarting the sport bike industry.
The multi-decade creation of an icon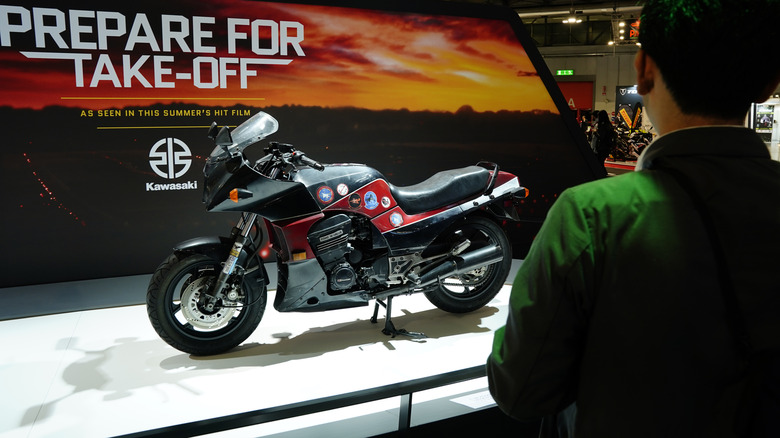 Pier Marco Tacca/Getty Images
The history of motorcycles is long, twisted, and fascinating, but we'll spare you the lecture. The Ninja's history begins in the late 1960s, when everybody wanted a Harley (via MotorBiscuit). Various complicated factors worked together to incline motorcycle customers all over the world to big, lumbering, horsepower-heavy highway cruisers.
At the same time, while Harley-like cruising bikes picked up press and brought in big-ticket buyers, small, fuel-efficient models still represented a large proportion of the actual motorcycle market, particularly for the big Japanese names like Honda, Yamaha, and Kawasaki. The tiny Honda Super Cub is one of the best-selling motorcycles of all time. Yamaha and Kawasaki largely followed Honda's lead throughout the 70s, putting out a few Harley-esque cruisers for branding and otherwise focusing on light, utilitarian daily rides for the European and Asian markets (per Motorcycle Cruiser).
The Ninja didn't match either of those profiles. Instead, it was a result of a game-changing idea from Kawasaki's engineers: why not both?
Simply genius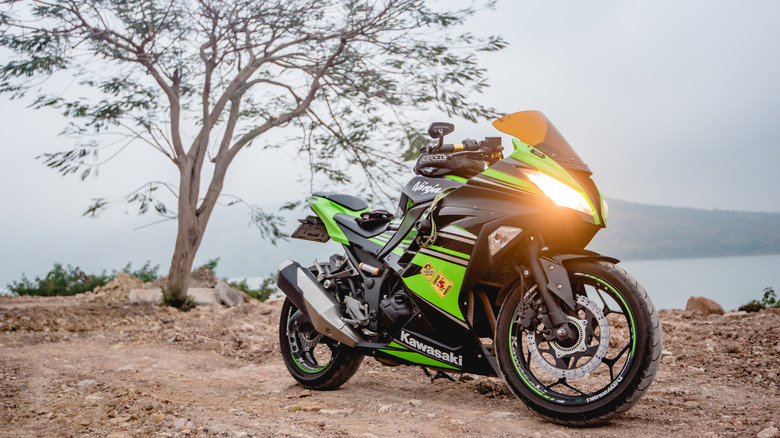 SunyawitPhoto/Shutterstock
As MotorBiscuit reports, the idea that inspired the Kawasaki Ninja model family, was beautifully simple. Why not just take a lightweight frame with basic, reliable mechanics, the kind millions of motorcyclists in Europe and Asia rode every day, and give it a sizable fraction of a big cruiser's power?
Kawasaki tested this concept with the Z1 released in the 70s, but twitchy controls and questionable mechanical reliability curbed buy-in. Kawasaki's first true worldbeater hit pavement in 1984, carrying the Ninja name in the North American market (via Universal Technical Institute). From that point forward, dedicated motorcyclists could buy racetrack speed at achievable prices in a small, efficient package. 
The sports bike was born. Motorcycles following that design brief have dominated racing ever since. The Kawasaki Ninja is a textbook example of success in design, delivering practicality, fuel efficiency, and sheer riding pleasure in the same package for the first time.