Ford Bronco Everglades Vs Bronco Raptor: What's The Difference?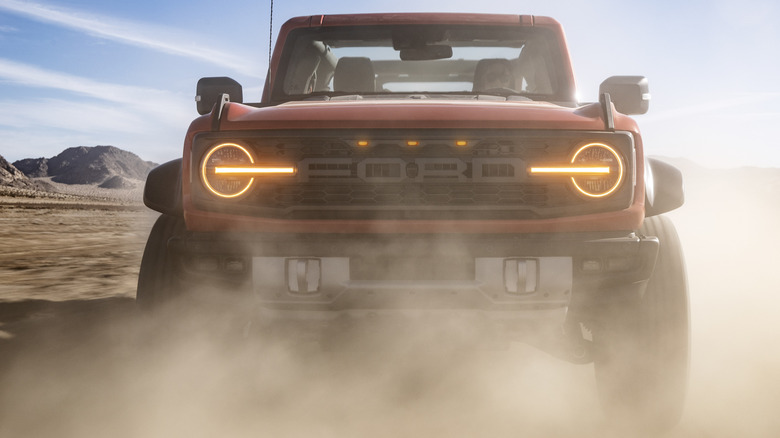 Ford
Anyone interested in Ford's exciting new off-roader, the Bronco, will be spoiled for choice when they visit the automaker's web page. There are ten available variations of the utility vehicle, and each are tailored to suit a shopper's particular tastes. Because of this, it's very easy to lose track of time trying to build the perfect Bronco. Do you want two doors or four doors? Which engine? How off-road ready would you prefer it to be?
For those looking for the complete package, there are two models worth exploring that sit at the top of the lineup, the Ford Bronco Everglades and the Bronco Raptor. Both are well equipped for adventures beyond the pavement, but each take a different approach. Here are the key differences between the two, and it's not just horsepower.
Engine output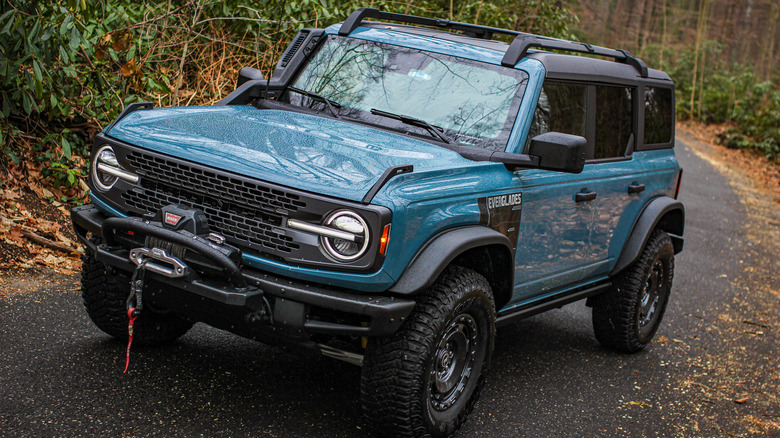 Alex Kalogiannis/SlashGear
As we said, power output isn't the only difference, but it is a significant one. There are two engines available within the standard Bronco lineup. The first is a 2.4-liter inline-4 EcoBoost that delivers between 275 to 300 horsepower and 315 to 325 pound-feet of torque, depending on the type of fuel used. The next one is a 2.7-liter V6 that can whip up 315 to 410 horsepower and 330 to 415 pound-feet of torque. The Raptor exclusively gets a third, its own 3.0-liter V6 that's capable of producing 418 horsepower and 440 pound-feet of torque.
Of the two standard engines, the Bronco Everglades is only available with the smaller 2.3-liter I4, a lighter engine that has plenty of torque for crawling over obstacles. The Raptor's beefier V6 matches its sporty suspension upgrades to make it as fast and agile while off-road, much like its stablemate the F-150 Raptor R.
Purpose-built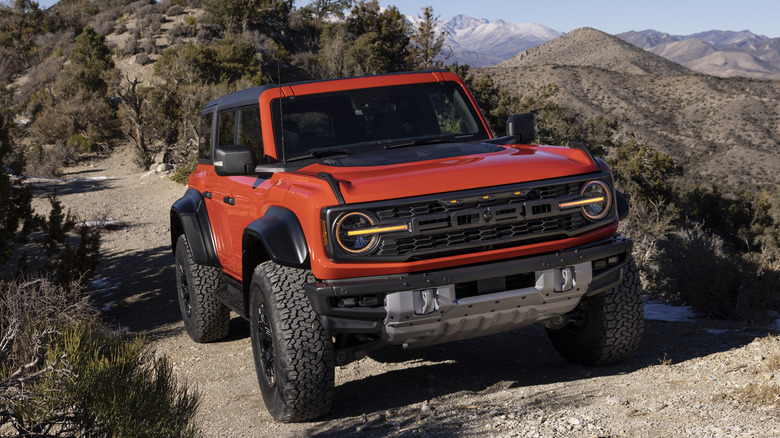 Ford
Thrilling as the extra horsepower is, it's the Bronco Raptor's bulked-up sport suspension that separates it from the Everglades. Designed to cope with the stresses of activities such as high-speed dune hopping, the Raptor's suspension is more reinforced, set to a wider track and fitted with Fox adaptive sport dampers that can withstand such abuse. It's also fitted with 37-inch all-terrain tires from BFGoodrich. If placed beside each other, the upgrades are very apparent. Compared to the rest of the Bronco lineup, the Raptor is 8.6 inches wider and 4.8-inches taller.
If these differences aren't apparent enough, there are other visual touches to clue people into which Bronco is which. Apart from the increased height and width, the Raptor has a unique front grille and many Raptor-specific interior touches as well as some very visible plating guarding its underbelly. The Everglades is distinguished by its factory installed exhaust snorkel and its Warn winch mounted on the heavy-duty front bumper; this Bronco also has "Everglades" graphics on each side that double as wading depth indicators. Either way, you'll need relatively deep pockets: the Bronco Everglades starts at $53,895 (plus destination), while the Bronco Raptor kicks off at $73,780 (plus destination).