Framework Laptop Review: Upending The Laptop Market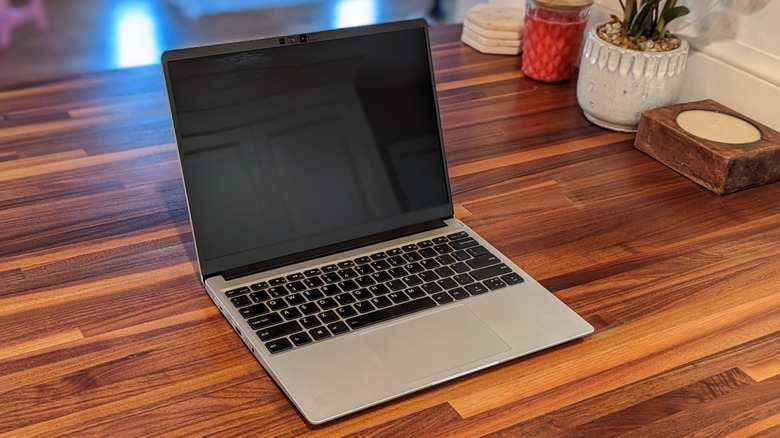 Steve Smith/SlashGear
Last year Framework attempted to upend the laptop industry by not only announcing a fully-repairable laptop but also managing to ship it to the public. While it launched with impressive modularity that was heavily touted by Framework, it left critics wondering if the company would be able to deliver on its promised upgradability.
When Intel announced its 12th-generation processors early in 2022, the industry kept a watchful eye on if Framework would be able to deliver on its promise. It took Framework less than six months to release a 12th-gen version of its laptop along with an upgrade path for people who bought its 11th-gen equipped laptops.
The entire premise of Framework is intriguing. It's a huge win for the right-to-repair movement but helps reduce e-waste. It has become clear that Framework not only has the tenacity to deliver an upgradeable ultrabook but has the chops to become a major player in the industry. The Framework laptop is a solid option for anyone looking to buy a new computer in its own right, but its ability to grow with you makes it incredible.
Framework provided this device for the purpose of this review.
Design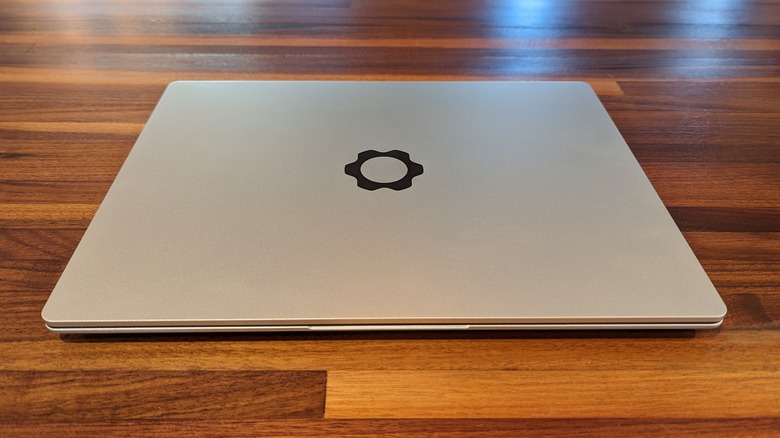 Steve Smith/SlashGear
For the most part, Framework took a no-frills approach when designing this laptop. You get a nice-looking, but fairly plain silver design with a black Framework logo placed in the middle of the lid. For compatibility reasons, it kept the design mostly the same as last year. Framework upgraded the lid this year by switching from an aluminum forming process to a CNC process, which helped increase its rigidity. I didn't notice any creaking or flexing while testing the laptop.
The lid is magnetically held in place and only requires one finger to lift. Lifting the lid reveals its 13.5-inch 3:2 display and its island-style keyboard. The square power button is located at the top right of the keyboard deck and it doubles as a fingerprint reader. The power button has a nice white glow surrounding it, matching the keyboard backlighting.
Flipping the device over is where you will find five Torx screws and a fan grille. The Framework clocks in at 2.87 pounds and measures 11.68 x 9.01 x 0.62 inches. The Framework laptop is a hair-thicker and a little lighter than the most recently-released 13-inch MacBook Pro.
Ports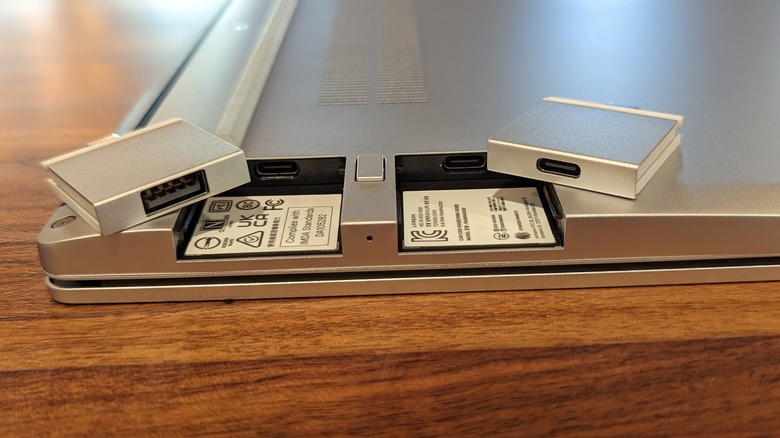 Steve Smith/SlashGear
Built-in ports include a 3.5mm headphone jack and four recessed Thunderbolt 4 ports. These recessed ports are used for Framework's swappable expansion cards. The expansion cards significantly increase the laptop's modularity and are one of the best parts of this laptop.
Expansion cards include USB-C, USB-A, HDMI, DisplayPort, MicroSD, a 2.5 Gigabit Ethernet port, a 1TB storage card, and a 250GB storage card. You need to use at least one USB-C expansion card so you can charge the laptop. I typically used two USB-C cards, an HDMI card, and a USB-A card. I positioned the USB-C cards on either side of the laptop which allowed me to charge the laptop from both sides. When I needed to transfer photos from my DSLR to the Framework laptop, it was as easy as swapping out the HDMI expansion card for the MicroSD one. You can even have four USB-C ports if that's what suits your needs. All you have to do is push a button to release the card and slide it out of its socket.
Upgradeability and repairability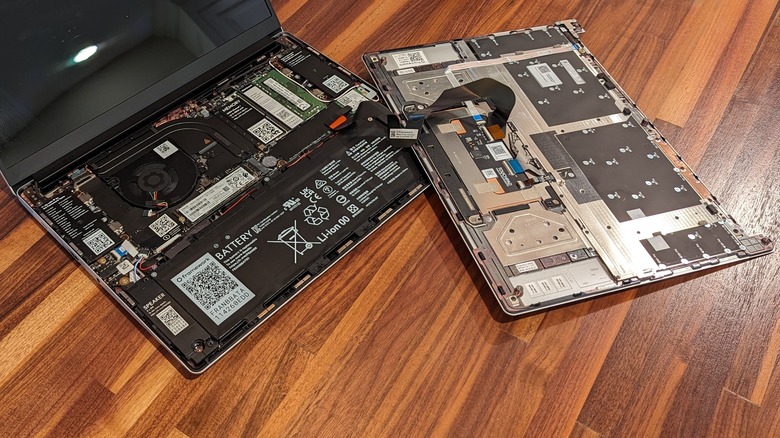 Steve Smith/SlashGear
The Framework laptop is assembled using Torx and Phillips head screws. Framework ships its laptops with a dual-sided tool that is needed for all laptop repairs. One side holds a Torx and Phillips bit, while the other side is a spudger tool. Getting into the laptop is as simple as unscrewing the Torx screws, flipping the laptop over (the screws are held in place, so you can't lose them), and lifting off the keyboard cover. Just be careful when removing the cover as there is a ribbon cable attached to the trackpad.
Once you get the cover off, you will find all of the internals neatly arranged and labeled. To take it one step further, Framework has attached QR codes to most of the components allowing you to quickly find repair guides or order replacement parts. Framework says you don't have to disconnect the battery to perform most upgrades. You only need to do so if the repair guides suggest it. It even added LEDs internally that will blink red, letting you know that the laptop hasn't been fully shut down.
Just about every component on the Framework laptop can be upgraded or swapped. This includes commonly replaced components such as RAM modules, the single M.2 SSD drive, and the Wi-Fi 6 module. It also includes uncommon components such as upgrading the processor (by swapping out the entire mainboard) or replacing the hinges. You can find all the parts available on the Framework Marketplace.
Configurations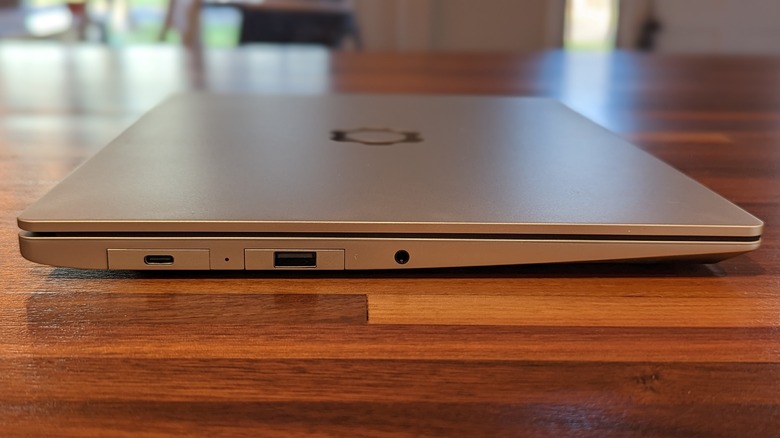 Steve Smith/SlashGear
There are a variety of ways to configure the 12th-gen Framework laptop when going to order one. You can get it in both pre-built and DIY configurations. Pre-built comes in base, performance, and pro tiers. The base tier ships with an Intel i5-1240p processor, 8GB of RAM, a 256GB SSD hard drive, and Windows 11 Home. The performance tier gets an Intel i7-1260p processor, 16GB of RAM, a 512GB SSD hard drive, and Windows 11 Home. The pro tier gets an Intel i7-1280p processor, 32GB of RAM, a 1TB SSD hard drive, and Windows 11 Pro.
The DIY options only force you to pick a processor at checkout. You pick and choose your RAM and storage capacities, your Wi-Fi card, and your operating system. This option is especially handy if you have parts lying around your home, allowing you to get up and running for less money.
The cost of the base model is $1049, the performance will cost you $1449, and the pro model will run you $2049. The DIY model starts at $819, and each component selected increases the cost. Framework does make a Chromebook version of the base option which will cost $999. For users with last year's model, an i5-1240p mainboard upgrade will cost you $449, an i7-1260p will cost you $699, and an i7-1280p mainboard upgrade will set you back $1049.
Display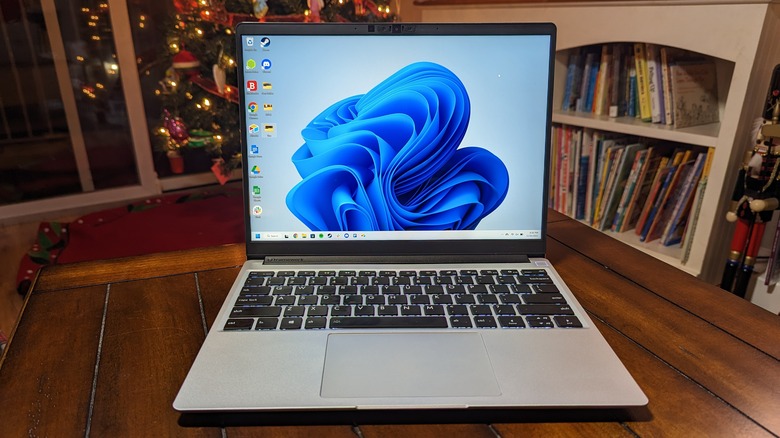 Steve Smith/SlashGear
Framework ships this laptop with a 13.5-inch display with a 2256 x 1504 resolution and a 3:2 aspect ratio. The 3:2 display means it is a little taller than it is wide. The extra vertical space can be great for viewing documents and productivity.
The display can get quite bright and is capable of reaching a peak brightness of 400 nits. It also has a 100% sRGB color gamut. It offered some nice deep blacks with punchy colors to draw you into the experience. In my tests with a variety of media content, this laptop delivered no perceivable distortion or color degradation when viewing from any given angle — unless we count the light that reflects off the display.
The glossy display is quite reflective, especially if a light source is anywhere behind you. I would have preferred a matte display to cut down on the glare. The display also doesn't offer any touch capabilities.
Performance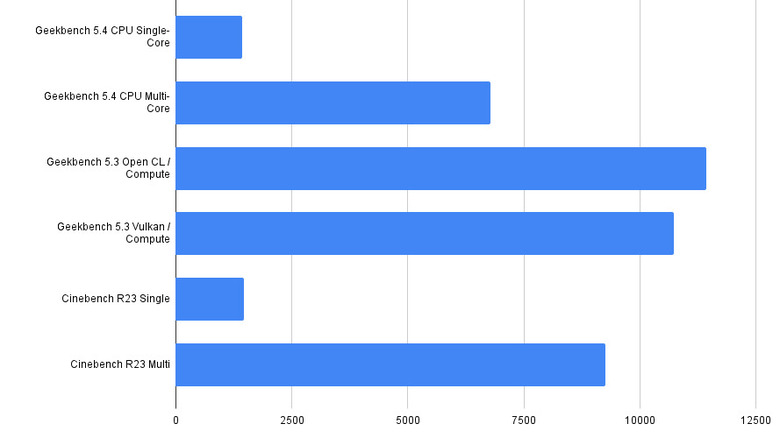 I received the base Intel i5-1240p Framework model for review. This model was equipped with 8GB of RAM, 256GB of storage, and Wi-Fi 6 connectivity. With 4 performance cores that can hit 4.4GHz and 8 efficiency cores capable of hitting 3.3GHz, the 12th-gen i5 chip in this device was more than capable to take on anything I could throw at it.
I typically use at least 16GB of RAM, so I was curious as to how 8GB of RAM would hold up. For the most part, it did an alright job, but my typically use case isn't going to push this machine much harder than the average user. What I did notice is that when I had multiple tabs open in Chrome, it would routinely freeze tabs, causing them to reload when I would go back to them.
I left the system in balanced mode on Windows and ran a few benchmarks. The Framework laptop got a single-core Geekbench 5.4 score of 1422 and a multi-core score of 6776. Cinebench R23 gave a single-core score of 1465 and a multi-core score of 9267. Those scores are good enough to match the 13-inch MacBook Pro M1 scores.
What I have noticed during my testing is that the laptop gets toasty on the bottom. Now it isn't going to burn you, but it can get quite warm. I have also noticed that when the fan ramps up, it gets loud. Louder than any other laptop I have heard.
Keyboard and touchpad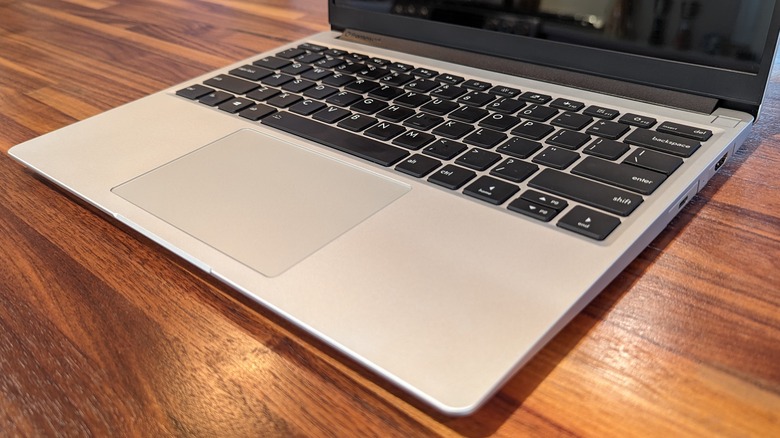 Steve Smith/SlashGear
With 1.5mm of travel, the chicklet-style keyboard has been a blast to type on. I hate keyboards that bottom out and I haven't experienced that with this laptop. The keys are slightly on the mushy side but offer a decent amount of feedback to create quite a pleasant typing experience. I was able to type out about 80 words per minute with perfect accuracy.
The keyboard has black caps with white backlighting. The backlighting is adjustable to three different brightness levels. The top row has buttons for adjusting the volume, the display brightness, and turning on airplane mode. The arrow keys are not uniform in size, with the left and right arrows being larger than the up and down arrows.
The trackpad is large, responsive, and free of rattling. It isn't as big as the last few years of MacBook trackpads, but it doesn't leave me wanting something bigger. It had no issues with tracking my fingers and the multi-touch was accurate and was quick to respond on screen.
Audio, camera quality, and battery life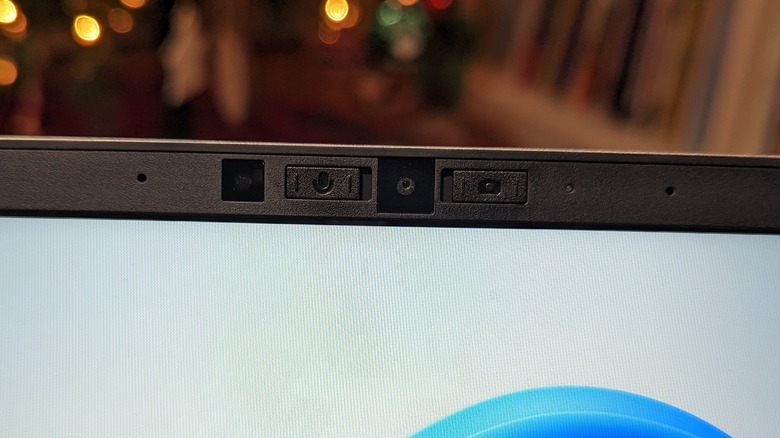 Steve Smith/SlashGear
With two down-firing speakers (at 2 watts a piece), the audio quality has been passable but not great. They get loud enough and will work for video calls, but don't pack a punch when consuming content. This is especially true with bass-heavy content. They can also get accidentally covered up when using the laptop on your lap, which leads to a slightly muffled experience.
The camera on the other hand has been fantastic. Framework included a 1080p camera that is capable of working at 60 frames per second. It routinely produced a crisp, clear image that works especially well for video calls. Depending on the lighting colors ranged from slightly muted to downright accurate. To enhance your privacy, Framework included separate shutoff switches for both the camera and the microphone on the top bezel next to the camera.
The biggest letdown for the Framework laptop was its mediocre battery life. With a 55Wh battery, I was only able to get between 5 and 5.5 hours of battery life. While not terrible, I have come to expect more from laptops in this price range. This is especially the case when similarly priced laptops can last two to three times longer on a single charge. At least it charges relatively fast with the included 60W charger. Another bonus is that the battery can be easily swapped out when it degrades over time, so longevity is a non-issue.
Linux compatibility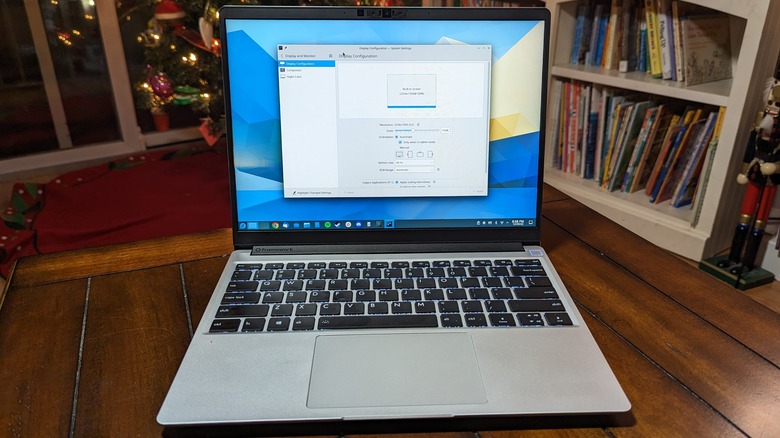 Steve Smith/SlashGear
While Framework doesn't specialize in Linux compatibility in the same way a company like System 76 does, it does take pride in its compatibility with it. Framework says that its laptop runs well on the Ubuntu and Fedora distributions, but many other distros should work great as well. Due to the use of Intel's 12th-generation CPUs, I would stick to a distro that has a kernel version of at least 5.16.
To test compatibility, I installed Fedora 37 KDE in a dual boot configuration. At the time of writing this, Fedora is using kernel 6.0.12-200. It even detected my display properly and let me adjust the scaling to 150%. The laptop hums along nicely using Linux and it even fixed the loud fan issue I had in Windows. It makes me wonder if there is something wrong with Windows 11 or if it's a driver issue. Although I have experienced weird fan behavior on other Windows laptops in the past.
This was my first experience having a working fingerprint reader in Linux, but it was a pleasure to use my fingerprint to run sudo commands. I had no issues with Wi-Fi or Bluetooth during my testing. Although not available at the time of writing, Framework is working on allowing Linux users to update the BIOS through LVFS.
Upending the market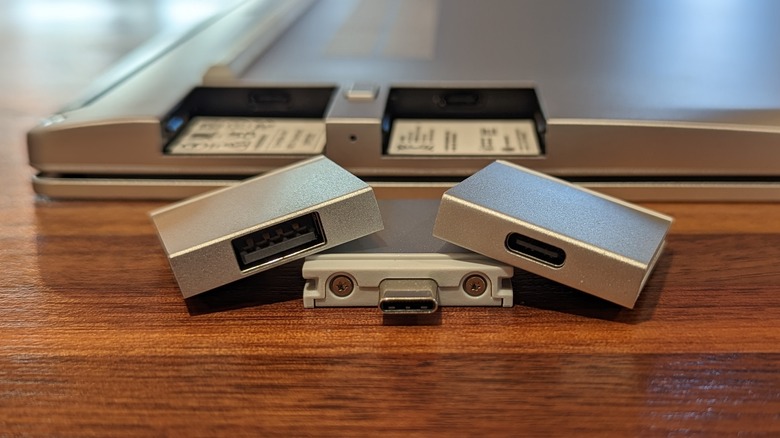 Steve Smith/SlashGear
While the Framework laptop isn't cheap, it provides a path for upgradeability and repairability that just wasn't available before it existed. It offers a ton of performance with its 12th-generation processor and a great display in a thin and light configuration. It is slightly hampered by its battery life, but you don't have to worry about its charging capacity five years down the line. While I wished it had a dedicated GPU option, an external Thunderbolt dock can quickly convert this into a full gaming powerhouse.
We live in a world where devices continue to get thinner, lighter, and more locked down. Framework took the idea that a thin and light laptop couldn't be easily repaired and flipped it on its head. I don't know if it was greed, laziness, or that Framework's engineers are just that good, but the truth is out. Framework deserves praise for delivering not only a great laptop but one that can continue to grow with you.