Sony's Gran Turismo Movie Teaser Reveals It's Based On A True Story, Apparently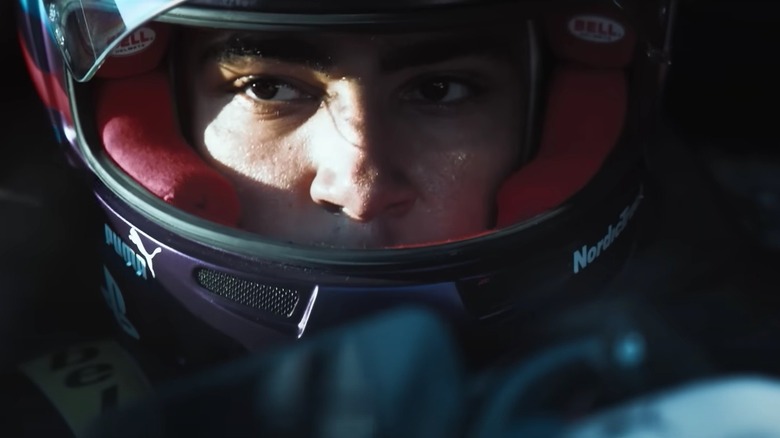 Sony Pictures Entertainment/YouTube
Sony has rolled out a bunch of announcements for CES 2023 — literally, in the case of the Afeela EV it is making with Honda. There's the upcoming accessibility controller being developed for the PlayStation 5, and then there's the new sneak peek trailer for the live-action "Gran Turismo" movie. The teaser is only one minute long, but Sony managed to pack a bunch of rapid cuts of movie footage between commentary and some behind-the-scenes looks at how the intense race scenes were filmed. Yes, there are some very big car-mounted camera rigs involved.
Sony Pictures Entertainment describes the upcoming film as "based on the inspiring true story of an impossible dream," which is somewhat amusing as "Gran Turismo" is a popular series of video games. There will be a bit of something for everyone, it seems, as some of the actors in the movie offer hints at what to expect: there will be a love story but also "badass race car action," among other things. How is a movie based on a game series also based on a real-life story? It seems a teenager with big dreams bridges the gap between the two.
Drama and fast cars are the main Gran Turismo movie themes
Sony's teaser trailer jumps quickly from one clip of expensive cars screaming down dreary race tracks at 200 miles per hour, with the action interrupted only by a change of perspective: many of the shots, it seems, have been filmed within the cars, and viewers are promised a visceral experience both visually and from the "body-vibrating sound." According to Deadline, the real-life story Sony references centers around Jann Mardenborough, a British pro racing driver who went from dominating in "Gran Turismo" to winning real-world races.
Neill Blomkamp is directing this action flick, which boasts a notable cast with actors like Orlando Bloom and David Harbour. Though the movie will arrive in August 2023, you'll have to wait even longer to watch it at home. Sony emphasizes that the movie will be exclusively made available in theaters — yes, the days of same-day theatrical and streaming movie releases that were a necessity during the pandemic are now largely behind us.