Sony And Honda's EV Collab Is Officially Called Afeela, But It's Still A Long Way Away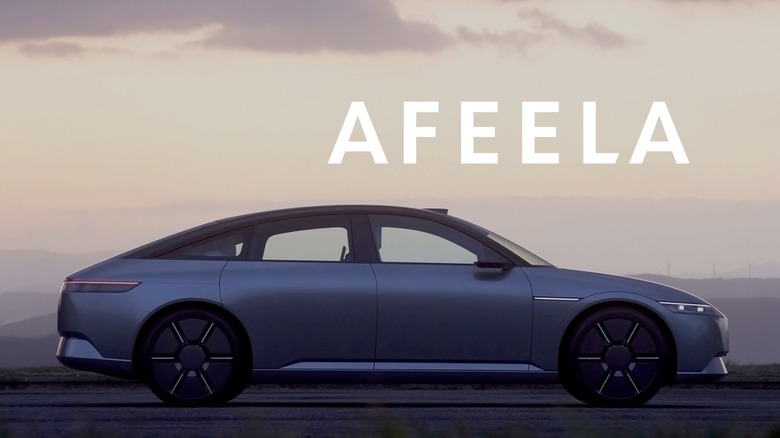 Sony/Twitter
A number of exciting announcements have dropped as part of CES this year, and the event isn't even close to over yet. One of the latest is Afeela, the newly-revealed electric car brand borne of a partnership between two venerable Japanese companies: Honda and Sony. The duo took to the stage to drop some details about the upcoming vehicle, though they're leaving many questions unanswered at this time. The biggest talking point? If everything goes according to plan, the first EV resulting from this team-up will hit the North American market in 2026.
It's clear we're going to be waiting a while before any substantial details about the vehicle are made available, but this represents a huge update over the original teaser from CES 2020, which involved Sony surprising everyone by rolling up in a car concept called the Vision-S. The latest signs of better things to come arrived in the summer of 2022 when Honda and Sony penned an agreement to form Sony Honda Mobility Inc., a joint venture that has led up to this latest revelation: the first car will be called Afeela, and it'll pack a whole lot of smart automotive tech.
Sony Honda wants comfort and tech to take center stage
Based on the teaser video published by Sony Honda Mobility, the Afeela concept is an EV that may prove sleek enough to lure prospective buyers away from Tesla, the current reigning champ when it comes to electric cars. We get a look at Afeela inside and out, with the car using its various carefully-concealed sensors to observe the world around it. That's not just for automation — which will feature heavily in the model, of course — but also for convenience features. The EV automatically opens the driver's door as someone approaches, for example.
Afeela's interior packs the kind of tech you'd expect from a luxury EV, and there's even a yoke steering wheel — though if Tesla's experimentation with that design is anything to go by, the company may need to rethink that element. How much of this design will remain in the final product? It's hard to say at this point, as the vehicle introduced for CES 2023 is a prototype unit. There is at least one element that is unique enough that we can only hope it'll persist through the evolution of the product, though: an exterior information bar somewhat akin to the color bar found on the back of a PS4 controller. 
In Afeela's case, however, this bar functions as a way to communicate information: the current weather, the car's charge percentage, and similar. The company describes this feature, which it calls the Media Bar, as follows: "Intelligent mobility has made it possible to express one's intentions to people outside. It is a new-age interface where interactive relationships begin even before boarding." One could perhaps think of this as an automotive mood ring packed between the headlights.
Afeela's design was inspired by spaceships, mostly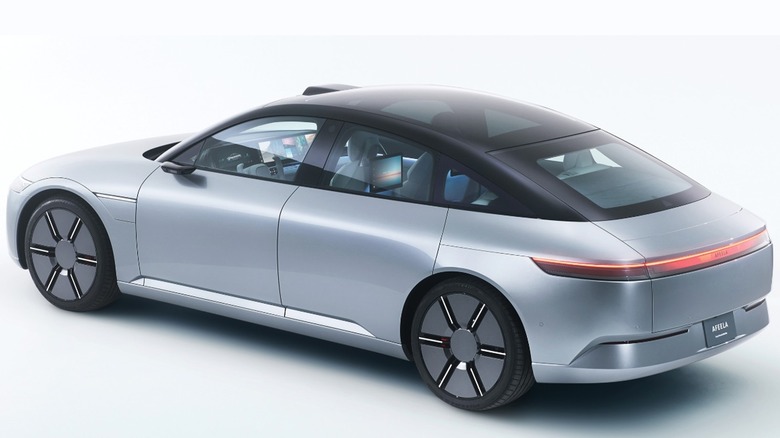 Sony Honda Mobility
Sony Honda Mobility describes Afeela's design as "stripped of decorative lines and forms ... like a spaceship." The interior features a panoramic dash with displays spanning from one edge to the other — and, as you'd expect, the same minimalist aesthetic that marks the exterior design is found within. The company notes that it eliminated "decoration that distract attention," while the color scheme was kept simplistic on purpose. The prototype boasts a glass roof, the seats and such are said to be made of eco-friendly materials, and comfort was central to the design choices made.
The shiny, smooth, and minimalist design draws attention away from the sheer number of cameras and sensors packed into the vehicle — 45, to be exact. That's great and all, but they have become less exciting as self-driving automotive technology becomes more common. What is exciting is the entertainment elements Sony Honda Mobility envisions, teasing that it has been in talks with Epic Games and, among other things, that it wants to create both "experiences and communities in mobile spaces" that in some way involve Afeela. The bad news? It sounds like some features will be locked behind a subscription.
At this point in time, Afeela measures 192.7 inches long and 74.8 inches wide, sporting a 118.1-inch wheelbase and 57.5-inch height. Most of the specs remain unstated, but the prototype does feature an AWD system. Sony Honda Mobility is careful to note that these specs relate to prototypes and therefore may change. As for when you'll possibly be able to buy one of these vehicles, preorders are expected to start in 2025 with the first deliveries happening in 2026 in the United States.