Four CES 2023 Gaming Laptops Worth Paying Attention To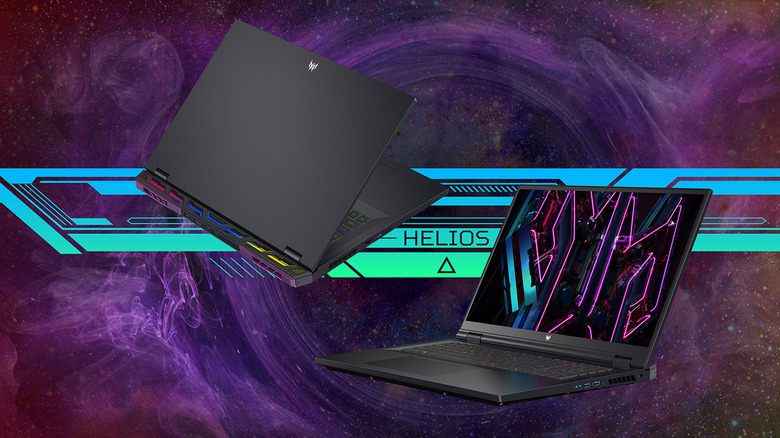 Acer
Acer is ready to make a splash at CES 2023 with the new Predator Helios 16 and Helios 18 laptops. Both of the new machines look identical, but their design is fresh and Acer also claims to have reworked the thermal architecture with more efficient cooling fans and heat pipes. The two laptops will let you pick between Intel's 13th Gen Core i7 and i9 HX-series processors, while gaming will be handled by Nvidia's GeForce RTX 40 series graphics cards.
Screen tech is another area where Acer is offering a bunch of options. You get a WQXGA (2560 x 1600) panel with the Predator Helios 16, which is also available on the Helios 18 alongside a WUXGA screen (1920 x 1200 pixels) option, with both available in 165 Hz and 240 Hz refresh rate trims. If you seek better color contrast and a brightness output of up to 1,000 nits, Acer will let you pick a mini-LED panel with an even higher 250 Hz refresh rate. It's the same tech as the 12.9-inch iPad Pro's Retina XDR screen, but more than double its smoothness.
You also get a per-key RGB-lit keyboard with 1.8mm key travel and the usual set of gaming benefits like anti-ghosting and N-key rollover. Connectivity and I/O options include Wi-Fi 6E, a pair of Thunderbolt 4 ports, and an HDMI port. The Predator Helios 16 hits the shelves in March starting at $1,699, while its 18-inch sibling will arrive a month later carrying a price tag of $1,599 for the base variant.
Lenovo goes top-tier with its new Legion laptop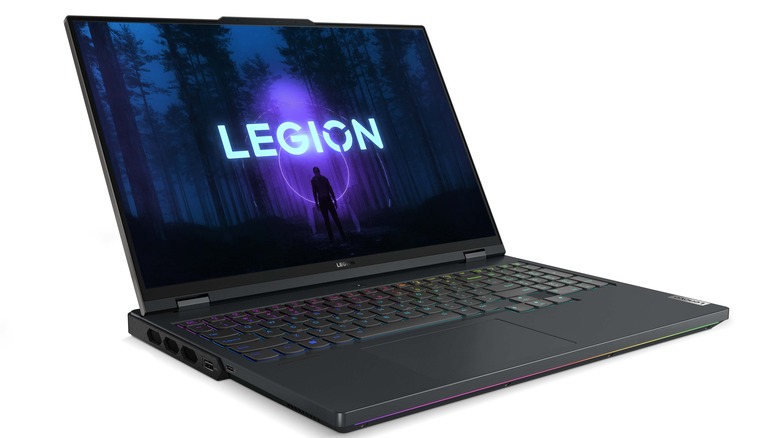 Lenovo
Lenovo's CES 2023 package includes the new Legion Pro 7 and 7i laptops. Both feature an identical design and also share a lot of their innards. The only key difference between the two laptops is their processor of choice. The Lenovo Legion Pro 7i takes Intel's side, letting buyers choose between the 13th Gen Core i9-1900HX and the Core i7-13700HX processors. The Lenovo Legion Pro 7, on the other hand, comes stuffed with AMD's own beastly Ryzen 9-7945HX processor.
The silicon inside Lenovo's new laptops is paired with up to 32 GB of DDR5 (6000 MHz) RAM and up to 2 TB of PCIe SSD storage. Both of the new Legion Pro 7 series laptops get a 16-inch (2560 x 1600 pixels) display with a 240 Hz refresh rate, up to 500 nits of peak brightness, and Nvidia G-Sync support. There's a 100 WHr battery fitted inside the Onyx Grey chassis, with Lenovo claiming fast charging credentials of 0% to 80% climb in just 30 minutes.
On the graphics side of things, these two Lenovo gaming laptops go all the way up to Nvidia's latest and greatest GeForce RTX 4090 mobile GPU. Notably, you get a choice between a 330W GaN charger, a 300W slim brick, and Type-C power delivery at 140W. Port selection includes a pair of Type-C (USB 3.2 Gen 2), four USB Type-A ports, and an HDMI 2.1 port among others. Lenovo is also making a big deal about the in-house LA AI chip, which is claimed to enhance gaming performance.
The Legion Pro 7 won't be made available in the North American market, according to Lenovo, but the Legion Pro 7i will hit NA shores in March with a starting price of $1,999.99.
HP brings optical keyboard goodness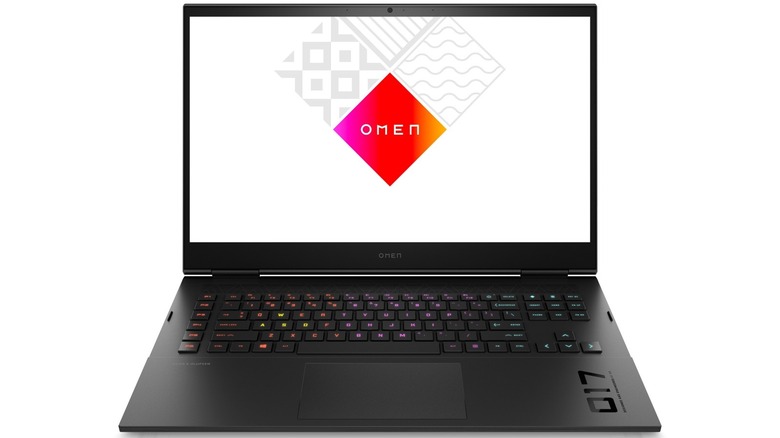 HP
HP has arrived at CES 2023 with a new gaming laptop, the Omen 17, which offers the sweet perk of an optical switch keyboard. It's not the first laptop to offer that benefit, however. The Razer Blade 15 Advanced from 2019 kicked off the trend. Asus soon followed suit with the ROG Strix Scar G15 and G17, while Dell went a step ahead last year with the Alienware m17 R4 laptop that offered a Cherry MX mechanical keyboard. It appears that HP also wants to offer that refined gaming experience on its own gaming laptops, with the Omen 17 being its first such offering.
You get to choose between Intel's top-of-the-line 13th Gen Core i7 and Core i9 (HX models) processors, and Nvidia's GeForce RTX graphics. The model comes paired with up to 32 GB of RAM and 2 TB of PCIe SSD for storage. Port selection includes one each of a Type-C Thunderbolt 3 and Thunderbolt 4 port, a trio of USB Type-A ports, an HDMI 2.1 port, and a Mini Display port.
You can pick between FHD and QHD panels, with the screen refresh rate going all the way up to 240 Hz. The 83 Whr battery can be juiced up using the 330W charger, which is claimed to go from empty to halfway mark in just half an hour. For some reason, HP still thinks a 720p webcam is fitting for a pricey fire-breathing machine like the Omen 17 in 2023, though. Price and availability are unclear at this time.
Razer Blade serves up an 18-inch display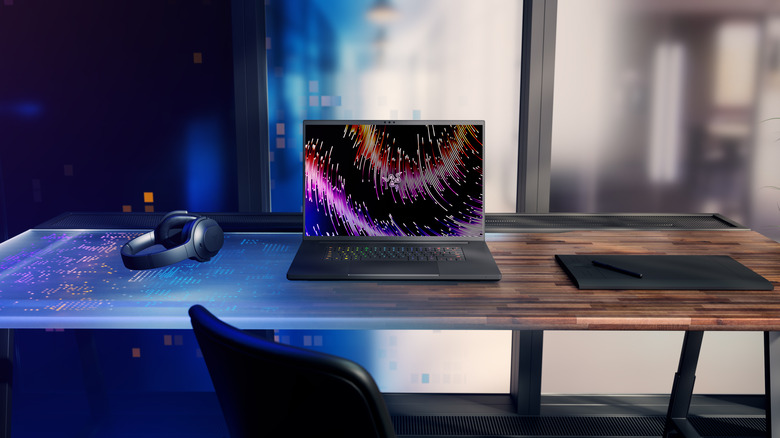 Razer
Razer brought its own overpowered gaming machine to CES 2023, introducing us to the Razer Blade 18. It starts at $2,899, but the innards may justify that steep cost. This behemoth offers an 18-inch QHD+ display with a 240Hz refresh rate and 500 nits of peak brightness, pairing it to a 6-speaker THX spatial audio kit and a vapor chamber cooling system.
It comes equipped with a beastly 24-core Intel Core i9-13950HX processor with a peak clock speed of 5.6GHz. On the graphics side of things, you can start at the Nvidia GeForce RTX 4060 and jump all the way up to the RTX 4090 flagship GPU. There's 16GB of DDR5 RAM fitted inside the base model, but users can bump it up to a healthy 64GB, while the peak upgradable storage capacity is a 4TB NVMe PCIe SSD. Port selection is rich, while the build is a familiar anodized metal affair with black polish and RGB-lit keyboard.
It's smaller sibling, the Razer Blade 16, is no slouch either. Claimed to be the world's first 16-inch laptop with an HDR-ready mini-LED screen that can go up to 1,000 nits of peak brightness, it offers a choice between Creator (UHD+ resolution, 120Hz refresh rate) and Gamer (FHD+ resolution, 240Hz refresh rate) modes. On the inside, this one also pairs the Intel Core i9 CPU with up to a GeForce RTX 4090 GPU. It starts at $2,700 and will be available in the coming weeks.