Lenovo ThinkBook Plus Twist Is A Twirling 2-In-1 With Color E-Ink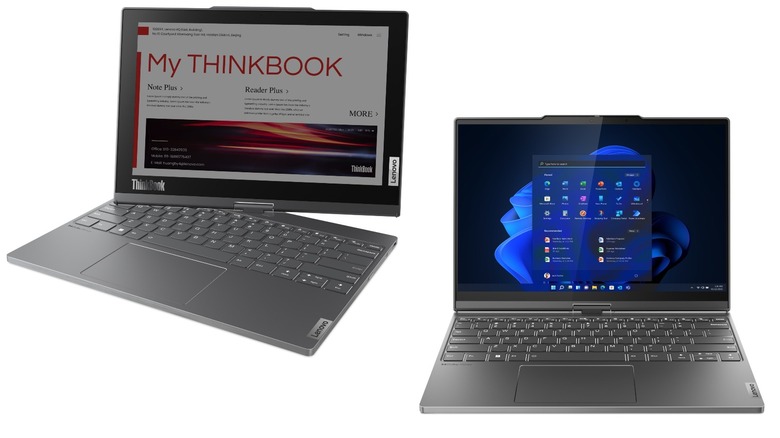 Lenovo
As laptops and notebooks go, 2-in-1 devices are pretty high on the list in terms of versatility. In recent years, manufacturers have stepped up the game and delivered some innovative new designs and form factors. Whether it be a second display above the keyboard, as in the ASUS ZenBook Duo, or an e-ink display on the top of the lid, like what we saw with the ThinkBook Plus Gen 2 i, it's always refreshing to see manufacturers play with different form factors in an effort to add value and change how we interact with our devices. 
The Consumer Electronics Show (CES) is the perfect opportunity for manufacturers of everything from electric vehicles to laptops and smart refrigerators to show off their new tech to garner media coverage and vie for consumer attention. Lenovo is taking full advantage of CES 2023, which runs from January 5 to January 8, 2023, in Las Vegas, to launch what should be some of the most eye-catching, interesting devices of the next year. 
A laptop with a throwback 360° hinge and full-color e-ink display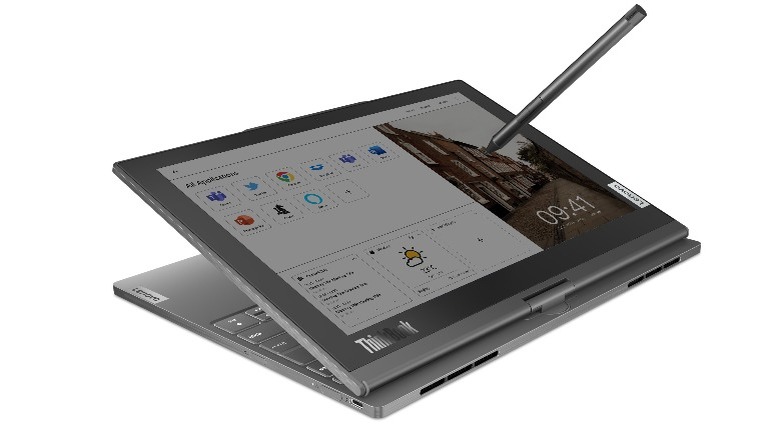 Lenovo
At CES 2023, Lenovo is launching the ThinkBook Plus Twist, the latest in its line of ThinkBook laptops to feature a primary OLED display and a secondary e-ink display. Lenovo touts the ThinkBook Plus Twist as "a new spin on hybrid computing" aimed squarely at business users. The 13.3-inch ThinkBook Plus Twist will be based on 13th Gen Intel Core processors and feature up to 16 GB of LPDDR5X RAM and up to 1TB of PCIe Gen 4 SSD storage. 
The new ThinkBook Plus Twist elevates the e-ink display in a few ways while maintaining the spectacular battery life advantages of the low-powered display tech. The full-color, front-illuminated, 12-inch e-ink display will feature a 12 Hz refresh rate, a touch-enabled glass surface, and pen support, making it apt for taking notes, reading, or getting work done while you're away from the wall for an extended period or want to give your eyes a break from a bright, backlit display. 
On the other side of the ThinkBook Plus Twist's swivel-mounted lid, you'll find a touch-and-pen-enabled, 13.3-inch, 400-nit, 2.8K OLED display with 100% DCI-P3 support for when you're getting serious about work. The rest of the device lives up to the same standard you would expect from a Lenovo business device, featuring an FHD webcam with a dual-microphone array, a 56 WHr battery, and a fingerprint reader in the power button. The ThinkBook Plus Twist will be available in June 2023.