The Most Expensive Car In McLaren CEO Zak Brown's Incredible Collection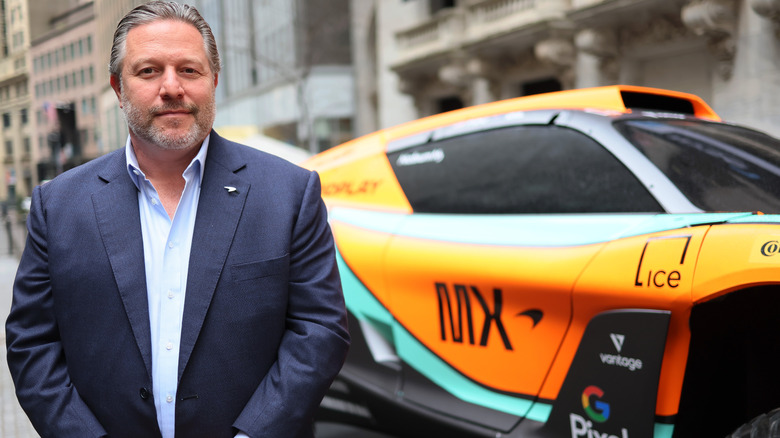 Michael M. Santiago/Getty Images
Some car collections are born out of a desire to own all of the latest and greatest. These collections house row upon row of multi million-dollar Paganis, Bugattis and Koenigseggs, but rarely spare much thought for race cars.
Then there are collections housing some of the world's greatest-ever racers, driven by world champions of household name status. In these collections you'll find rows of utterly unique race machinery that carry stories punctuated by names like Ayrton Senna, Mika Häkkinen, Mario Andretti and Jody Scheckter. This is the sort of collection McLaren Racing CEO Zak Brown has. At the Wakefield, West Yorkshire, headquarters of sports car racing team United Autosports, which Brown partially owns, you'll find a warehouse containing some of the greatest and most valuable racing cars of all time, says Magneto.
From racing karts competed by Senna and Häkkinen, to Formula One cars of the 1970s, 1980s and 1990s, and a selection of CanAm, NASCAR, IndyCar, World Rally Championship and Group C endurance racing cars, Brown's collection has the lot. It even houses a 2008 Ferrari F430 Challenge raced to victory by the man himself.
And, while being the boss of McLaren Racing surely carries a healthy salary, Brown's wealth also comes from Just Marketing International, a motorsport marketing agency he founded in 1995 and sold to CSM Sport & Entertainment for $76 million in 2013. In all, Wheels reports how Brown's collection totals 24 race cars and 19 road cars.
An eclectic collection
As far as road cars go, his collection may have changed over the years. However, as of 2017, Brown owned a Ferrari F40, Lamborghini Countach, Ford GT, Ferrari 599 GTO and McLaren 675 LT Spider (via Wheels).
Continuing with the road cars, Brown's name can also be found on the ownership documents of a Porsche 959 — a supercar that was originally conceived as a rally car — a Bugatti EB110, a Ferrari 275 GTS, a Porsche 356 Speedster, a Jaguar E-Type — also favored by Prince Harry and Meghan Markle — and an Austin Healey.
Although mostly lacking the modern machinery of other large collections, aside from the 675 LT of his employer of course, Brown's is a garage that feels thoughtfully curated with an emphasis on retro supercars and 60s classics.
Brown also owns an ex-Carlos Sainz Ford Escort rally car, a Jaguar XJR-10, a Porsche 935, Alan Jones' F1 World Championship-winning Williams FW07 and another Williams, this time an FW11 in which Nigel Mansell won the 1987 British Grand Prix.
The crown jewel
During a YouTube tour of his collection with Jodie Kidd, Brown described his Ayrton Senna McLaren MP4/6 as "the crown jewel." of his garage. Not only did Senna win the F1 World Championship, but Brown says the Brazilian won the Monaco Grand Prix in the very car he owns. "This, to me, ticks every box," Brown says. "This is the one Ayrton won Monaco in...this is unbelievable."
Speaking to Magneto, Brown said of the McLaren: "I've had it for five years, and if I had to pick just one car from my collection, this would be it. Unfortunately I haven't driven it because I won't fit, but it's been driven. I had Emerson Fittipaldi drive it at Goodwood in 2021."
Putting a value on these sorts of cars is incredibly difficult. They are unique, at least compared to mass-produced supercars, and can have history files that vary from being used once in a practice session or earning a driver a world championship. Such details cause valuations to fluctuate wildly, but it's safe to say we're talking about millions of dollars.
Another McLaren driven by Senna to Monaco victory, this time an MP4/8A from 1993, sold at auction for $4.46 million in 2018, and one can only assume prices have increased since. For an idea of how much they can be worth, a 2003 Ferrari driven by Michael Schumacher to five race victories and a World Championship to boot sold at auction in 2022 for $14.8 million.