Here's How To Use The Do Not Disturb Feature On Your Apple Watch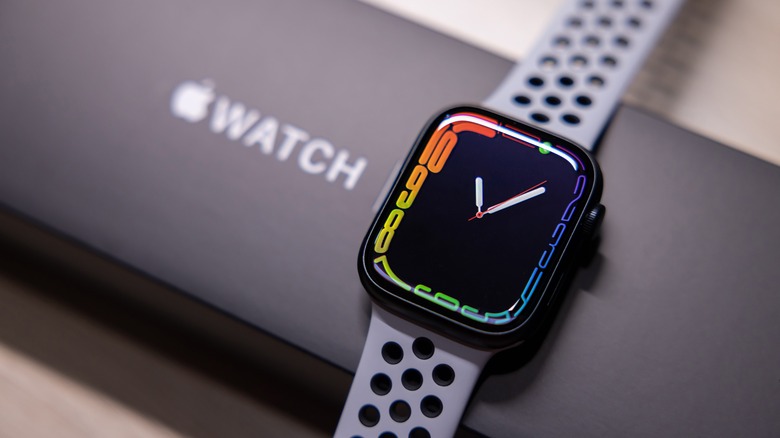 charnsitr/Shutterstock
Apple Watch is an excellent companion for your iPhone. It acts as an activity tracker and a compact smart device that keeps you updated about what is happening in your digital world. The device has a built-in microphone and speaker system to inform users about notifications. It also has a Taptic Engine that vibrates to provide additional feedback. However, there are times when you don't want your Apple Watch to disturb you with a social media notification or a call alert.
You could be in a lecture, attending an important meeting, or watching the latest sci-fi movie with your friends: it is annoying when both your iPhone and Apple Watch start buzzing. Thankfully, the Apple Watch comes with a built-in Do Not Disturb (DND) mode for situations like these. Just like the DND mode on your iPhone, the Apple Watch's DND mode silences incoming notifications for calls, messages, or news from other apps, ensuring that nothing distracts you.
However, if you've just purchased an Apple Watch and aren't familiar with the user interface, enabling the DND mode could be daunting. But don't worry, as we've compiled several ways to put your Apple Watch in the DND mode. Before beginning with the instructions, keep your Apple Watch handy.
Here's how to enable Do Not Disturb mode on Apple Watch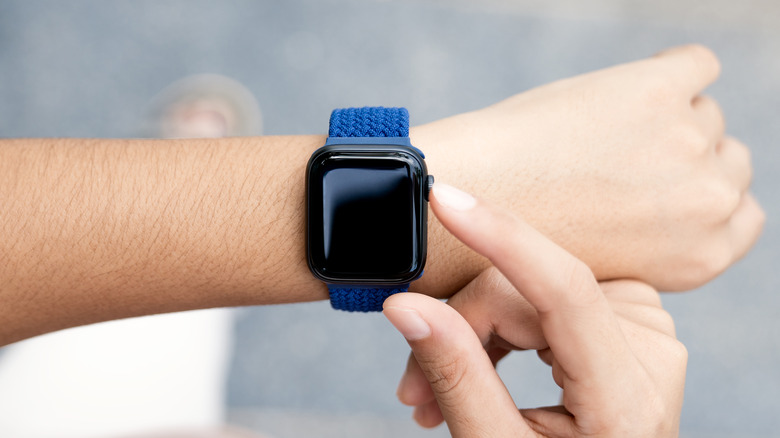 blackzheep/Shutterstock
The DND mode on your Apple Watch turns off notifications for all alerts except heart rate notifications and alarms. There are two ways to enable your Apple Watch's DND mode. The first one involves manually activating Do Not Disturb on your Apple Watch via the Control Center.
On the watch face, swipe up from the bottom to open the Control Center.
Scroll down to locate the moon-shaped icon and tap on it. This opens a menu, which includes the DND mode.
Tap "Do Not Disturb" from the list of options and then select a duration. You can choose from options to enable DND mode until you disable it, enable it for one hour or enable it until the evening.
That's it. Your Apple Watch will remain in Do Not Disturb mode until you disable it manually.
There's another way to sync your Apple Watch's audio profile with your iPhone. Once you set it up, your Apple Watch will automatically go into DND mode if you enable it on your iPhone.
On your iPhone, open the Watch app.
Scroll and tap on General.
Select Do Not Disturb.
You'll see an option called Mirror iPhone – turn it on. As the name suggests, the option mirrors the DND mode on your iPhone to your Apple Watch. 
As a bonus tip, enabling Focus mode silences incoming calls, messages, and other notifications, both on your iPhone and the linked Apple Watch.
You can also enable Silent Mode or Theatre Mode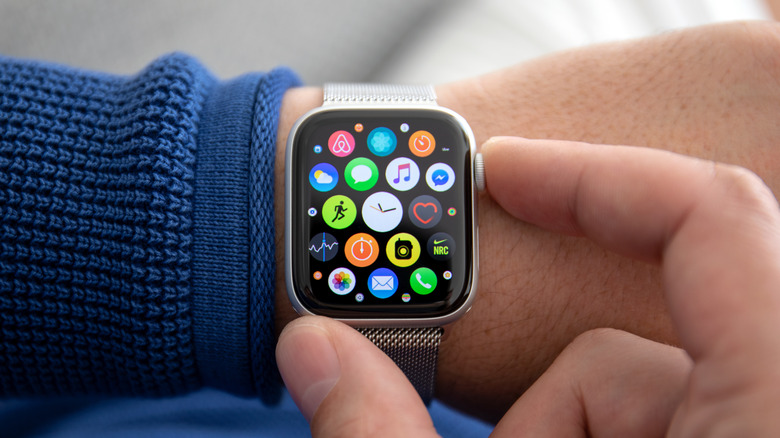 DenPhotos/Shutterstock
When you enable the DND mode on your Apple Watch, it disables both audio and haptic alerts. Hence, you might miss important notifications if you're not actively using your iPhone. If this concerns you, putting your Apple Watch into silent mode could be an alternative. When in silent mode, the Apple Watch doesn't ring for incoming notifications but vibrates, informing the user about something that might need attention without a loud sound that could disturb others in the room. To enable silent mode, follow these steps on your Apple Watch.
Unlock your Apple Watch and swipe up to open the Control Center.
Scroll down to locate the bell-shaped icon and tap on it (it should turn red).
This will make your Apple Watch silent, muting any incoming notification. However, it will continue to use the Taptic Engine to alert you on your wrist.
If you're going to watch a movie, you should enable Theatre Mode, which enables the silent mode but also prevents the display of your Apple Watch from lighting up when you raise or move your wrist. However, you still receive haptic notifications.
Unlock your Apple Watch and swipe up from the bottom to open Control Center.
Locate and tap the two-masks icon. It enables Theatre Mode on your Apple Watch.
If you wish to wake your Apple Watch when Theatre Mode is active, tap the display or press/rotate the crown on the side.