The Reason Americans Would Hate The Toyota Hilux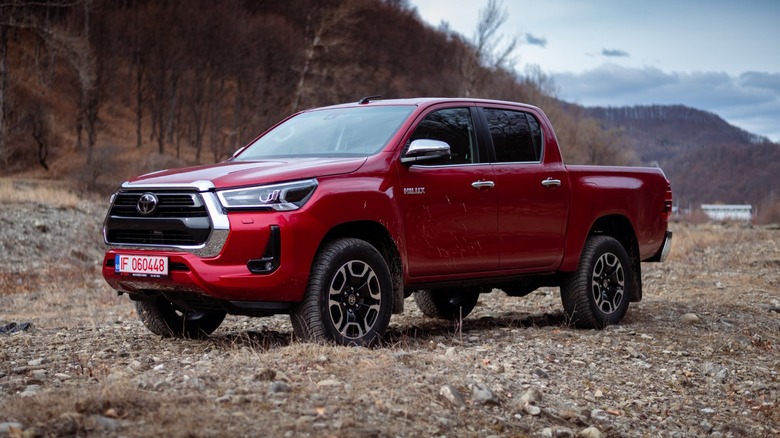 Gabriel Nica/Shutterstock
Back in its heyday, the Toyota pickup truck represented formidable competition to its American contemporaries. As time wore on, and the pickup's success continued, the truck evolved, first into the Hilux. Toyota's truck for the American market would then move away from its Hilux origins into what would become known as the Tacoma. Eventually, the Tacoma and the internationally-available Hilux were two very different vehicles, despite coming from the same roots (via Toyota). 
Modern trucks have come a long way since the days of the simple, utilitarian vehicles used on construction sites and farms to haul loads and transport animals. Nowadays, modern pickup trucks almost appeal to a completely different audience and are fully loaded with high-tech accessories and creature comforts. These luxuries and advanced packages are the reasons why America would hate the Toyota Hilux. 
Where most modern trucks have diverged quite far from what made the pickup truck one of America's most successful vehicles, the Toyota Hilux has remained much the same. Sure, it's received upgrades over the years, in the form of new motor options, interior updates, and suspension changes, but the overall spartan feel of the vehicle has remained.
The Hilux has remained true to its roots for better or worse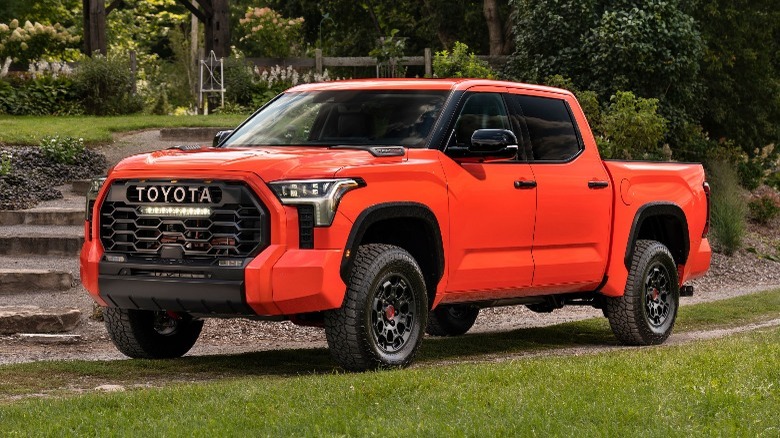 Jack Skeens/Shutterstock
The highest-end Toyota Hilux 2.8 GD6 4X4 LEGEND RS AT, comes in at $52,883 (ZAR 917,900) in South Africa — a region where the Hilux features some of its best equipment compared to somewhere like the U.K. — and is equipped with a 2.8-liter turbo-diesel engine producing a scant 204 horsepower. That's not a lot of power, but more concerning is that items like cruise control, an eight-inch multimedia screen, park-distance-control sensors, a reverse camera, and heated seats are the most luxurious of the standard equipment included in the vehicle, with barely any optional extras to speak of. The Ford F-150 Raptor, on the other hand, can put out up to 450 horsepower, depending on the engine configuration. The F-150 also features some advanced bells and whistles over and above what's on the Hilux, like Pre-Collision Braking, a Lane-Keeping System, and optional Onboard Scales.
According to reviews, the Hilux is also fairly small, with limited interior space, and a smaller bed than the American competition. Ultimately, the more bare-bones Hilux is built for a different market, with a strong focus on the durability and off-road dependability that made it a fan-favorite in the first place. The U.S. vehicle market, on the other hand, demands a certain degree of luxury, which is why Toyota produces vehicles like the Tacoma and the Tundra instead.