Here's What The Discontinued Jeep Comanche Would Look Like Today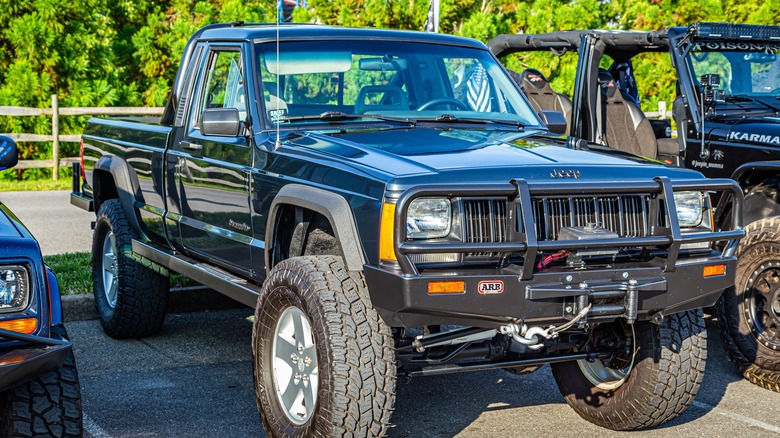 Gestalt Imagery/Shutterstock
The new Jeep Gladiator is the brand's first pickup truck since discontinuing production of the much-loved Comanche in 1992. The Comanche is essentially a truck version of the Cherokee XJ SUV, making it unique among conventional trucks with a ladder frame architecture. Underpinning the Comanche is a unibody chassis with bespoke rear subframes for the standard 6-foot and 7-foot bed options. We fancy the Gladiator's rugged style and genuine off-road abilities. Still, there's something about the Comanche's single-cab design and inherent simplicity that makes Jeep fans yearn for a rerun.
It's what the folks at Abimelec Design had in mind when conceptualizing the blue single-cab Gladiator. The interweb is brimming with unofficial design renders of a purported new Jeep Comanche that rumors say could arrive in 2023 (via Auto Evolution). However, nothing official has come out of Jeep despite the Ford Maverick's success. But for us, Abimelec Design's Hydro-Blue, single-cab Jeep Gladiator encapsulates the Comanche spirit while not being too far off from production reality.
Two-door Jeep Gladiator, anyone?
Abimelec Design posted its single-cab Gladiator on its official Facebook page. The vehicle features styling attributes that pay homage to the original Jeep Comanche that debuted in 1986. It has an extended bed with "enough pillar for a storage space behind the seats" and the prerequisite mud tires to complete the rugged, go-anywhere, and do-anything vibe.
We assume the Gladiator's 3.6-liter gasoline V6 is under the hood, a mill that pumps out 285 horsepower and 260 pound-feet of torque, or maybe the optional 3.0-liter diesel V6 with 260 horses and 442 pound-feet of tire-shredding torque. The Comanche had standard 2WD and an optional four-wheel Command-Trac, Selec-Trac, or Command-Trac transfer case, depending on the model year. And like the Comanche, the Gladiator has a standard six-speed manual gearbox, a feature that most enthusiasts prefer over the optional eight-speed automatic transmission.
If and when this single-cab and two-door Gladiator enters production, it would have enormous shoes to fill. Its Comanche predecessor set six national and international records, including a 141.381 mph speed record at Bonneville (per Automotive Heritage Foundation). Chrysler and AMC produced 25,000 Comanches annually from 1985 to 1989, but the numbers went down to 5,100 units per year in 1991. And by 1992, the Jeep Comanche was history (via The New York Times).
Prices for a used Jeep Comanche have steadily risen as buyers crave the simplicity and honest-to-goodness design, features, and durability of older cars (via Classic.com). We may never get a single-cab Gladiator (seriously, how hard would it be, Jeep?), and there's no doubt the Comanche has a place in the hearts and minds of those lucky enough to own or drive one.