Android's New Holiday Update Lets You Share Your Car Keys Digitally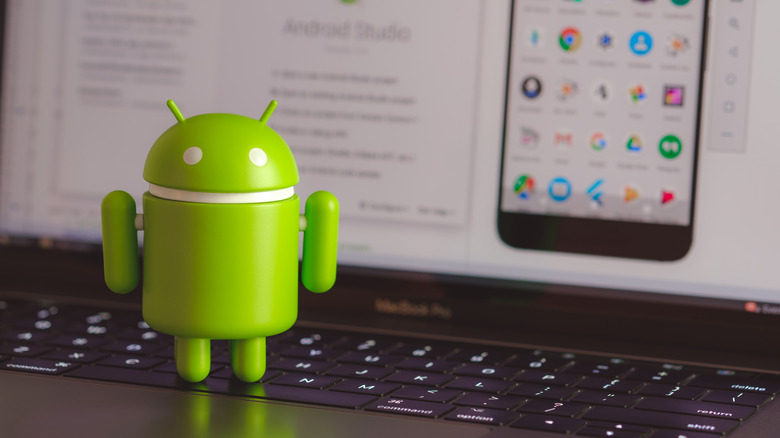 quietbits/Shutterstock
It's become a tradition for Google to issue a bunch of features ahead of the holiday season in December. The company started this trend two years ago — in December 2020 — after it rolled out a collection of features to a handful of Android 11-toting smartphones. A year later, in December 2021, Google released a similar holiday-eve update that introduced a host of features to select Android smartphones.
Among the features the December 2021 holiday update brought to Android included something called "Family Bell" — a feature aimed at helping families track their daily schedules — and a new "People and Pets widget" for Google Photos. In addition, last year's update added a new "Relive festive memories" option on Google Photos, along with a new Android Auto feature that allowed users to send quick replies to text messages. However, the most talked about feature addition with the 2021 update was the option to convert their phone into a car key. Unfortunately, this feature was restricted to a handful of BMW cars — and only worked with a few high-end Samsung Galaxy and Google Pixel devices.
While we were not entirely sure if Google intended to release a Holiday Update for Android in 2022, the company, on Dec. 1, 2021, published a blog post confirming that they are indeed rolling out the 2022 Android Holiday Update soon.
All the new features on Google's 2022 Android Holiday Update
One of the recent feature additions to Google Photos was the addition of Styles to Google Photos' inbuilt collage editor. Google's 2022 Holiday Update will add a bunch of additional Style patterns designed by two new artists — thereby giving users even more collage styles to choose from. The blog post confirms that Google has also added a new emoji to Emoji Kitchen.
For Android users who read a lot on their phones, the Holiday Update also introduces a new Reading mode option with several customizable options. Besides playing around with contrast, font type, and font size settings, the feature also adds a text-to-speech function with speed control. Another nifty feature addition is the ability to cast content from your phone to a compatible TV with a single tap.
Google is also updating the digital car key feature it introduced in 2021. While last year's update allowed users to lock, unlock and start a car using an Android phone, the new update will give users the option to share their digital car key with family and friends. The feature will first go live on select Pixel devices and will also support iPhones. Wider support for devices running Android 12 and up should roll out in the near future.
The Android Holiday Update for 2022 also includes new features to Google Wear. New feature additions to Google's smartwatch OS include the ability to quickly access a favorite contact right from the watch, and the ability to view sunrise and sunset timings. In addition, Google has added new features to Google Keep on WearOS to optimize the look of to-dos and notes on smartwatches.