Lewis Hamilton Has Been Reprimanded After Doing Donuts In A Nissan GT-R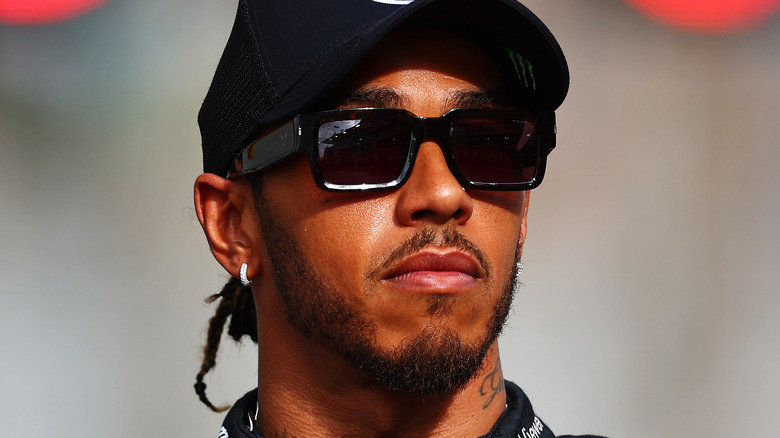 Mark Thompson/Getty Images
Lewis Hamilton is in hot water after filming himself doing donuts in a $250,000 Nissan GT-R R34. The British Formula One star is arguably the greatest driver of all time, likely the best driver of his generation, and a solid fan favorite. During his career, Hamilton has won a total of seven world titles, tying Michael Schumacher's record. Up until the 2022 season, Hamilton had won at least one race a year on the Formula One circuit. He could have picked up a record-setting eighth drivers' championship in 2021, but a controversial incident during the season's last race cost him the title. Hamilton went into the Abu Dhabi Grand Prix level on points with title rival Max Verstappen. Towards the end of the race, Verstappen pitted for a fresh set of tires while Hamilton chose not to, opting to keep his leading position instead. A controversial decision made by race director Michael Masi led to Verstappen overtaking Hamilton on his fresh tires and snatching the title. The FIA launched an investigation into the race which found that "human error" contributed to Hamilton's loss. Masi was removed as a race director following the incident (via Sky Sports News).
The controversy surrounding the end of the 2021 F1 season was not Hamilton's fault, but the generational talent has also courted controversy off the track. His purchase of a private jet attracted criticism, a case of "overexuberant driving" landed him in trouble with police in Australia (via The Guardian), and his latest incident has caused problems with a luxury car rental company.
Hamilton is in trouble with a Japanese car rental company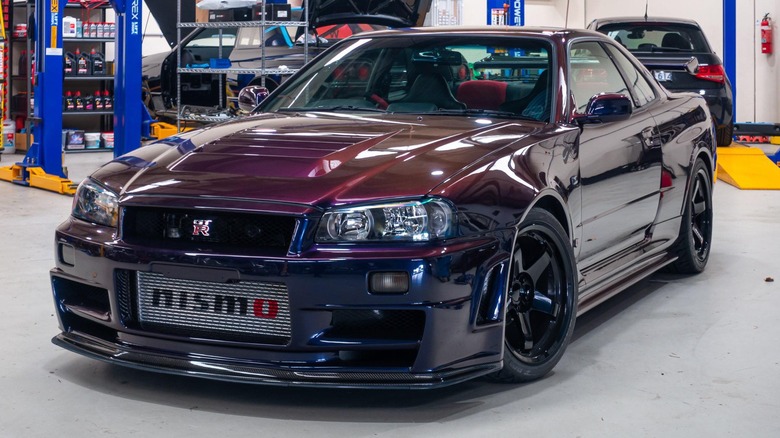 classic topcar/Shutterstock
Formula One fans may have enjoyed watching clips of Hamilton tearing around Tokyo in a Nissan GT-R R34. The seven-time world champion posted a video of himself enjoying his time in the car on his Instagram account last week. The video showed Hamilton driving the Nissan hard, smoke pluming up from its stick shift, and the car performing various tire-shredding maneuvers, specifically donuts. Over 1.75 million of Hamilton's fans have currently seen the original post, with many others seeing clips of the video that have been reposted online. A lot of the fans seemed to really enjoy the clip, with one commenting "Value of this 34 just went up," another saying "This is what I pay internet for. Get in there Lewis!" and yet another posting "What an absolute legend. Driving a Nissan GT-R R34 and hooning it. Dude is cultured and there's no way around it."
こちらはおもしろレンタカーの車ですが、これは弊社が許可をして撮影されたものではありません。このような走行は一切禁止しております。 https://t.co/5Ud0stH44t

— おもしろレンタカー 中のひと (@info82262789) November 24, 2022
The company that allegedly owns the Japanese supercar has also seen the video and isn't as impressed as Hamilton's fanbase. Omoshiro Rent-A-Car's Twitter account quote-tweeted a Lewis Hamilton fan account that had posted the video and said: "This is a car from Omoshiro Rent-A-Car, but it [the video] was not taken with permission from our company. Such driving is strictly prohibited." It is currently unclear what, if any, action the rental company can or will take against the Formula One driver. However, from the tone of the tweet, it's safe to say Hamilton will have to rent a ride somewhere else when Formula One returns to Japan in 2023.